Minisoft and TIC From Wick Aim To Impress Techno Judges
14th March 2009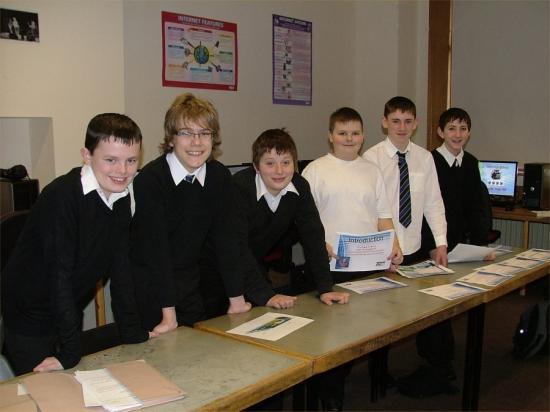 Minisoft and TIC from Wick are just two of 16 teams getting ready for the next stage of the annual Youth Challenge in the Highlands and Islands. The competition helps to encourage young people become entrepreneurial by focusing on ideas in the information, communications and technology sector.

This year a record 156 teams entered, comprising 599 individual team members and judging started just before Christmas. Then 33 teams were invited to take part in a First Pitch at the end of January. The children used video conferencing (VC) links, demonstrating technology in action, to pitch their entries to a panel of judges.

The VC links were arranged by Youth Challenge sponsor UHI, the prospective University of the Highlands and Islands, which uses the technology to bring students and others together for classes and events throughout it's partnership of colleges and research centres in the Highlands and Islands.

Catherine Shearer, UHI marketing manager, said: "Technologies such as video conferencing are becoming increasingly important to businesses in rural areas like the Highlands and Islands. So it's particularly appropriate that the ICT stars of the future are using video conferencing for the Challenge."

Sixteen teams were selected to go through to the next stage and they are: Unfamouse 5, Sanday; TIC and Minisoft, Wick; The Energisers, Thurso; KLACH, Dornoch; Passion, Ullapool; Irish Siblings, Invergordon; Siren, Plockton; Minnie Mites, Mallaig; Scottish Sensations and Out and About, Fort William; GSG and Alex Dunning Team, Oban; Fly5, Campbeltown; G-Force, Buckie; and Visual Radiance, Keith.

Futuristic ideas include an in-flight communication system, an eco friendly phone accessory and an innovative shopping trolley, all welcomed by competition sponsors BT, Microsoft, Highlands and Islands Enterprise (HIE) and UHI.

Raymond O'Hare of Microsoft said: "We're delighted to be involved in this activity as the competition directly addresses key areas of innovation and skills and it's essential to offer support to young people with bright ideas."

David Brossard from BT added: "The strong flow of ICT business ideas from young people in the Highlands and Islands is proof of the area's dynamism and is a positive indicator for the local economy in the future. The Youth Challenge helps young people gain valuable skills."

These skills will be further tested at the next stage at a face-to-face event on March 17 at the Spa Pavilion, Strathpeffer, when the 16 teams will be expected to expand on their ideas and come up with technical specifications.

John MacKenzie, HIE business transformation development manager said: "Five of the best will be chosen for a week-long Hot House in June and all the finalists will receive substantial technology prizes. Three teams will also get trips of a lifetime. HIE take one team out to the Massachusetts Institute of Technology in Boston; BT hosts another at its research and development centre in Suffolk, whilst the third jet off to Microsoft's development headquarters in Seattle"

Youth Challenge Director Alistair Murray added: "Youth Challenge encourages team work and is fun. Schools tell us they notice a real change in their students - the competition brings them out of their shells and can even help them with exams!!"

Minisoft and TIC certainly hope they make the Hot House final, and they are working hard to make it happen.

Photo
Minisoft and TIC are two teams from Wick.
"Left to right are: Team MiniSoft - Greg Polson, Kyle Gunn, Matthew Sinclair and
Team TIC Declan Mackay, John Coghill, Donnachadh Pellow"

Related Businesses
Related Articles
The £48.5m Wick Community Campus built by Morrison Construction has been announced as a finalist at the Royal Town Planning Institute (RTPI) Awards for Planning Excellence 2018. The project is entered in the category for "Excellence in Planning for a Successful Economy" against eight other finalists from across the UK with the winner to be announced during a ceremony at Milton Court Concert Hall on 24 May 2018.
Around 400 pupils and teachers attending Newton Park Primary school and Nursery at Wick Campus in Wick will walk to their new school on Wednesday 26 April setting off at 9am from the Old Pulteneytown Academy building. The procession of pupils in their new school uniforms will be led by Highland Bagpipers Alistair Miller and Chester Henry, a P7 pupil, along the new pedestrian access path and ramp down to the new building.
The property is located in a pleasant residential area and is approximately a 5 minutes walk from Wick railway station and the Caithness General Hospital. The facilities of Wick town centre and the expanding Wick Harbour are approximately a 10 minute walk.
The progress of ICT learning by pupils at Wick High School is bucking national trends as more girls at the school take part in the "Apps for Good" programme and teams of boys and girls from the school win UK competitions. Five pupils, Leanne Cormack, Megan Shearer, Konrad Szewczyk, Ellora James, John Sutherland and their Teacher, Chris Aitken impressed Members of the Council's Education, Children and Adult Services Committee with presentations about their experiences in developing Apps and participating in the "Apps for Good" final at London.
Deputy First Minister Nicola Sturgeon today broke the ground on the new £48.5 million Wick Community Campus. The facility, which will replace Wick High School, Pulteneytown Academy Primary School, and South Primary School, is part of Scotland's Schools for the Future programme and will receive more than £17 million from the Scottish Government.
MAKLAB is one of several projects to benefit from SSE's new £1m Highland Sustainable Fund. It received an award of £40,000 (90% match funding) to establish a MAKLab North workshop at Wick High School and mobile MAKLAB to deliver access and skills training in digital fabrication technology across the Highland region.
Last year a group of Wick High School pupils won an award for creating great new app for your phone. It will cut down on paper work for farmers.
For the school rolls for all of Highland for the past five years see - Five Year School Rolls In Highland Primary School Capacity and Occupancy rates are published at Primary School Capacity and Occupancy.
A week long summer school was held in late July for students of Thurso, Wick and Farr High School students in 4th, 5th & 6th years to prepare them for the world of work. The course, organised by DSRL (Dounreay Site restoratiopn Ltd) on behalf of the NDA (Nuclear Decommissioning Agency), was supported by North Highland College and Skills Development Scotland.
WICK HIGH SCHOOL LAUNCHES INNOVATIVE ONLINE REWARDS SCHEME IN SCOTLAND. Wick High School is the first school in Scotland to sign up to Vivo Miles, the award winning online rewards system for secondary school students.