New North Equestrian Business Defies Economic Downturn
9th April 2009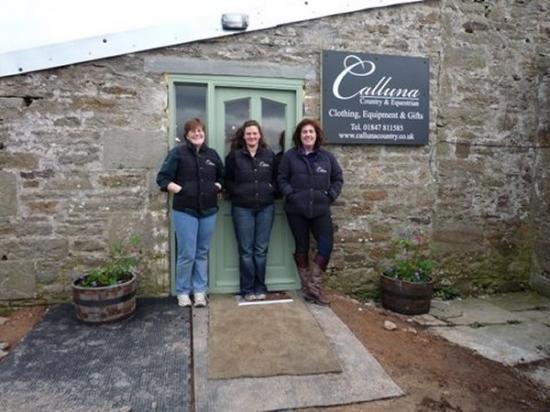 Tamara and Charlie Inness are opening a newly built country clothing and equestrian shop adjoining their home at Borlum Farm, Reay in Caithness. The new business "Calluna Country and Equestrian" opens with a head start having taken over "Bits n Bobs" from Jean Gunn of Sibster.

"Calluna Country and Equestrian" is based in a new purpose built country store and will open On Easter Saturday 11 April from 2.00pm - 8.00pm.

Tamara and Charlie are confident they can supply the equestrian needs of the area from their shops. Over the past ten years the number of horses and ponies has increased and many folk would like to be able to purchse items locally having had chance to see them first. The chance to try on boots or try out saddles offers a level of service that many customers are looking for.

There is ample parking at the store which can be reached by following the signs south from the War Memorial triangle in the centre of Reay (almost opposite the church).

Calluna (Latin for heather) has acquired new ranges and a substantial brand new stock. It offers a warm and friendly welcome and a caring service for all the family. It specialises in the sale of good quality country clothing, boots and footwear along with all types of equestrian goods. The clothing includes garments made by Ariat, Toggi, Puffa and Mountain Horse and the riding tack includes Lavinia Mitchell saddles.

There will be a SPECIAL 10% discount on Opening Day Saturday 11th April.

Calluna Country and Equestrian has an eye on riding community acorss the far north of Scotland and will very shortly be opening another store at Brora in the shop "London House" that has lain empty for some time. All the same equipment and clothing will be available from that store. Adding to the local traditions the new store will also recommence the selling of Hunters goods made from genuine Hunters tweed along with a range of other sporting goods.

The shop at Borlum Reay will open on Tuesdays and Thursdays between 2 p.m. and 6 p.m. and at any time by appointment by telephoning 01847 811585.

There may be an economic downturn but this new business venture suggests that in the far north there are still folk willing to become entrepenuers showing cofidence that will encourage others.

Good Luck to the new venture.