HIE Commissions Firm To Plan New Future For John o Groats
3rd May 2009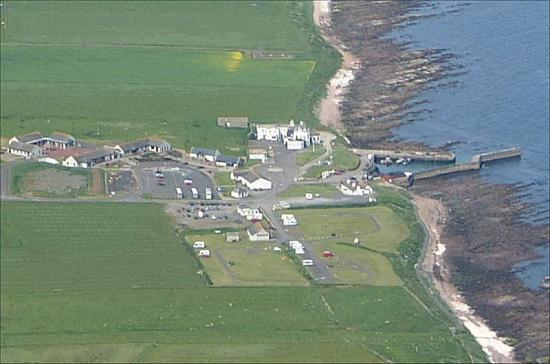 Highlands and Islands Enterprise (HIE) has commissioned Edinburgh based planning consultants GVA Grimley to produce a physical masterplan for John O'Groats. The masterplan will provide a sustainable long term model for creating an iconic visitor attraction which will include retail outlets, food and drink offerings and various levels of tourist accommodation. The masterplan is expected to be complete by August of this year.

It follows last year's local public consultation on the project.

Carol Gunn, head of transformational projects at HIE in Thurso said "John O' Groats is one of the most widely recognised UK tourist brands and the development of this masterplan will help unlock its potential to have an increased impact on the tourism sector at both a Highland and Scottish level."

All the stakeholders in John O'Groats and the surrounding area, including local businesses and Highland Council, will be consulted and asked to take part in the masterplanning process. Heritage Great Britain, owner of the currently closed John O'Groats House Hotel, is keen to get started on a complete redevelopment of their site.

Alan Leech, Chief Executive Officer at Heritage Great Britain, said "We welcome and fully support the initiative being led by HIE to re-establish John O'Groats as an iconic destination and are extremely happy with the appointment of GVA Grimley to undertake the development of this vital masterplan. All at Heritage Great Britain are looking forward to working with other local business', stakeholders and the wider community to develop a sustainable long term blue-print."

Included in the GVA Grimley John O'Groats Planning Team are Tom Buncle, a former Chief Executive of the Scottish Tourist Board (now VisitScotland) and Andrew Lyle MD of RD Energy Solutions, a leader in the field of renewable energy technologies.

Richard Slippe, Director at planning and development consultants GVA Grimley said: "We have worked on many consultation-led schemes in recent years. We are pleased to have this excellent opportunity to assess a truly unique location with some fine opportunities and many stakeholder interests, and to provide our design, planning and development recommendations. We have a team which includes leading experts on urbanism, tourism and designing for energy and we look forward to presenting our ideas to the client later this summer".

GVA Grimley has previously worked on Western Harbour and Granton Harbour in Leith (Edinburgh), The Caltongate Masterplan (Edinburgh), Guardbridge Papermill Regeneration (St Andrews) and the Asda Stores proposal for Thurso, Caithness.
Related Businesses
Related Articles
Week Commencing 8th April 2019 Energy & Business Services: It was good to see this week in the Press & Journal's Energy Voice a piece confirming the transformational impact that the Beatrice Offshore project is having on Wick. It is a timely reminder that although the £2.6Bn project is nearing the end of its construction phase, the economic impacts in the north will continue over the lifetime of the project through the operations base in the restored harbourfront buildings in Wick, which will be home to around 90 workers.
Twelve Highland business leaders have been selected to take part in the next IMPACT30 programme. The programme aims to support the next generation of business leaders, by providing personalised support, coaching and mentoring responsive to their unique growth needs.
An extended online portal that helps small to medium enterprises in the Highlands and Islands find new business opportunities from large contracts, will be launched on Thursday (4 April 2019). The Open4Business (O4B) portal was originally set up in 2012 by SSE to link supply chain firms with large SSE construction projects.
Week Commencing 25th March 2019 SpaceHub Sutherland: The team's weekly presence in Tongue continued this week, and June Love from the team also delivered a presentation on the project to members of the Thurso & Wick Trades Union Council at its meeting this week. I attend all of the Trades Council's meetings, so it was good to hear the unanimously positive reaction to June's update from members (see Communications below for feedback on my discussion with members).
Architects have been appointed to design the spaceport that is being developed to launch small satellites from the Highlands. Development agency Highlands and Islands Enterprise (HIE) is leading the £17.5m Space Hub Sutherland project, including a £2.5m grant from the UK Space Agency (UKSA).
Three inspirational coaches will lead the latest edition of the Pathfinder programme which aims to put businesses in the Highlands and Islands on the fast track to success. A 12-week accelerator course hosted by entrepreneurial experts Steve Thomas, Danny Meaney, and Dr Andy Kelly offers a unique opportunity for businesses to pressure test their ideas and hone the perfect pitch.
Week commencing 18 March 2019. Energy & Business Services: I'm delighted to see yesterday's news that Restore Digital have announced the creation of 39 new job opportunities in Wick.
Weeks commencing 4th & 11th March 2019. SpaceHub Sutherland: Further community engagement events have taken place this week - a drop-in event was held in Tongue on Wednesday, followed by a further drop-in event in Wick on Thursday.
Did you know that France is looking for dairy products, the demand for craft beer is high in Thailand, and Switzerland is in need of engineering services? You can find out where in the world the demand for your product or service is on the Department of International Trade website. With over 17,000 export sales lead, you can also pitch your company to overseas buyers who are looking for products and services like yours.
Over the years, we have helped many companies throughout the Highlands and Islands to explore their exporting potential and be business brave. In our latest film, which has been viewed over 1,600 times already on Facebook, we featured just a small selection of these businesses.