Opening Of New Highland Inter-agency Centre For Autism
16th August 2009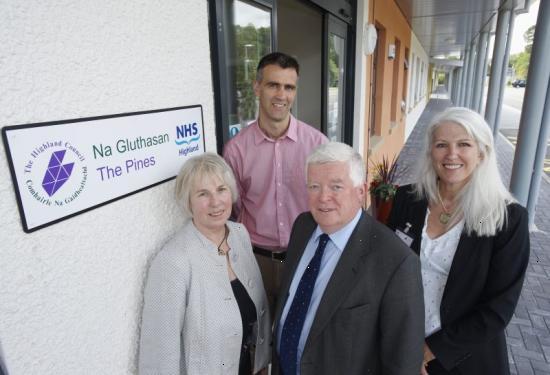 A new £1.2 million centre has opened in Inverness to improve outcomes for children and young people with Autism Spectrum Disorders and their families throughout Highland.

The Pines is a purpose-built building, which has been funded by The Highland Council and NHS Highland to provide improved diagnostic, assessment and support services for children and young people who may be affected by autism.

The building provides a low stimulus environment for parents and children, and the ideal opportunity for staff with specialist remits in autism, across the Council, NHS Highland and partner voluntary sector agencies, to work more closely as the 'Children's Services Autism Team'.

By bringing a range of professionals together under the one roof, parents and children will be able to have a one-stop-shop approach to autism services. The centre will also ensure consistent support across agencies to local practitioners, supporting children and families in their own communities.

The Pines in Inverness is next door to Drummond School but is not part of or attached to the school. It is not a school nor provides education, but individual staff work closely with all school staff. Children and young people will mostly come to The Pines with their family as part of an arranged appointment with a clinician, practitioner or with the Assessment and Diagnostic Team.

The building was officially opened today (Monday 17 August 2009) by Councillor Bill Fernie, Chairman of The Highland Council's Education Culture and Sport Committee, and Pam Courcha, Chair of the Highland Joint Committee for Children and Young People.

Councillor Fernie said: "We are delighted to be part of this excellent new project, which, for the first time, brings all the specialist staff together to provide a much more joined up service for children and their carers."

Pam Courcha said: "The vision for this centre was supported in consultation with local families, who were involved in the planning that has led to today's opening. I very much welcome this work coming to fruition, and it is a great step forward for children's autism services in the Highlands."

Colin Marr, Director of Eden Court Theatre, Inverness, also took part in the opening, in recognition of the contribution made by the theatre towards raising awareness of autism. He said: "Drama has huge benefits as a life skill, particularly for anyone with additional needs and whose social skills need developing. We hope that with The Pines opening, we will be able to work even more closely with pupils on the Autism Spectrum and to add another option for the staff of the Council and NHS Highland over the coming months."