A Picture Paints a Thousand Words
1st September 2009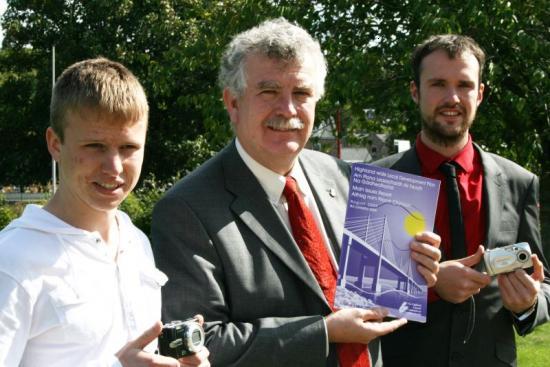 Following the success of last years photo competition "Keep us in the Picture", The Highland Council is once again inviting young people to get out their cameras and use photography as a means of highlighting what they think about the Highlands.

As part of the Council's consultation on the Highland wide Local Development Plan, people aged 25 and under are been asked to send in photographs of what they like and don't like about Highland and also what they would like to see in Highland that we don't already have.

Councillor Iain Ross, Chairman of Planning, Environment and Development Committee said: "This is a fantastic opportunity for young people to let the Council know what they think about the places and spaces in Highland and how they would like to see them improved. Planning is a very important subject and getting involved at an early stage in the plan making process is a real opportunity to influence what the Highlands can offer its people and communities and how our environment is managed over the next 20 years."

Robin Falconer, Chair of Highland Youth Voice agrees. He said: "Young people have many ideas about how to improve their environment and local area. The ideas of young people are often very creative and it is encouraging to learn that the Council's Planning and Development service is listening to the views of young people through the 'Keep us in the Picture' competition. It's an interesting competition and I'm sure young people will be keen to take part in it."

Photographs can be of a street, a village or town, a play area, a derelict building or even a place or building which caught someone's eye while on holiday. The top two entries in each category will each win a prize and the photographs will be used in the Highland wide Local Development Plan. Winning entries will also be displayed on the Highland Council website.

Anyone wishing to take part in the competition or to find out more information should visit www.highland.gov.uk/developmentplans, or call Simon Hindson on (01463) 702261.

Last years winners were Olivia Raine, Strathdearn Primary; Connor Simpson, Keiss Primary; Taylor Hay and Holly Thwaites, Castletown Primary; Emma Huston, Munlochy; Arron Vass, Inverness; Ruaraidh Wells, Fort William and Gregor Stuart, Nairn.

Photo
Councillor Iain Ross (centre) with Graduate Planner
Simon Hindson (right) and Highland Youth Voice Chair, Robin Falconer.