Competition At Inverness College UHI To Find Scotland's Next Entrepreneurs
6th September 2009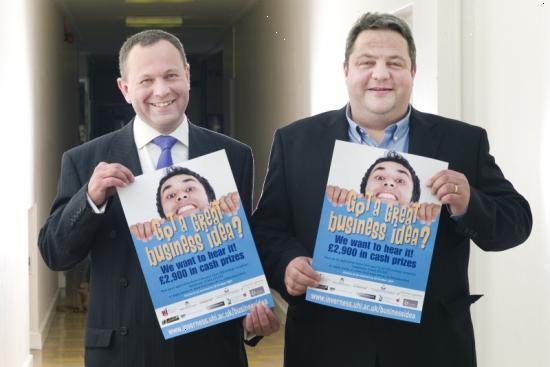 For the 4th year running, UHI Colleges together with Highlands and Islands Enterprise, Princes Scottish Youth Business Trust, Alchemy Plus, Macrae & Dick and Harper MacLeod Solicitors are working together to offer wannabe entrepreneurs in the region the chance to submit their business ideas to win a share of the £2,900 cash prize pool.

The competition is open to anyone over 16 and resident in the Highlands and Islands, Perthshire and Moray. As in previous years, the style is simple and friendly. In a relaxed 'Dragons' Den' style format, successful entrants answer four questions; what is your idea, what inspired you, who are your intended customers and what do you need to make your business a reality?

The aim of the competition is to encourage enterprise and innovation in the region. Prize money can be spent however the winner sees fit, be that developing the business based on the judges' advice, or on that dream holiday to the Caribbean!

For the most innovative business idea, Alchemy Plus will offer a cash prize and executive chairman Peter Swanson will give ongoing mentoring support. Peter Swanson said "Scotland has always been an innovative country, and this competition is a great way of inspiring further business ideas in a tough economic environment." Other special prizes will be awarded for the 'best researched idea' and 'best presentation' sponsored by Macrae & Dick and Harper MacLeod respectively.

Carol Langston, Manager at the newly established centre for Enterprise and Innovation, CREATE at Inverness College UHI, has organised the competition since its launch four years ago. She said "Last year's competition was hugely successful with a number of entrants now having started to trade. This year we are delighted to announce that Business Gateway and Princes Scottish Youth Business Trust will be providing even more resources and support to our budding entrepreneurs. This is an excellent opportunity to utilise their free expert advice to help convert your idea into reality. "

Last year's prize winners included home kits to self test for infections acquired at hospital, a car safety device for young children, innovative textile designs and many more.

Ben Chambers' home test kit for MRSA won last year's award for the most innovative business idea. When Ben's mother went to hospital for a routine operation she got tested for MRSA on the ward. Ben realised it would be useful to test for MRSA before patients arrive in hospital.

Ben said; "Getting the green light from successful business people gave me confidence that my idea had real business potential. Now it's in clinical trials and I hope to sell it nationally.I would definitely recommend the competition to anyone with a great idea who wants business expertise to help kick start their business."

Jennifer Tait was the over 26 years Group Winner. Jennifer studies contemporary textiles and wanted to use her designs to start a business. Jennifer said "My husband has his own furniture business. He worked with a textiles company and I got inspired and would like to start my own business, when I finish studying. I think I won because my business was based on good designs, it was original and easy to implement. That's the best way to make money."

The closing date is 28th October 2009. Entry forms can be obtained at www.inverness.uhi.ac.uk/businessidea, your local UHI centre or by contacting 01463 273 267.

Picture (from left to right): Gordon MacIntosh, Enterprise and Innovation Coordinator at Inverness College and Ben Chambers, local entrepreneur and winner of last year's Business Ideas competition.