Dounreay Fire Engine Donated To Caithness Group
6th October 2009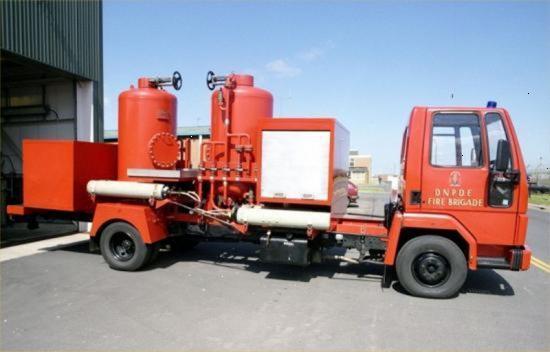 A unique fire engine specially made to tackle radioactive metal fires at Dounreay has been saved from the scrap heap, thanks to a group of local vehicle enthusiasts.

Dounreay's heritage officer James Gunn contacted the local Caithness & Sutherland vintage vehicle club to see whether they were interested in acquiring a piece of Dounreay's history.

The fire engine, known as a graphex tender, is one of only two in existence. They were designed and built to Dounreay's specifications, to fight liquid metal coolant fires in the site's two experimental reactors. Each vehicle carried one tonne of graphex powder, a graphite-based fire fighting agent.

With the bulk of the coolant in the prototype reactor destroyed and work now underway to destroy the coolant in the Dounreay fast reactor, the need for the bespoke fire engines has diminished.

Dounreay's fire chief Kenny Porteous says that this is an ideal time to withdraw the tenders from service.

"The tenders gave us the reassurance that we could deal with a large scale metal fire if one broke out," he said. "However, they have now reached the end of their operational lives and can be retired to a new home."

Edward Sutherland, the club's chairman, is delighted with their new acquisition. "Caithness & Sutherland Vintage Vehicle Club would like to thank the management at Dounreay for the thoughtful donation of the fire engine to our club," he said.

"It is the intention of the Club to do any restoration required to present the vehicle in show condition at our annual rally and at other suitable venues. There is no doubt that such a rare exhibit will create added interest.

"The club has about 70 members who between them have a varied selection of vehicles and stationary engines. The fire engine will be a welcome addition to our exhibits.