PDA in Digital Imaging - FREE Course At Wick
10th November 2009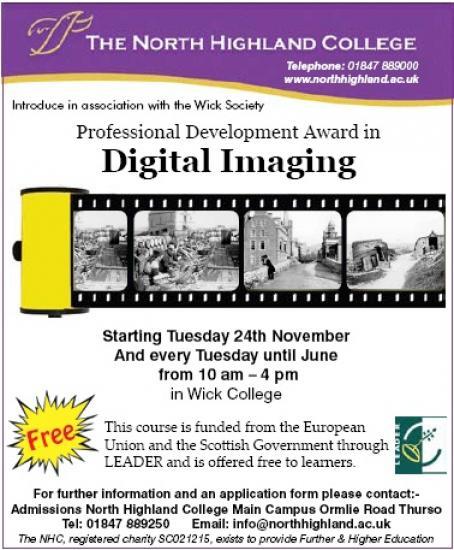 As reported in July this year, The North Highland College (NHC) and The Wick Society formed a partnership to digitise the Johnson Collection, owned by the Wick Society.

The Johnson collection is an invaluable historical photographic archive in excess of 50,000 glass-plate negatives taken by successive generations of the Johnson family between 1863 and 1976 capturing the social and industrial history of Caithness, in particular the impact of the herring fishing industry.

With the assistance of funding from the Highland LEADER programme, NHC, in association with Wick Society is offering for the first time a Professional Development
Award consisting of 2 higher national units in digital imaging: Bitmap & Vector and Bitmap techniques.

Using the latest computer technology, learners will scan, edit, index and store Johnson Collection negatives to create a library of digital images. Designed for people with an interest in investigating digital technologies, this course will develop your ability
to create and share digital images to be proud of. The units introduce learners to the creation of digital images for use within a variety of computer applications such
as website, social networking site, digital interactive applications and electronic documents. It will enable learners to acquire, create, edit and manipulate digital
images and teach the principles of screen based graphics, digital imaging software, acquisition and manipulation of graphics.

If you're already a keen amateur digital photographer, this course should appeal. The course will develop your technical, visual and creative skills. This course is based
exclusively on digital imaging technologies where you are encouraged to develop conceptual thinking, critical analysis, creative problem solving and technical skills.
You will have access to the latest desktop computing technology, and a large digital photographic resource.
Related Businesses
Related Articles
A new report has highlighted the threat marine plastic pollution poses to seabirds in the northeastern Atlantic region. Researchers found that, of 34 seabird species investigated, 74% have ingested plastic.
Vice-principals take up roles at University of the Highlands and Islands. The University of the Highlands and Islands has appointed three new vice-principals to its senior management team to increase representation from the 13 colleges and research institutions which make up its partnership.
North Highland College UHI are inviting applications for the Engineering and Construction Employability Essentials summer programme. The course is now in its fourth year and run in conjunction with Skills Development Scotland.
A new three-year partnership agreement between North Highland College UHI and Nigg Skills Academy has been signed to deliver engineering skills and qualifications to the Ross-Shire area at their academy in Nigg. Nigg Skills Academy works with employers and industry bodies to deliver engineering skills to meet today's industry demands, has established a memorandum of understanding with North Highland College UHI to continue to provide opportunities for those seeking careers within the engineering and energy industry.
To date, the Inverness Campus project has attracted over £100m of investment, and independent research has shown that it already has potential to support up to 1,300 jobs on site and create 940 new jobs across the Highlands and Islands over the next five years. www.uhi.ac.uk.
North Highland College UHI's evening classes and short courses are a great way for you to learn a new skill, turn a hobby into a money earner or even take the first step on the road to achieving a new qualification. With ILA funding available, you might be able to learn a whole new skill without it costing you a penny! From Digital Photography to Working With Wood, there's something for everyone.
Engineering & Construction "Employability Essentials" course, which runs from 4th July to 5th August. Last year 100% of the attendees went onto into positive destinations (employment, modern apprenticeships or further education), and there are 4 places remaining of the course for this year.
If you will be in 4th, 5th or 6th year in 2016/17 and you are unsure what path to take when you leave school then this course may be for you. This course will provide you with the practical skills and information required to support your success in moving into employment.
--- More than 200 students enjoy Inverness College UHI CREATE event ---. --- Highland entrepreneurs offer advice on starting out in business ---.
North Highland College UHI has received a very positive report following a recent Education Scotland review of its Further Education provision across its campuses in Thurso, Dornoch and Alness. The independent review, carried out by Education Scotland inspectors on behalf of the Scottish Further and Higher Education Funding Council (SFC), took place in February and resulted in an overall judgement of "effective", the highest level possible.