Industry Day Engineering brings local employers into the classroom
5th December 2009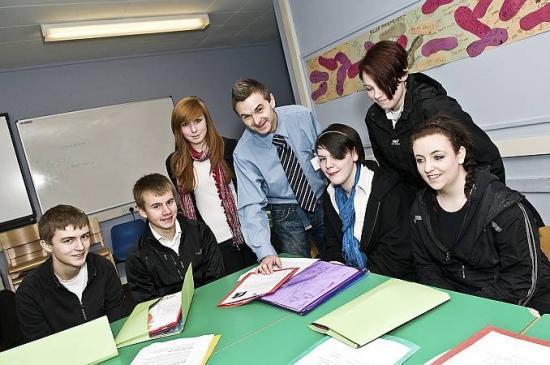 Young people at Thurso, Wick, Golspie and Farr High Schools learned about the engineering sector during a series of industry days organised by Highlands and Islands Enterprise (HIE). Part of the STEM (science, technology, engineering and mathematics) North of Scotland initiative, the days were held in partnership with local employers, North Highland College and Skills Development Scotland. Students met representatives from Rolls-Royce, Dounreay Site Restoration Ltd, Nuvia, Johnson Controls and T3UK/JGC Engineering.

The industry days are an opportunity for young people to learn more about how to prepare written applications, for interviews and to discover their options in pursuing a career in the engineering sector.

Employers involved in the day gave advice on filling out application forms in small groups. Short practise interviews gave the pupils a chance to experience a trial run before they have to put their communication skills into practice in a real life situation.

John Owens, HR Manager at Rolls-Royce Vulcan, commented: "You will only ever have your first interview once so it is very important that students attend days like these so they can be prepared for when it really matters."

A panel of STEM Ambassadors from Rolls-Royce, Dounreay Site Restoration Ltd, Nuvia and Johnson Controls shared their experiences with the pupils, including apprentices who gave an insight into what being an apprentice is really like.

The STEM Ambassador programme, run by HIE as part of the STEM North of Scotland Initiative, sees volunteers from local companies visiting schools and helping to make science, technology and mathematics lessons more engaging and relevant for young people. In the Highlands and Islands area, 280 STEM Ambassadors from different subject areas and qualification levels are currently working as role models for young people.

Careers advisors from Skills Development Scotland and the North Highland College gave helpful guidance on routes into different engineering sectors and information on engineering related study opportunities with UHI and local colleges.

Donna Chisholm, STEM director at HIE, says: "We are delighted that so many local employers and guidance staff have used this opportunity to meet young people and give them an insight into their options in the world of engineering."

The STEM North of Scotland Partnership (www.stemnorthofscotland.com) is a grouping of six local authorities, UHI Millennium Institute, the Open University, Skills Development Scotland and Highlands and Islands Enterprise. The Partnership works to promote science, technology, engineering and mathematics (STEM), with the aim of ensuring young people know more about the importance of STEM subjects in the world around them. In particular in energy, ICT, life sciences, finance and business and food and drink - key employment sectors in the North of Scotland.

Photo
Industry Day Engineering 24/11/09 - left to right: Liam Elder, Peter Sangster, Keanna Jardine, Alan Ogg (North Highland College), Beth Henderson, Jasmine Cameron, Chelsea Somerville. Thurso High School
Picture Angus Mackay - www.angusmackay.co.uk
Related Businesses
Related Articles
The £48.5m Wick Community Campus built by Morrison Construction has been announced as a finalist at the Royal Town Planning Institute (RTPI) Awards for Planning Excellence 2018. The project is entered in the category for "Excellence in Planning for a Successful Economy" against eight other finalists from across the UK with the winner to be announced during a ceremony at Milton Court Concert Hall on 24 May 2018.
Around 400 pupils and teachers attending Newton Park Primary school and Nursery at Wick Campus in Wick will walk to their new school on Wednesday 26 April setting off at 9am from the Old Pulteneytown Academy building. The procession of pupils in their new school uniforms will be led by Highland Bagpipers Alistair Miller and Chester Henry, a P7 pupil, along the new pedestrian access path and ramp down to the new building.
The property is located in a pleasant residential area and is approximately a 5 minutes walk from Wick railway station and the Caithness General Hospital. The facilities of Wick town centre and the expanding Wick Harbour are approximately a 10 minute walk.
The progress of ICT learning by pupils at Wick High School is bucking national trends as more girls at the school take part in the "Apps for Good" programme and teams of boys and girls from the school win UK competitions. Five pupils, Leanne Cormack, Megan Shearer, Konrad Szewczyk, Ellora James, John Sutherland and their Teacher, Chris Aitken impressed Members of the Council's Education, Children and Adult Services Committee with presentations about their experiences in developing Apps and participating in the "Apps for Good" final at London.
Deputy First Minister Nicola Sturgeon today broke the ground on the new £48.5 million Wick Community Campus. The facility, which will replace Wick High School, Pulteneytown Academy Primary School, and South Primary School, is part of Scotland's Schools for the Future programme and will receive more than £17 million from the Scottish Government.
MAKLAB is one of several projects to benefit from SSE's new £1m Highland Sustainable Fund. It received an award of £40,000 (90% match funding) to establish a MAKLab North workshop at Wick High School and mobile MAKLAB to deliver access and skills training in digital fabrication technology across the Highland region.
Last year a group of Wick High School pupils won an award for creating great new app for your phone. It will cut down on paper work for farmers.
Thurso High School, which was damaged on Christmas Eve during a storm, is to reopen to all pupils and staff on Monday 6 January On 24 December a large section of the roof of the 802 pupil school was blown off during high winds. The school was closed for the Christmas holidays at the time and no one was injured but some damage was reported to private cars in the neighbouring area.
A large section of Thurso High School roof has been blown off with the high winds. Police and Highland Council staff are in attendance and Ormlie Road has been closed.
The Highland Council has appointed Mr Ken Murphy, to the post of Head Teacher of the 804-pupil Thurso High School. Mr Murphy, who has been the Acting Head Teacher since August of this year, succeeds Dr Fiona Grant, who has reverted to a teaching post at the school.