Future of Flagship University Library set in Caithness Stone
7th April 2010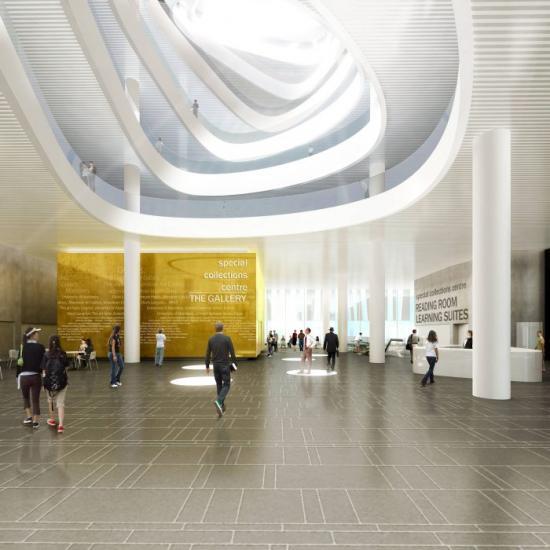 The North's world-renowned building stone is demonstrating its versatility by featuring in a £57 million Scottish project to create a flagship library for the University of Aberdeen.

Caithness Stone Industries has secured a multi-million pound contract to provide both building and specialist finished stone for key areas of the development. The Wick-based business, which employs 30 local people, will provide walling and flooring for the new library project.

Designed by the leading Danish architectural practice Schmidt Hammer Lassen, the new library will provide state of the art facilities for the 14,000 student community, replacing the existing Queen Mother Library. It will provide a 21st century learning and research environment for students, staff and visitors. Conceived as a cube evoking the ice and light of the north, the new library building has a sharp, modern design, and a striking interior of sweeping contours around an asymmetrical atrium which rises diagonally from the public ground floor through the floors above.

John Sutherland, of Caithness Stone Industries, commented: "The architects have designed a visionary 21st century building. With the range of specialist equipment we have and our own in-house design team we are delighted to play our part in creating a library of which generations to come can be proud."

Caithness Stone Industries, which has four quarry sites in the far north of Scotland, is pro-active in growing its business and has been working with Highlands and Islands Enterprise (HIE) to develop its business.

Hilary Budge of HIE is delighted the business has won such an important contract.

"Caithness stone is one of our area's oldest traditional industries and has been exported all over the world. It is great news that its importance as a quality Scottish product is leading to increased orders. Caithness Stone Industries is exploring more business opportunities than ever before. HIE is delighted to have supported them in buying some of their specialist equipment and in supporting their design work through our graduate placement scheme," she said.

Creating a magnificent new library spearheads the next phase of the University's ambitious investment programme to develop the infrastructure to match its academic aspirations. Professor Christopher Gane, Vice-Principal and academic lead for the library project said. "I am delighted that the University is working in partnership with Caithness Stone Industries in building an iconic, intellectual and cultural facility for both the University community and for scholars and the wider public throughout the world.

"We are determined that the benefits of this exciting new building stretch beyond our staff and students to all who live and work across the north of Scotland.

"The support of individuals and businesses based in the north of Scotland is proving an important component in further strengthening partnerships between the University and major players in the economic, cultural and public life of Scotland."

Photo
Atrium entrance, University of Aberdeen.

Related Businesses
Related Articles
Young people in Caithness will be the first in Scotland to benefit from new Norwegian style learning centres. A network of 'ÄėNewton rooms' in Norway and one in Denmark are used to inspire more young people into careers in science, technology, engineering and maths (STEM).
A kit home and window manufacturer with operations in Caithness and Inverness has been shortlisted for a national award for innovation. Norscot is one of three finalists in the Scottish Knowledge Exchange Awards 2018 Innovation of the Year category, after developing a system for clients to view their new homes on site virtually before building work starts.
A Shetland boat building and engineering company has increased its workforce and is set to expand internationally as orders for workboats grow. Six new jobs have already been created at Malakoff Ltd after opening a new site earlier this year at Greenhead Base in Lerwick.
A £60m fund to keep Scotland at the forefront of low carbon innovation is now open for applications. The Low Carbon Infrastructure Transition Programme (LCITP) will fund large scale projects which support the ambitions of the Scottish Government's new Scotland's Energy Strategy, which was published in December 2017.
A global software development business with its technology hub based in Orkney is moving to larger premises. Kyloe is set to double its staff in the next few years and has secured £191,250 investment from Highlands and Islands Enterprise (HIE) to help it move to a more suitable premises.
Recent VisitScotland figures have highlighted that 62%* of holidaymakers to Scotland said trying locally sourced food and drink is an important part of their visit. Share In a bid to capitalise on the benefits of a close relationship between food and drink producers and the tourism sector, a range of industry representatives and public agencies are working together to develop a new strategy - the 'ÄėNational Framework to Grow Food Tourism'.
A special week long programme is being held in the Highlands and Islands de-mystifying the ways data can be used to change lives, deliver better services and grow business. Share Highlands and Islands Enterprise (HIE) is co-ordinating a local Fringe programme as part of the Scottish DataFest18 festival, organised by The Data Lab.
Luxury resort Auchrannie has completed its transition to become Scotland's latest employee-owned business, with 160 members of staff becoming owners. Share Located in Brodick on the Isle of Arran, Auchrannie is an award-winning resort comprising two 4-star hotels, thirty 5-star self-catering lodges, two leisure clubs, three individually branded restaurants, a children's Playbarn, an ASPA spa and Arran Adventure outdoor company.
The increasing use of digital services in a connected world brings an increasing threat of cyberattack. The Internet that connects systems doesn't discriminate between the type of traffic it allows on the network, it is our responsibility to manage this when we connect to and use the Internet by recognising and reducing the risk as appropriate.
A new £16 million initiative is to be launched in the Highlands to boost innovation. The Northern Innovation Hub (NIH) will focus on four key industry sectors.