Enterprising Couple Rearing Buffalo In Caithness
28th January 2006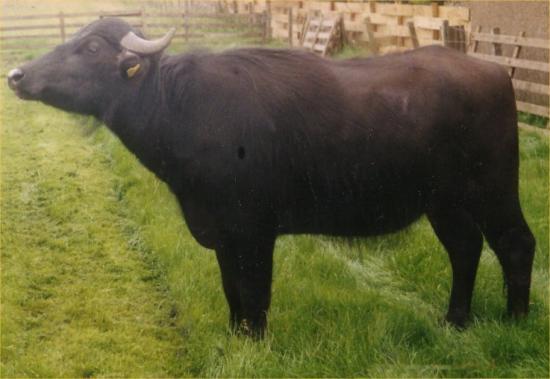 Rebecca Winkle and Graham Maharg run a croft at Scarfskerry and have pooled their talents to operate a range of small enterprises under the name Lotions And Potions

Beneath that title lies a varied list of small enterprises including animals most of which are often to be found in and around small farms and increasingly crofts in the Highlands. One animal, the buffalo is very unusual for Caithness and raised a few eyebrows but contrary to expectations is doing very well.

The buffalo line is originally from Bulgaria but these two have been born and raised in Scotland. The buffalo have been at the croft for a couple of years now and they are ready to mate and indeed have been in search of a mate on some dark nights.

Graham said, "We tried Artificial Insemination last summer so hope for some success this year [gestation is 10 months not 9 like cows] They have to be bred with Water Buffalos and not with cows ..they are a different species. The couple are on the look out for a bull to take them to if the AI does not work. The original plan was to breed them for meat, milk and mozarella. Depending on the success of this they may branch out to serve others with the same.

Buffalo live quite happily in the Caithness climate and have no problems with the wet weather found in the north of Scotland but they do need shelter from the very cold winds and snow.

But go deeper and you find a growing list of products from herbs to soaps and creams. Keep on going and you will find that Rebecca is a qualified artist and regularly carries out commissions whilst Graham has put his music to work and recently released a CD - Colour Of Rain

Rebecca also makes soap from buffalo milk and they may well take the buffalos to some shows this year to promote that side of the business. So watch out for them at shows in Caithness in 2006.
Related Businesses
Related Articles
With an ever expanding list of products the Croft Lotions And Potions Business based right in the heart of Caithness has given a completely new look to the web site. A much clearer and simpler style has been introduced to set off the growing product range.