Employer Networking Event Could Point To Your Next Job
27th May 2011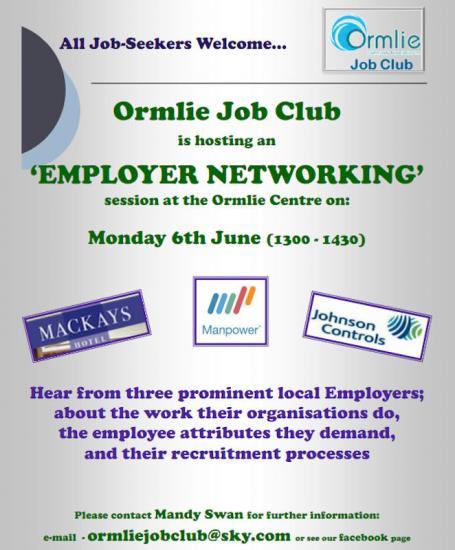 'EMPLOYER NETWORKING' event . . . ...June 6th

Ormlie Job Club is delighted to announce a unique forthcoming event. On June 6th the club is hosting its first ever 'Employer Networking' session.

Representatives from three local Employers; Johnson Controls, Manpower and Mackays Hotel are coming along to speak with members at the Job Club.

They'll be telling us all about the work their organisations do, they'll be explaining all about the particular 'skills and attributes' they look for in their employees and they'll give us an insight into their recruitment processes and staff selection criteria. This will be a beneficial session to Job-Seekers of all ages / working histories . . . so please pop along for the opportunity to join in and glean useful insight which could prove invaluable for your next interview !! Please see the attached poster for further info and come along at 1300 on Monday June 6th.

In addition to this event - Ormlie Job Club holds regular 'Drop-In' sessions every Friday morning, and has a programme of structured workshops which strive to enhance Job-Seekers employability . . . For further information please see our feature article on the 'Org' Job Vacancies forum, look for forthcoming events on 'What's On' section, look at our facebook page or just pop along any Friday morning between 1000 and 1200; where Job Club Co-ordinator - Mandy Swan - will be delighted to welcome you to the club, and explain the Job Hunting services on offer.