Thurso Couple Scratch Their Way To A £250k Win
20th August 2011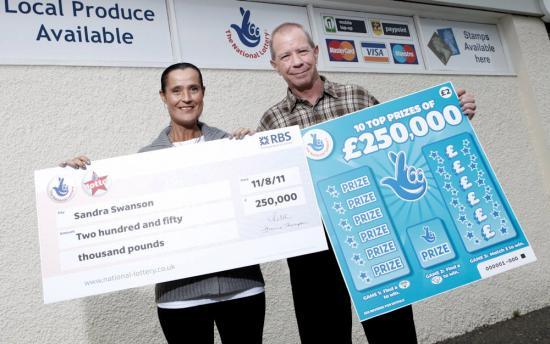 A care worker from Thurso and his wife have scooped £250,000 on The National Lottery £250k Turquoise Scratchcard.

Sandra Swanson (48) bought the Scratchcard at her local supermarket, D&M Fraser on Castlegreen Road in Thurso on Friday 5 August and scratched it when she got home to reveal the winning amount.

Glenn (54), Sandra's husband was busy playing golf on the Wii with his brother when Sandra burst in to say she'd won. Glenn said: "Sandra could hardly get her words out but Russell and I were far too engrossed in our golf to notice how flabbergasted she was. Eventually we realised she had something big to tell us and when she broke the news we just couldn't believe it."

Sandra, Glenn and Russell, then all checked the Scratchcard over and over again but it clearly showed they were winners.

Sandra, who is a stay at home mum said: "I enjoy buying Scratchcards but the most I've ever won is £200 so it was a dream come true to win £250,000."

The couple have three children (two girls and a boy) aged between 16 and 24 and they are planning a big family holiday in the near future to celebrate. The girls also got treated to a shopping spree which so far as been the highlight of the win according to Sandra.

The couple's win will also allow them to become home-owners for the first time. Glenn continued: "Owning our own home will be the biggest bonus for us and something we could only have dreamed of doing before scooping this win. We are really excited about looking for a new house and being able to decorate it exactly the way we want to."

The Swanson's have helped the Highlands continue its lucky winning streak as they are the third couple to win on The National Lottery in the past six months. Alastair Cameron and his wife Isobel scooped the £500,000 Thunderball jackpot on Saturday 5 March 2011 and John and Angela Sutherland won over £282,000 on EuroMillions in August. Both couples were from Wick.

Sandra and Glenn claimed the 10th and final top prize on The National Lottery £250,000 Turquoise Scratchcard game. The odds of winning a prize were 1 in 4:45 and prizes ranged from £2 up to the top prize.