Marketing Advice 'Paves' The Way
9th September 2002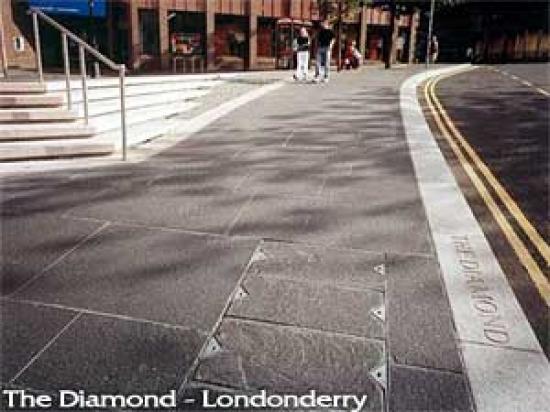 A new marketing campaign aimed at promoting Caithness flagstone as a paving material in English towns and cities is getting underway thanks to Caithness and Sutherland Enterprise (CASE).

Caithness-based A & D Sutherland Ltd have won many high profile contracts in Scotland including the Royal Mile in Edinburgh and Glasgow's Buchanan Street, but jobs south of the border have been few and far between in recent years.
With help from CASE's HIE-Marks advisor, Robin Paterson, a direct mail campaign targeting every landscape architect in England and relevant personnel in English local authorities is being prepared and will be rolled out this autumn.

Robin said: "It is essential that the promotional material succeeds in attracting the attention of its target audience through good copy and excellent graphic design. It is also essential that we provide a variety of opportunities for the recipient to contact the staff of A & D Sutherland for further information on the product.

"In short, we are trying to develop a relationship between the potential customer and A & D Sutherland because this is at the heart of good marketing and every successful business."

Commenting on the assistance they have received from CASE, Alexander Sutherland, director of A & D Sutherland, said: "The unique durable and aesthetic qualities of Caithness Flagstone have for centuries been a popular paving material in Scotland. Understandably I was delighted when Robin Paterson offered to help the business do something to address our problem with the market in England.

"Many local authorities and landscape architects in England, responsible for deciding on what materials to use in their plans, have either forgotten or are unaware of the stone's natural beauty and the fact that Caithness Flagstone will not become worn out in a matter of years unlike many other natural stone products.

Carroll Buxton, chief executive at CASE said: "It is gratifying that CASE is recognised not only for the financial help that we can offer but also for our expert guidance.

"The advice offered by CASE's Business Information Source officer, e-commerce advisors, business counsellors as well as the HIE-Marks advisor is free and is therefore a real asset that should be accessed by every business in the Caithness and Sutherland area."
Related Businesses
Related Articles
Recent VisitScotland figures have highlighted that 62%* of holidaymakers to Scotland said trying locally sourced food and drink is an important part of their visit. Share In a bid to capitalise on the benefits of a close relationship between food and drink producers and the tourism sector, a range of industry representatives and public agencies are working together to develop a new strategy - the 'National Framework to Grow Food Tourism'.
A special week long programme is being held in the Highlands and Islands de-mystifying the ways data can be used to change lives, deliver better services and grow business. Share Highlands and Islands Enterprise (HIE) is co-ordinating a local Fringe programme as part of the Scottish DataFest18 festival, organised by The Data Lab.
Luxury resort Auchrannie has completed its transition to become Scotland's latest employee-owned business, with 160 members of staff becoming owners. Share Located in Brodick on the Isle of Arran, Auchrannie is an award-winning resort comprising two 4-star hotels, thirty 5-star self-catering lodges, two leisure clubs, three individually branded restaurants, a children's Playbarn, an ASPA spa and Arran Adventure outdoor company.
The increasing use of digital services in a connected world brings an increasing threat of cyberattack. The Internet that connects systems doesn't discriminate between the type of traffic it allows on the network, it is our responsibility to manage this when we connect to and use the Internet by recognising and reducing the risk as appropriate.
A new £16 million initiative is to be launched in the Highlands to boost innovation. The Northern Innovation Hub (NIH) will focus on four key industry sectors.
A new residential music studio in the Outer Hebrides is set to capitalise on its scenic location and high-end technology to attract both UK and international recording artists. Black Bay Studio has opened for business on the island of Great Bernera just off the west coast of the Isle of Lewis.
It has never been more important for businesses in the Highlands and Islands to target global markets, writes Martin Johnson, HIE's head of international trade and investment. At the same time global markets have never been more accessible to the region, so we are in a good place.
Highlands and Islands Enterprise (HIE) has appointed a new director of business and sector development. Originally from County Durham, David Oxley joined the organisation in 2004 as head of operations in Lochaber before moving to Forres with his wife and son in 2011 to take up the role of area manager in Moray.
The development of Inverness Campus moves another step forward with tenders being invited to build a second life science building. Highlands and Islands Enterprise (HIE) is leading on the development of the campus.
Aerospace and defence sector opportunities in the region highlighted at event Businesses in the Highlands and Islands are being invited to a free workshop to find out how the region can benefit from opportunities in the aerospace, defence, security and space industries. It will be held in at An Lòchran, Inverness Campus on Tuesday 26 September 2017 The event is organised by Highlands and Islands Enterprise (HIE) and ADS Scotland which is the Scottish branch of the aerospace, defence, security and space industry trade organisation, ADS.