Marketing Advice 'Paves' The Way
9th September 2002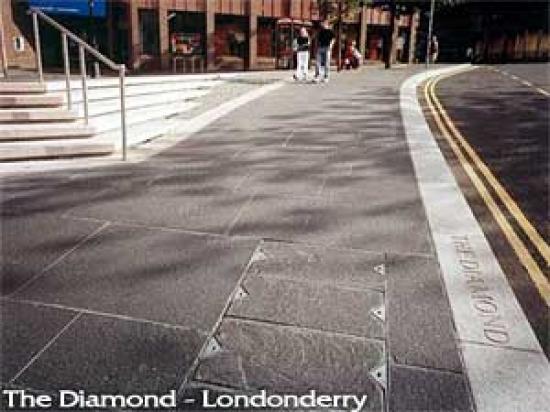 A new marketing campaign aimed at promoting Caithness flagstone as a paving material in English towns and cities is getting underway thanks to Caithness and Sutherland Enterprise (CASE).

Caithness-based A & D Sutherland Ltd have won many high profile contracts in Scotland including the Royal Mile in Edinburgh and Glasgow's Buchanan Street, but jobs south of the border have been few and far between in recent years.
With help from CASE's HIE-Marks advisor, Robin Paterson, a direct mail campaign targeting every landscape architect in England and relevant personnel in English local authorities is being prepared and will be rolled out this autumn.

Robin said: "It is essential that the promotional material succeeds in attracting the attention of its target audience through good copy and excellent graphic design. It is also essential that we provide a variety of opportunities for the recipient to contact the staff of A & D Sutherland for further information on the product.

"In short, we are trying to develop a relationship between the potential customer and A & D Sutherland because this is at the heart of good marketing and every successful business."

Commenting on the assistance they have received from CASE, Alexander Sutherland, director of A & D Sutherland, said: "The unique durable and aesthetic qualities of Caithness Flagstone have for centuries been a popular paving material in Scotland. Understandably I was delighted when Robin Paterson offered to help the business do something to address our problem with the market in England.

"Many local authorities and landscape architects in England, responsible for deciding on what materials to use in their plans, have either forgotten or are unaware of the stone's natural beauty and the fact that Caithness Flagstone will not become worn out in a matter of years unlike many other natural stone products.

Carroll Buxton, chief executive at CASE said: "It is gratifying that CASE is recognised not only for the financial help that we can offer but also for our expert guidance.

"The advice offered by CASE's Business Information Source officer, e-commerce advisors, business counsellors as well as the HIE-Marks advisor is free and is therefore a real asset that should be accessed by every business in the Caithness and Sutherland area."
Related Businesses
Related Articles
The latest Highlands and Islands Enterprise (HIE) Business Panel Survey published today (10 September) shows that 89% of companies across the region are offering benefits such as competitive levels of pay, training and skills development, flexible working and paying the living wage. Over a thousand businesses across the region took part in the latest survey conducted between 10 June and 8 July.
Plans to create a spaceport that will launch communications satellites into orbit from the Moine peninsula in Sutherland are set to be unveiled for discussion at public meetings over the next two months. Development agency Highlands and Islands Enterprise (HIE), which is backing the £17.3m project to design and build Space Hub Sutherland, has today (Wednesday 4 September) lodged a proposal of application notice with the Highland Council.
People with a business idea that will benefit their local community or environment will soon have access to a new programme of support, being launched across the Highlands and Islands. Known as the Social Start-Up School, the innovative programme will be delivering four locally focused initiatives.
Highlands and Islands Enterprise has sold the to the University of the Highlands and Islands in a deal worth £9.83m. Funded by a loan from Scottish Funding Council, the sale will consolidate and help further develop the university's School of Health, Social Care and Life Sciences.
The owners of land earmarked for the Space Hub Sutherland development on the Moine Peninsula have agreed a lease option with developer, Highlands and Islands Enterprise (HIE). Representatives of Melness Crofters Estate (MCE) and HIE signed the agreement yesterday (Wednesday 31 July).
The second phase in a major upgrade of Scrabster Harbour in Caithness has secured up to £3m investment from Highlands and Islands Enterprise (HIE). The funding will enable the redevelopment of the existing St.
Start-up businesses in the Outer Hebrides could receive a welcome injection of capital from a new joint initiative by Business Gateway Outer Hebrides and Highlands and Islands enterprise. The Outer Hebrides Young Entrepreneur Start-Up Scheme (OHYESS), will provide grants of up to £2,500 to support entrepreneurs age 18-40 to set up businesses in key sectors across the Outer Hebrides.
Highlands and Islands Enterprise (HIE) has welcomed an international technology-led services and payments specialist as the newest tenant to Thurso Business Park. The agency has developed the park to enable local firms to expand and to attract new companies into the area.
Residents of Britain's most remote inhabited island have stepped up efforts to move towards a cleaner energy system. The people of Foula off Shetland have signed up to the Clean Energy Transition Pledge, which commits them to producing a decarbonisation plan over the next 12 months.
The authors of far-reaching 2018 report on potential investment priorities at Cairngorm Mountain have reviewed and updated their findings. US-based consultants SE Group were commissioned last year by Highlands and Islands Enterprise (HIE), owner of Cairngorm estate.