MV Hamnavoe Took Short Crossing In Severe Weather
Submitted by Bill Mowat
22nd January 2012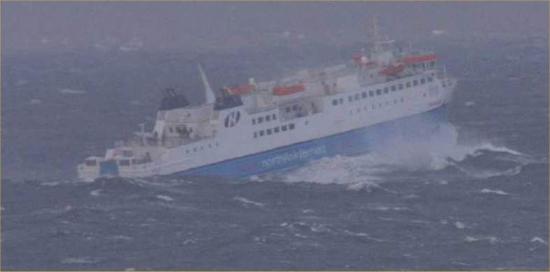 The 'short sea route' came into its own early last Saturday (21.01.12) afternoon in an unusual manner as storm-force Westerly severe gales swept huge Atlantic Ocean breakers into the Pentland Firth …

And the crossing of the narrowest Eastern End of the Firth between Canisbay Parish and South Ronaldsay enabled Orkney to maintain its sea-link with Caithness on one of the wildest sea-days of the 2011/12 winter so far, a season where weather patterns have been dominated by a series of deep atmospheric depressions sweeping in from the West in quick succession.

The trip was not done by Pentland Ferries' Pentalina, which normally plies the route thrice-daily, but by NorthLink Ferries' Hamnavoe which made an exceptionally-circuitous crossing from Scrabster to Stromness, adding just an hour to her scheduled 90 minutes' of sailing time.

A strong West-flowing ebb-stream was running in the Pentland Firth, opposing big incoming swells in the Merry Men of Mey tide-race giving multi-directional breaking seas of at least 8 metres in height, shore observers in Caithness said.

The 8,000 tonne vessel got into calmer waters once she emerged on the East side of the 1.5 miles wide tide-race, whose white-water breaking seas act as a natural 'breakwater' by soaking up and dissipating the force of the incoming swells anywhere to the East of Caithness's St John's Point, the western extremity of Gills Bay.

On an average during 40 crossings per year, Hamnavoe diverts from her regular route via St John's Head and the 'Old Man' … which is exposed to the full force of incoming Atlantic swells throughout almost all of its 28 mile length …. to enter the Firth and then catch the lee of Hoy by sailing round Cantick Head and through Scapa Flow and so on to Stromness. She often has to pass through the Merry Men of Mey, which is c. 1.5 miles wide and stretched from St John's Point on the North Coast to Tor Ness in Hoy while either inward or outward bound, as there are two ebb-tides taking up half of the time per day.

But last Saturday's route that her Captain chose was different; she continued to sail generally Eastwards parallel with the Caithness coast.

She passed through the Firth's narrow 1.5 mile-wide Inner Sound, stemming the ebb-stream and passing to within three-quarters of a mile of Gills Harbour and continued her eastwards journey until she was abreast of Duncansby Head, mainland Scotland's most North-easterly point.

There she turned almost due North for a point just off Burwick (South Ronaldsday's Southern tip) and Swona, before entering Scapa Flow by Hoxa South and sailing on to Stromness.

This is the first time since the Scrabster :Stromness link was established in 1945 that local folk on the Caithness shore are aware of this route being used.

But older local people, including retired postman/crofter Hamish Donn, of Lower Warse, Caithness, on the shores of Gills Bay, recalled that in pre-war times, the Royal Mail Steamer RMS St Ola, used to regularly sail through the Inner Sound during poor sea-weather in her once-daily crossing to Scapa Bay Pier. The official destination then was the nearby Kirkwall GPO; it ended in 1945, after which first-class post to Orkney went by air-mail at 'inland' prices. Prior to the 1974 introduction of RO:RO services with St Ola (III), diversions to Wick were not uncommon, but those trips did not involve sailings through the Firth's Inner Sound.

Very exceptionally, all three Pentland Ferries return crossings on Saturday were cancelled; during several previous winters in the 'Noughties' the Gills to St Margaret's Hope service managed at least one return scheduled crossing every day, even in 'poorish' weather.

Bill Mowat, chairman of Gills Harbour Ltd, the trading company 'limited by guarantee from the 450-strong Canisbay community that owns and operates the port at the inland apex of Gills Bay said; 'We have always backed experienced mariners in their correct claim that the 'short sea route' is the shortest, smoothest and quickest way to journey from Caithness to Orkney and it's reassuring that we've proved right in this rather unusual circumstance.

'But perhaps only persons that needed to travel would choose to experience such sea conditions. I expect that many Orcadians would have postponed their trips until the next day, when, as it transpired, conditions were back to normal'.
Related Businesses
Related Articles
-- Rolling dry dock period to commence late January with final vessel complete by 20 February--. -- MV Arrow secured on short term charter -- -- Alternative travel arrangements in place for MV Hamnavoe -- NorthLink Ferries has today (Thursday 21 December) published timetables confirming arrangements for the regular planned maintenance of its passenger vessels, with one vessel at a time due to be out of service between 22 January and 20 February.
NorthLink Ferries is set to open bookings for travel to and from the Northern Isles for next year from Saturday (1 October). Peter Hutchinson, customer service director at NorthLink Ferries, said: "NorthLink Ferries is happy to announce that bookings for 2017 are to be accepted from Saturday.
NorthLink Ferries, managed and operated by Serco on behalf of Transport Scotland, has scooped a national award at this year's Guardian and Observer Travel Awards. Held in Scotland's capital on Friday 3 March, the ferry operator was awarded the title of 'Best Ferry' at the annual ceremony, which celebrates the best in travel and tourism services across the world.
-- Location Fee Donated to Local Charity NorthLink Ferries is set to make its debut in the BBCs successful Shetland series this month. Passenger ferry MV Hrossey will appear in the third series of the crime television programme, which stars Douglas Henshall as Detective Inspector Jimmy Perez, due to air from Friday 15 January 2016.
NorthLink Ferries is set to bring a series of events on board its services in 2016 following a successful Year of Food and Drink in 2015. The events will continue the Scottish Governments celebration of food and drink from 2015 by showcasing local Orkney and Shetland producers throughout next year at a series of on board tastings.
NorthLink Ferries support of a new conservation initiative has proved successful, with five harbour porpoises, a striped dolphin and a pilot whale spotted in the first four months of the project by the ferry firms crew members. The sightings, identified while NorthLink Ferries crew members travelled between the mainland and the northern isles, feed into a wider survey conducted by the marine mammal conservation charity ORCA.
NorthLink Ferries has been named as the joint winner of a national award in recognition of the company's commitment to Fair Trade. The award was presented at the Scottish Fair Trade Awards to the Northern Isles ferry service for its partnership with Aberdeen Fairtrade Steering Group and Orkney Fair Trade Group.
NorthLink Ferries is now accepting bookings for travel to and from Orkney and Shetland for next year. The ferry operator will continue with its current timetable and fares as well as cater for popular events by providing a temporary revised schedule when required.
More than 12 NorthLink Ferries crew members have undertaken training to help them spot whales, dolphins and porpoise whilst sailing between the mainland and northern isles. The training marks the start of a new partnership between NorthLink Ferries and ORCA as they launch OceanWatch - a new conservation initiative that begins on 25 July aiming to monitor and collect data on marine life around the UK coastline and adjoining waters Speaking of the recent training and partnership, Captain Stuart McCallum, Marine Manager at Serco NorthLink Ferries, said: "Marine life is extremely vast and varied in the North Sea and through ORCA's OceanWatch training we hope to be able to obtain a snapshot of whale, dolphin and porpoise presence in these waters.
Serco NorthLink Ferries has announced two new special offers to launch early in 2015. From January 2, the 'Kids Go Free' promotion will see children travel for free on direct Lerwick to Aberdeen and Aberdeen to Lerwick routes.