Off Road On Track
16th May 2002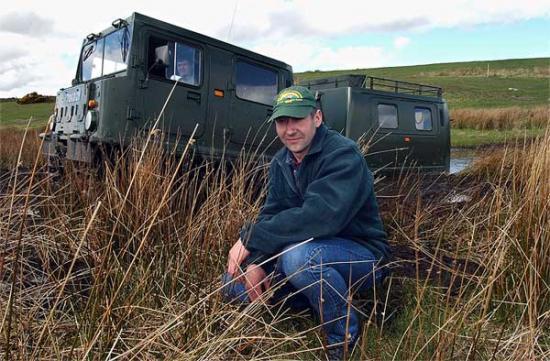 There will be even more 4x4 fun on the farm in future, even in wet weather, with help from Caithness and Sutherland Enterprise (CASE).

William Ronaldson & Son of Westerseat Farm near Wick have bought a new tracked vehicle with financial assistance from CASE so their 4x4 activities for visitors can continue, even when the weather is more suited to ducks.
A development grant and financial support from the European funded HIE Activity programme - which supports tourism activities covering everything from mountaineering and fishing, to events and festivals - has allowed Mr Ronaldson to buy an ex-MOD tracked vehicle.

During periods of heavy rain the 4x4 track becomes water logged and normal off-road vehicles can no longer use it. However, Morris Ronaldson's new Hagglund BV206 All Terrain Personnel Carrier will mean visitors can still enjoy the off-road experience.

Commenting on the new vehicle, Morris said: "The new vehicle is a real investment, allowing us to operate in all conditions. Last year we were unable to operate between November and February because of wet weather but with the Hagglund we can now operate year-round."

The Ronaldsons set up the 4x4 activity centre in 2000 as a way of diversifying their farming business which involves cattle, sheep and arable farming as well as contracting. Other activities on offer at the farm include 4x4 and quad bike driving, and tractor and fork lift challenges with the centre proving extremely popular with guests staying at the nearby Ackergill Tower and locals alike.

Arlette Bannister from Ackergill Tower said: "Our guests really enjoy William and his team, they are very professional in their welcome, and explanation, and cover the safety aspect well. Another 'toy' in the form of the Hagglund is a great addition for us to offer to our guests, especially for those guests who have visited the Ronaldsons before."

Chief executive at CASE, Carroll Buxton said: "Tourism is extremely important to the Caithness economy and the more activities there are to do in the area, the more visitors we can attract. William Ronaldson & Son are an excellent example of how farm businesses can diversify and generate income from the tourist sector."
Related Businesses
Related Articles
A kit home and window manufacturer with operations in Caithness and Inverness has been shortlisted for a national award for innovation. Norscot is one of three finalists in the Scottish Knowledge Exchange Awards 2018 Innovation of the Year category, after developing a system for clients to view their new homes on site virtually before building work starts.
A Shetland boat building and engineering company has increased its workforce and is set to expand internationally as orders for workboats grow. Six new jobs have already been created at Malakoff Ltd after opening a new site earlier this year at Greenhead Base in Lerwick.
A £60m fund to keep Scotland at the forefront of low carbon innovation is now open for applications. The Low Carbon Infrastructure Transition Programme (LCITP) will fund large scale projects which support the ambitions of the Scottish Government's new Scotland's Energy Strategy, which was published in December 2017.
A global software development business with its technology hub based in Orkney is moving to larger premises. Kyloe is set to double its staff in the next few years and has secured £191,250 investment from Highlands and Islands Enterprise (HIE) to help it move to a more suitable premises.
Recent VisitScotland figures have highlighted that 62%* of holidaymakers to Scotland said trying locally sourced food and drink is an important part of their visit. Share In a bid to capitalise on the benefits of a close relationship between food and drink producers and the tourism sector, a range of industry representatives and public agencies are working together to develop a new strategy - the 'National Framework to Grow Food Tourism'.
A special week long programme is being held in the Highlands and Islands de-mystifying the ways data can be used to change lives, deliver better services and grow business. Share Highlands and Islands Enterprise (HIE) is co-ordinating a local Fringe programme as part of the Scottish DataFest18 festival, organised by The Data Lab.
Luxury resort Auchrannie has completed its transition to become Scotland's latest employee-owned business, with 160 members of staff becoming owners. Share Located in Brodick on the Isle of Arran, Auchrannie is an award-winning resort comprising two 4-star hotels, thirty 5-star self-catering lodges, two leisure clubs, three individually branded restaurants, a children's Playbarn, an ASPA spa and Arran Adventure outdoor company.
The increasing use of digital services in a connected world brings an increasing threat of cyberattack. The Internet that connects systems doesn't discriminate between the type of traffic it allows on the network, it is our responsibility to manage this when we connect to and use the Internet by recognising and reducing the risk as appropriate.
A new £16 million initiative is to be launched in the Highlands to boost innovation. The Northern Innovation Hub (NIH) will focus on four key industry sectors.
A new residential music studio in the Outer Hebrides is set to capitalise on its scenic location and high-end technology to attract both UK and international recording artists. Black Bay Studio has opened for business on the island of Great Bernera just off the west coast of the Isle of Lewis.