End Of An Era At Wick Council Offices
18th January 2013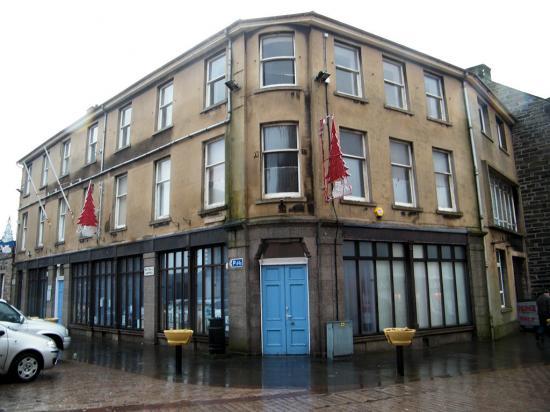 Offices of The Highland Council at Market Place, Wick, will close their doors for the last time at 3 pm today (Friday) ahead of an £8 million redevelopment of the site as modern Council office accommodation.

Eighty staff, including those at the Service Point, are relocating to Government Buildings, Girnigoe Street while the new offices are built at Market Place.

All business currently undertaken at the Market Place will continue at Girnigoe Street from Monday 21 January. The Service Point will open at 9.30 am.

The existing telephone lines will be discontinued from the date of the move.

New numbers are as follows:

· 01349 886606 General enquiries;

· 01349 886601 Roads and Street Lighting;

· 01349 886602 House repairs, applications and rent enquiries;

· 01349 886603 Domestic Special Uplifts and Bins, Abandoned Vehicles, Fly Tipping, Dog Fouling and Pest Control;

· 01349 886604 Blue Badge, Travel and National Entitlement Cards;

· 01349 886605 Make a payment by Debit or Credit Card;

· 01349 886608 ePlanning;

· 01349 886657 Election helpline; and

· 01955 609524 Registration of births deaths and marriages.

The Council has awarded a contract to Morgan Sindall to carry out the redevelopment of Market Place. This will see demolition of the old listed building at Market Place and refurbishment/restoration of the adjoining, Stafford Place Buildings, retaining the listed façade, to accommodate 140 Council staff currently based in a number of offices in Wick.

The new building will be built on three floors to the front and two floors at the rear.

When the new Council offices open, staff presently based at High Street (Social Work) and Rhind House (Education Culture and Sport) will move there.

A separate contract is also being progressed for the refurbishment of Wick Town Hall, including installation of a lift to make it fully accessible.

Wick councillor Bill Fernie said,"We are very pleased that finally after many years that the council offices in Wick will be fit for purpose and be able to continue to offer services to the north area of Highland and be more efficient as a building. There will be savings in the amalgamation of several buildings and modern heating and insulation will also help but the main thing is to offer better public services and retained in the centre of one of our main towns."

Councillor Fernie commented further, "The new council offices are just the start this year as we will also see the much bigger shot in the arm for the are when the new schools contract commences in August and another small contract for a new Children's home. This will be the largest capital spending by highland council in any town for education and is huge shot in the arm for the economy creating much needed work in the area over the next 3 years."
Related Businesses
Related Articles
A Corporate Parenting Board is to be established which will have a duty of care for currently around 500 'Looked After' children and young people in Highland. Members of the Highland Community Planning Partnership's, Community Planning Board have this week (21 March 2018) agreed to establish a Corporate Parenting Board the purpose of which will be to: • promote the corporate parenting role of statutory agencies and awareness of the duties towards care experienced young people in Highland.
The Highland Child Protection Committee has launched a Toolkit to assist individuals, volunteers and community groups working with children and young people understand their roles and responsibilities in relation to child protection. Over 60 people providing activities for children, young people and families in a paid and voluntary capacity came along to the launch event in Inverness yesterday.
Bill Alexander, Director of Care and Learning, has announced his intention to retire from The Highland Council. Bill commenced with the Council in 2000, in a joint post with NHS Highland as Head of Children's Services.
Beware of calls from scammers pretending to be the Telephone Preference Service warns Highland Council Trading Standards. Highland Council Trading Standards wish to warn consumers not to fall for a new telephone call scam in which fraudsters pretend to be calling from the Telephone Preference Service (or TPS).
Recent outcomes of Redesign work were noted by Members at yesterday's Highland Council meeting. In the first year of the programme, 8 redesign projects were undertaken using a "Lean" approach and 36 staff have been trained as facilitators.
Motorists are being advised that The Highland Council is currently preparing to carry out resurfacing works at the following locations: • B862 Fort Augustus - Whitebridge - Torness - Dores – Inverness Road; specifically at Errogie Village (North Gateway), Errogie Village (South Gateway), and Compass Farm; and • B851 Errogie – Strathnairn – Daviot Bridge – Culloden Moor Road; specifically at Aberarder House. Advanced works notification signage will be provided at various locations from Thursday 15 March 2018.
The Highland Council has agreed a capital programme of £482m over the next 5 years. The Highland Council serves the largest geographical area in Scotland (over 30%) and has just under £2bn of assets on its balance sheet comprising, amongst other things, 203 operational schools, over 6,700km of roads and over 2,000 properties.
The Highland Council's Enforcement Officers have stepped up patrols in Caithness in a move to tackle the problem of littering, fly tipping and dog fouling. A number of fixed penalty notices have been issued recently including an £80 fine for dog fouling in the Stafford Lane and Back Bridge area of Wick, a £200 fine for fly-tipping on Ackergill Street and another £80 fine for dog fouling in Lybster.
Speaking ahead of today's Council meeting to agree the Council's Capital Programme for 2018/19 to 2022/23, Cllr Margaret Davidson, Leader of the Highland Council said:- "This programme delivers significant investment in a range of key projects across the Highlands. We are investing in schools, roads, bridges, harbours and flood prevention schemes that will benefit our communities.
Highland Council is to make a special case for extra capital investment in the road infrastructure after a winter period which has seen the Highlands battered by some 57 days of severe weather. Highland Council area is particularly subject to severe winter weather, which has a significant impact on the roads and other infrastructure.