Wick Harbour Takes A Big Step Forward With New Funding
3rd July 2013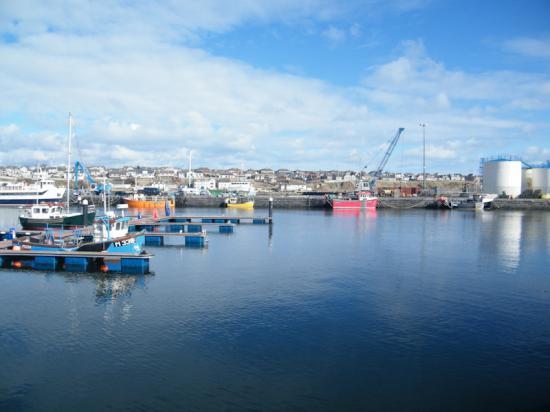 Wick Harbour Authority's ambitious plans to attract new jobs to the area from the offshore wind industry have received a boost with the combined support of £450,000 from two partners in the Caithness & North Sutherland Regeneration Partnership (CNSRP).

The Harbour Authority is positioning the port to attract business from the two large offshore wind developments in the Moray Firth, and is currently working on a multi-phase programme to ensure that its facilities meet the requirements of industry. The first project will be the installation of heavy lift facilities at the port's commercial quay and the dredging of the entry channel to the quay, which has attracted grant support of up to £250,000 from the Nuclear Decommissioning Authority (NDA) and up to £200,000 from Highlands and Islands Enterprise (HIE). The Harbour Authority has also been successful in attracting private funding for this phase of work.

Wick Harbour Authority Chairman Willie Watt welcomed the funding boost to WHA's plans:

"We are extremely happy with the support received from HIE and the NDA on these two vitally important projects. Since 2005 the Board at Wick Harbour have consistently worked towards achieving commercial sustainability for the Harbour in the long term. The support and confidence that HIE and NDA have shown is testament to the long term vision we have planned.

Our stepping stone approach has created new opportunities and confidence around the port and we look forward to developing the Harbour in response to the potential that will come from the two major offshore wind projects just off our shores. The number of jobs that could be realised will be in excess of 300 and this is just one part of our portfolio that will bring new opportunities to Caithness and North Sutherland."

Wick Harbour Authority has been working on its plans with CNSRP partners, attracting support for a range of background and technical studies. CNSRP Chairman Sir Antony Cleaver said:

"The Partnership identified Wick Harbour Authority's plans as a priority because of the potential to attract a significant number of new jobs to the area in a key sector, so I am delighted to see this evidence of progress. The ability of partners to come together in this way is one of the key strengths of CNSRP as we continue to address the area's future economic sustainability."

Anna MacConnell, the NDA's Stakeholder and Socio-economic Manager, said: "Wick Harbour Authority is an example of community-led economic development at its best. The role of the public sector, to support and encourage sustainable economic growth, is made so much easier when working with a Board as adaptable and innovative as Wick Harbour Authority. The NDA is pleased to continue our long association with Wick Harbour Authority."

Roy Kirk, area manager for HIE, said: "This is an excellent example of good partnership working to develop a harbour which is strategically important to the region. By combining private and public sector finance we are developing the facilities that Wick Harbour Authority needs to deliver services for the growing renewables energy industry. HIE is delighted to support the growth of the infrastructure required to allow the region to get maximum benefit from the sector."
Related Businesses
Related Articles
Leader of the Highland Council, Margaret Davidson has moved to reassure communities about forthcoming budget decisions. She said: "No decisions will be made until the Council meets on 15 February.
Recent VisitScotland figures have highlighted that 62%* of holidaymakers to Scotland said trying locally sourced food and drink is an important part of their visit. Share In a bid to capitalise on the benefits of a close relationship between food and drink producers and the tourism sector, a range of industry representatives and public agencies are working together to develop a new strategy - the 'National Framework to Grow Food Tourism'.
Week Commencing 8 January 2018 Energy & business services: Siemens Gamesa Renewable Energy - the suppliers of the turbines for the Beatrice Offshore Windfarm - are advertising several new roles to be based at the operations base in Wick. See http://forum.caithness.org/forumdisplay.php?22-Job-Vacancies.
At Highland Council work has been ongoing for some months to prepare a Revenue and Capital Budget for 2018/19 and beyond, with the anticipation of a significant cut to available funds. The Scottish Government's proposed grant settlement was announced on 14 December 2017.
A special week long programme is being held in the Highlands and Islands de-mystifying the ways data can be used to change lives, deliver better services and grow business. Share Highlands and Islands Enterprise (HIE) is co-ordinating a local Fringe programme as part of the Scottish DataFest18 festival, organised by The Data Lab.
Luxury resort Auchrannie has completed its transition to become Scotland's latest employee-owned business, with 160 members of staff becoming owners. Share Located in Brodick on the Isle of Arran, Auchrannie is an award-winning resort comprising two 4-star hotels, thirty 5-star self-catering lodges, two leisure clubs, three individually branded restaurants, a children's Playbarn, an ASPA spa and Arran Adventure outdoor company.
The increasing use of digital services in a connected world brings an increasing threat of cyberattack. The Internet that connects systems doesn't discriminate between the type of traffic it allows on the network, it is our responsibility to manage this when we connect to and use the Internet by recognising and reducing the risk as appropriate.
Around £3 million of funding has been agreed for a ground-breaking Highland project that could transform the lives of people with complex health needs as part of the Inverness and Highland City Region Deal. The business case for the 'FitHome' assisted living project was approved in November last year with £3m funding from the Scottish Government.
An article in the Press and Journal today 9th January 2018 highlights the cuts in staffing levels across Scottish councils with Highland being one of the highest. In 2009 Highland had 9953 Full-time Equivalent Staff and in 2017 it had dropped by 21% to 7838.
Highland Council Trading Standards team has recently seen an increase in scams targeting Highland businesses. The most common scams reported by businesses relate to marketing and publishing but other frauds such as those involving demands for payment for unsolicited goods sent to businesses (such as ink cartridges which were never ordered) are also on the rise.