Employment grant helps Caithness businesses take on new recruit
6th July 2013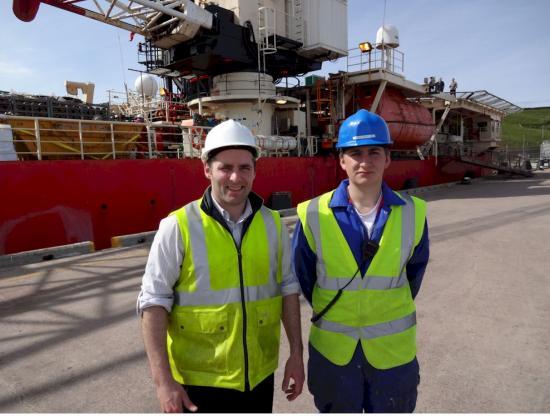 Deputy Harbour Master Jason Hamilton (white hard hat) with new employee Donald McIntyre (blue hard hat).

Scrabster Harbour Trust has been able to take on a new member of staff thanks to funding secured via The Highland Council's Employment Grant scheme.

Supported through the European Social fund, and delivered by Business Gateway Highland, the grant aims to encourage companies with less than 250 employees create new job opportunities for the unemployed.

Through a combination of one-to-one tailored advice from a Business Gateway recruitment adviser and a 26 or 52 week wage subsidy - jointly funded by the Highland Council and the European Social Fund - the grant makes it easier for local businesses to take on permanent, full-time employees.

And thanks to qualifying for a grant through the scheme, Scrabster Harbour Trust, in Caithness, has taken on Donald McIntyre (21), from Thurso. Donald started work in February as a general worker, helping with a range of tasks - from mooring vessels to cleaning and painting.

Jason Hamilton, Deputy Harbour Master said: "The subsidy grant is an excellent scheme that has allowed us to take on a young person. With our current port development the last 18 months have been very challenging both operationally and financially. Without Business Gateway's excellent advice and the financial support of the scheme it would not have been possible to recruit anyone. Donald has fitted in well and will gain good experience from our other employees; this is vital to ensure future proofing of the workforce. If businesses don't invest in our young people then certain skills and knowledge will be lost and a void will be left. Business Gateway and Highland Council have given Scrabster Harbour Trust and Donald a great opportunity in tough economic times. I would encourage other companies to contact Business Gateway to find out more about the scheme."

Marianne Ross, Recruitment Adviser, Business Gateway said: "For organisations like Scrabster Harbour Trust taking on staff can be daunting both financially and in general terms. What the Employment Grant provides is a financial cushion to those businesses that qualify. It provides them with access to advice that helps them navigate, and understand, the often confusing amount of information that is out there on areas such as employment contracts, legislation and how to pick the right person for interview. The port, which is the most northerly mainland port in Scotland, is undergoing a massive re-development which will allow it to grow and in turn create job opportunities in the harbour itself and the surrounding area. The Harbour Trust is focussed on providing a facility that will secure the future of the port so we're delighted that the Employment Grant, and our advice, have made it easier for them to create a full-time position for Donald."

To find out if your business is eligible for The Highland Council Employment Grant contact Business Gateway's Recruitment Advisers: Emma Lawson on 07867 394347, emma.lawson[AT]highland-opportunity.com or Marianne Ross on 07867 394346, marianne.ross[AT]highland-opportunity.com
Related Businesses
Related Articles
Scrabster and Lossiemouth harbours have secured funding through the Highland & Moray Fisheries Local Action Group (FLAG) to install new pontoons to cater for the increasing demand for berthing space. Lossiemouth also received funding towards an innovative dredging system to allow regular dredging to be carried out ensuring the pontoons will be accessible at all times.
Scrabster Harbour has launched its marketing campaign to promote Caithness as a cruise destination to the global cruise industry. The campaign, which will feature a staged marketing approach, will ensure relevant information is delivered at the critical points during the decision making process, and before and after cruise industry events.
Scrabster Harbour Trust (UK) has taken delivery of a new harbor tug / workboat, a Damen Stan Tug 1606. The vessel, named Highlanders, will replace its current workboat which was built in 1976.
Local business support organisations are coming together this month to host a unique event as part of an ongoing initiative to help local businesses find out about, and harness, the support available to do business overseas. This comes after two recent surveys found that Scottish businesses want to grow internationally, but feel that they are held back by a lack of resources.
Three Business Gateway specialist advisers are coming to Thurso next week (Tuesday 2 September 2014) to offer local businesses advice and practical guidance on three topics: Accessing Finance Winning Public Contracts Taking on Staff You can book a one-hour appointment with any or all of these advisers. All appointments will be based at the Naver Business Centre in Thurso.
In the Highlands over the last 3 months 149 employment opportunities have been created through the Council's advisory and business support services. During a meeting of the Council's Planning, Development and Infrastructure Committee held today (Wednesday 20 August) members heard that 71 new businesses have been supported by Business Gateway to start up and a further 122 Highland businesses already serving local markets have accessed advice over the last quarter.
Three Business Gateway advisers specialising in helping businesses to develop through accessing finance, winning public contracts, and recruiting staff will be available for one-to-one clinics in Brora, Thurso or Lochinver on 26 August, 2 September and 3 September, respectively. Local small to medium sized enterprises can book one-hour meetings with these advisers throughout these days to get advice and practical guidance tailored to their business.
Entrepreneurs in Highland and Moray are now able to access personal loans to help start their own business thanks to the new government-funded Start-Up Loans scheme which is locally delivered by Business Gateway and Highland Opportunity. For Moray businesses, this is an especially important development.
2 Day Business Start-Up Tue 10th - Wed 11th June 2014 9.30am - 4.00pm Pentland Hotel, Thurso Cost - FREE This free workshop is delivered by Highland Opportunity Ltd - a company owned by Highland Council. The course is delivered via the Business Gateway that in Highland is operated by Highland Opportunity from its offices in Inverness.