Caithness Wedding Photographer Scoops Top UK Award
18th January 2007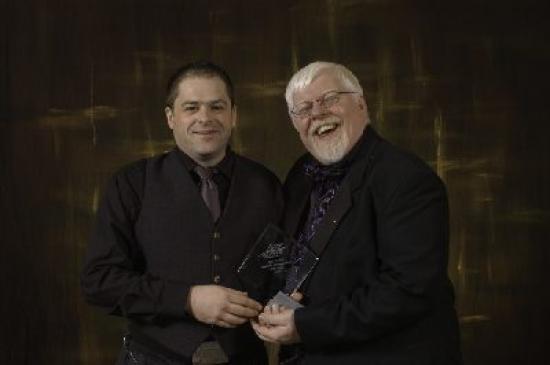 Thurso based photographer John Baikie has capped off an amazing year by lifting the UK Photographer of the Year in the wedding portfolio category in the annual SWPP awards, presented at the society's convention in London this week. The Society of Wedding and Portrait Photographers are widely accepted as the biggest organisation in the UK and held a huge event in the capital last week, which saw 4600 attendees from all over the world descend on the Novotel Hotel in Hammersmith to attend seminars by some of the biggest names in the world of photography. There was also a trade show with every product you could imagine being sold. The biggest event of it's kind in Europe.

At the gala awards night dinner on the Sunday evening the main prizes for 2006 were handed out and John was stunned to be amongst them. "To walk up in front of 500 people in an audience which contained some of my all time idols in photography was an amazing feeling. I was shocked to hear my name being read out, and was so taken aback that I never even saw which images won as they were being projected on to a massive screen." I had quite a few entries in various categories, through the monthly competitions, but never expected this!" he explains. The wedding portfolio is slightly different to every other category as the other ones are single images, whereas this one is ten prints from one wedding. All have to be of a very high standard, and have to work as a set as well, so much thought has to be put into it. The images which won the POTY award won the monthly award in October and featured the wedding of Nicola Falconer and Scott Farquhar in Thurso.

"This is my biggest achievement ever and caps off an incredible year, which saw me reach Licentiate and Associate level in the SWPP within 6 months." He explains "I'm not sure what this is going to do to my business, but it should help establish me as one of the best in the country".

"There was a big international print competition running alongside the awards and I was equally shocked to see no less than 4 of my prints hanging in the gallery with merit ribbons attached, alongside Jerry Ghionis, Martin and Ryan Schembri, Gordon McGowan, David A Williams and many other huge names in the photography world. There wasn't that many up there, so to have 4 of mine in it was amazing. I didn't think I could top that feeling, but the award on Sunday night just blew me away.

"I was out shooting with Martin Schembri during the convention as well, which was a great experience." Martin, from Sydney, won the overall category in the 20x16 print competition. John has also managed to arrange to do some shooting with Washington based photographer David Beckstead when he returns to the UK next month to shoot a wedding. "David wanted to hook up with a couple of photographers in Scotland and shoot some pictures of models around some castles, and I am delighted that I will be joining him for 2 days. That should be a great experience". David was one of the speakers in London, and has been booked to do the opening seminar at the 2008 convention.

Making friends with some of these big name photographers is just incredible, and it's all a bit hard to take in for me, as I've only been in business for two and a half years, and have the problem of being so far from the cities where all the big events take place. However a lot of people from all over the world will know where Thurso is now! More about John's wedding photography and info about the award can be seen on his website
www.captiv8.uk.com
Related Articles
Get to know how to use your digital camera..
Once again it's time to start thinking about Christmas presents, and what could be better than a professional studio or location portrait shoot. Grandparents love a framed print of the children, or a beautiful canvas wrap, ready to hang on the wall.
Local award winning professional photographer John Baikie will be running a workshop aimed at improving the standard of portrait photography by amateurs. The photography workshop will be held on Saturday 13th October and will feature on photographing people.
Master Photographers Association Awards Local photographer John Baikie has added some more awards to his collection. On Sunday he attended the Master Photographers Association Scottish Annual Awards Night in Edinburgh for the first time.
Thurso based wedding photographer John Baikie has achieved another important qualification within the Society of Wedding and Portrait Photographers. Only 6 months after successfully achieving Licentiate level, John submitted a panel for the next level Associateship, and found out this week that he had been successful.
A family photograph is something that can be treasured by families for generations. Why not get award winning photographer John Baikie to take photos to send to your family or to keep yourself this Christmas..
Thurso-based photographer John Baikie of Caithness Photographic has just been awarded an important qualification by the Society Of Wedding and Portrait Photographers. John, who has just set up a new wedding based business called Captiv8, has been awarded a Licentiate by the society, which is one of the fastest growing photographers association in the world.
Local photographer John Baikie has just returned from an intensive International photography training programme held on the beautiful sub-tropical island of Madeira. The course was aimed to improve technical skills, artistic awareness and creativity in photography.
An award winning Caithness photographer has taken the decision to develop his hobby into a full time business. John Baikie, along with his wife Michelle, will run Caithness Photographic from their home in Castletown.