DOUBLE-WHAMMY WIN FOR CAITHNESS APPRENTICES
12th June 2014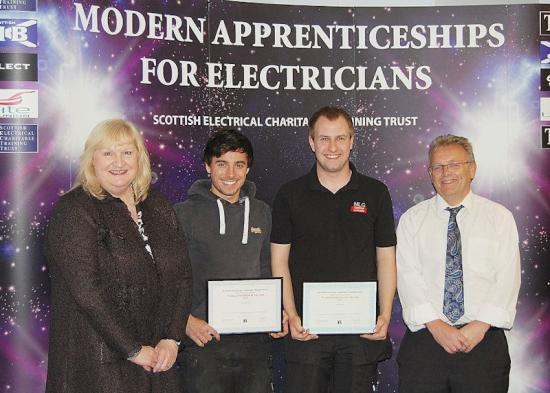 Two local apprentices who are students of the North Highland College UHI have won both 1st and 2nd Year Apprentice of the Year awards for the North of Scotland. This is the first time in the history of the Scottish Electrical Charitable Training Trust (SECTT) competition that a single college has won both of these categories.

22 year old Graeme Gray, apprentice for G Anderson Electrical Ltd was the Stage 1 winner and 20 year old Murray Mackintosh, apprentice for MLG Electrical Contractor was the Stage 2 winner of the prestigious competition.
This is the first competition of three heats being held all over Scotland. Both apprentices will go on to complete for the overall SECTT Apprentice of the Year for Scotland.

In line with competence based assessment in the Electrical SVQ, SECTT continue to promote training and excellence in the Electrical Contracting industry by organising Apprentice of the Year competitions for both 1st and 2nd Stage apprentices. The finalists had already been through a rigorous assessment of both practical skills and theoretical knowledge in each of their area competitions.

Michael Wilson, manager of MLG Electrical says "I am proud of what Murray has achieved over such a short space of time. He is a hard worker and deserved the recognition this award has given him. I hope he will continue to keep up the hard work and he will have a promising career ahead of him."

He added "Credit must go to the boys' lecturer - all the students speak highly of him and the team at North Highland College UHI. It proves how well the local College is doing to get our apprentices up to that level."
Stage 2 winner, Murray said "I am absolutely delighted and so surprised - I didn't expect to win. I can't wait for the final now and want to thank my lecturer for all the support."

Graeme, Stage 1 winner said "I am really delighted to have made it to the final. I've had great support from both the College and G Anderson and would highly recommend the course to others."

Praising the efforts of both Graeme and Murray, their lecturer commented "They are both very good lads, dedicated to their work and very competitive. They were the best in their class here at the college and put in a great effort both in the run up to the competition, and on the day. Both lads were a little nervous but came through to be clear winners." 
Graeme is currently studying SVQ Level 3 Electrical Installation (year one) and Murray is also studying the same qualification but has just completed year two. The course is three years in length and combines online study and practical work and is fully backed by the Scottish Electrical Charitable Training Trust. The course which is designed for apprentices is attended on a block release basis, allowing candidates to gain a broad based experience in electrical installation.
Related Businesses
Related Articles
Updates for students, staff and visitors Update March 17: North Highland College UHI is to suspend the delivery of face to face teaching from close of business today, Tuesday 17 March at 5pm, moving to the delivery of teaching and learning online to help reduce the risk of spread of coronavirus within our communities. Students local course leaders will be in touch to explain how this will affect students directly and to communicate how they plan to continue teaching and assessment arrangements.
Aspiring engineers in the north highlands will benefit from a new apprenticeship pathway developed by North Highland College UHI and JGC Engineering. The new pathway has been created to promote the value of employer engagement and the benefit of the skills, learning and experience gained at college.
North Highland College UHI and Developing the Young Workforce North Highland (DYW) initiative, led by Caithness Chamber of Commerce, have signed a partnership agreement to formalise their new initiative, The Apprenticeship Hub. The initiative aims to create a collaborative approach between North Highland College UHI and Developing the Young Workforce North Highland to support growth in the apprenticeship family to benefit the Caithness and Sutherland economy.
Colleges' financial challenges increase. The Audit Scotland report published today (4th June 2019) shows North Highland college is only one of several colleges not to have any financial plan in place to deal with a growing deficit.
The first Norwegian style learning centre in the UK was officially opened in Thurso today Monday 25th March 2019. Newton Rooms are designed to inspire more young people to become interested in Science, Technology, Engineering and Mathematics (STEM), and encourage them to study these subjects in school and beyond.
This course is designed for managers and businesses owners to develop their skills in interpreting business documents to use them for business planning. 9.00AM Fri 22 March 2019 to 4.30PM Fri 22 March 2019 Cost £135 Finance for Non Finance Managers:.
North Highland college have two information evenings next week for Scottish Apprenticeship week to promote the Foundation Apprenticeships available to pupils in Thurso and Wick at North Highland College UHI. Entry is FREE..
North Highland College. Saturday 9th February 2019..
The prospects of those qualifying through Highlands and Islands colleges are continuing to increase according to the Scottish Funding Council's annual College Leaver Destinations report. The publication, released last week, reports on the destinations of those who left college in the 2016 to 2017 academic year.
Join the North Highland College UHI Board of Management to help shape education across the Highlands and Islands. North Highland College UHI is a partner in the University of the Highlands and Islands and a leading college of further and higher education offering training, education and skills development opportunities from access to PhD level.