Financial close for Wick Campus puts project full steam ahead
22nd December 2014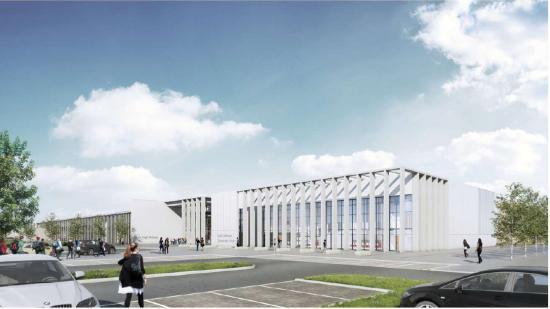 The Highland Council is pleased to announce that 'financial close' of the Wick Campus project was achieved, Friday 19 December 2014. With financial close, the Design, Build, Finance and Maintain (DBFM) contract has now been signed off for the £48.5m project which is due to complete in September 2016.

The Wick Campus project will see a new community campus for Wick incorporating replacements for the existing Wick High School, a replacement Primary School (Newton Park Primary School) for the existing South Primary School and Pulteneytown Academy Primary School. The Campus will also replace the existing community swimming pool and community library facilities with new provision.

The Wick Campus project is part of the Scottish Government 'Scotland's Schools for the Future programme', and the Council welcomes the significant financial and project support from Scottish Government and the Scottish Futures Trust which has allowed the project to progress.

Councillor Alasdair Christie, Chairman of The Highland Council's Education, Children and Adult Services Committee said: "I am very pleased that the Wick Campus contract has now been signed off and the community can look forward to the new facilities being available. This is another major milestone in the Council's programme of school building."

Caithness Civic Leader Councillor Gail Ross added: "I welcome the news about the Campus project, which when added to the Noss Primary School and Council Office projects represents very significant investment in the town.

"This is a great relief to the parents and the wider community in East Caithness. The campus has been a long time coming and finally we can move forward to seeing more action on site. I would like to thank all our staff that have worked really hard on reaching this stage."

Wick councillor Bill Fernie who was previously chairman of Education, Culture and Sport committee when planning began said,"We are all pleased that finally the contract is signed. The council already had started things moving by an Early Works contract to make sure that thing got moving without more delays. The project in addition to being a great education boost for the area puts huge shot in the arm economically to Caithness."
Related Businesses
Related Articles
Bill Alexander, Director of Care and Learning, has announced his intention to retire from The Highland Council. Bill commenced with the Council in 2000, in a joint post with NHS Highland as Head of Children's Services.
Beware of calls from scammers pretending to be the Telephone Preference Service warns Highland Council Trading Standards. Highland Council Trading Standards wish to warn consumers not to fall for a new telephone call scam in which fraudsters pretend to be calling from the Telephone Preference Service (or TPS).
Recent outcomes of Redesign work were noted by Members at yesterday's Highland Council meeting. In the first year of the programme, 8 redesign projects were undertaken using a "Lean" approach and 36 staff have been trained as facilitators.
Motorists are being advised that The Highland Council is currently preparing to carry out resurfacing works at the following locations: • B862 Fort Augustus - Whitebridge - Torness - Dores – Inverness Road; specifically at Errogie Village (North Gateway), Errogie Village (South Gateway), and Compass Farm; and • B851 Errogie – Strathnairn – Daviot Bridge – Culloden Moor Road; specifically at Aberarder House. Advanced works notification signage will be provided at various locations from Thursday 15 March 2018.
The Highland Council has agreed a capital programme of £482m over the next 5 years. The Highland Council serves the largest geographical area in Scotland (over 30%) and has just under £2bn of assets on its balance sheet comprising, amongst other things, 203 operational schools, over 6,700km of roads and over 2,000 properties.
The Highland Council's Enforcement Officers have stepped up patrols in Caithness in a move to tackle the problem of littering, fly tipping and dog fouling. A number of fixed penalty notices have been issued recently including an £80 fine for dog fouling in the Stafford Lane and Back Bridge area of Wick, a £200 fine for fly-tipping on Ackergill Street and another £80 fine for dog fouling in Lybster.
Speaking ahead of today's Council meeting to agree the Council's Capital Programme for 2018/19 to 2022/23, Cllr Margaret Davidson, Leader of the Highland Council said:- "This programme delivers significant investment in a range of key projects across the Highlands. We are investing in schools, roads, bridges, harbours and flood prevention schemes that will benefit our communities.
Highland Council is to make a special case for extra capital investment in the road infrastructure after a winter period which has seen the Highlands battered by some 57 days of severe weather. Highland Council area is particularly subject to severe winter weather, which has a significant impact on the roads and other infrastructure.
Maps of the Council's gritting routes by priority and policy are available online at www.highland.gov.uk/gritting. The information provided is a summary of reports from operational staff and is intended to give a general indication of typical conditions in each area at a point in time.
The £48.5m Wick Community Campus built by Morrison Construction has been announced as a finalist at the Royal Town Planning Institute (RTPI) Awards for Planning Excellence 2018. The project is entered in the category for "Excellence in Planning for a Successful Economy" against eight other finalists from across the UK with the winner to be announced during a ceremony at Milton Court Concert Hall on 24 May 2018.