Happening At Gills
21st January 2015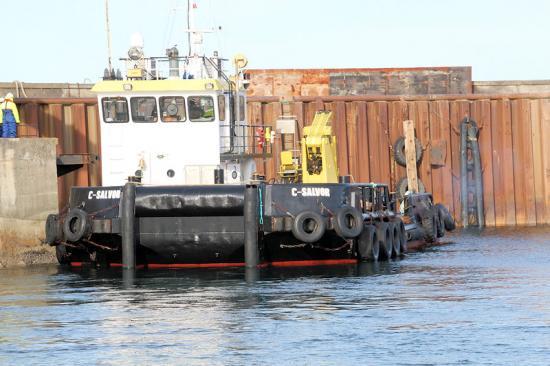 The 24 metre-long multi-cat vessel C-Salvor is paying her first 2015 operational visit to Gills Harbour this week.

The little rectangular-shaped 145-tonne ship is using the Scottish mainland's most Northerly port for conducting diver-led survey operations for tidal electricity developers MeyGen Ltd at its Crown Estate lease site, 1 mile off the little port, and just offshore from its planned cable-landfall site at Ness of Quoys, that lies 1 mile along the Gills Bay coast east from the harbour.

This is also the first operation being carried out for MeyGen Ltd by James Fisher Marine Services Ltd, a wholly-owned subsidiary of James Fisher & Sons plc, a major group with its headquarters at Barrow-in-Furness, in NE England.

James Fisher Marine Services were awarded a long-term contract late last year to handle all of MeyGen Ltd's sea-services in conjunction with Mojo Maritime Ltd, of Falmouth, Cornwall.

The powerful many-purpose Dutch-built vessel has a beam of 10 metres and she was hired by Fisher from her owner/operators, award-winning Leask Marine of Kirkwall for the operation that commenced on Monday 19th.

It was first scheduled for last week, but had to be postponed because of adverse weather.

The James Fisher group is well-known in for its nuclear transport capabilities and it is prominent in the offshore oil & gas field, in sea-based wind-farms while another subsidiary operates the submarine rescue service on behalf of the Royal Navy.

James Fisher Marine Services operations manager is a 'local lad', well-known at Gills Harbour. Mr Stanley Groundwater is a native of the Burwick area of South Ronaldsay, just 8 miles from Gills and has frequently been a passenger on the trans-Pentland RO:RO ferry Pentalina.

Until recently Stan was the manager of Orkney Harbours marine renewables base at the former major World War II facility at Lyness, which is leased to FenderCare Ltd, another James Fisher subsidiary.

Said Bill Mowat, chairman of community-owned Gills Harbour Ltd : 'We are obviously pleased to see the multi-cat again working for a few days out of Gills Harbour . Its operational convenience for the planned Inner Sound major sub-sea tidal power-station is incontestible.'

In the meantime Pentland Ferries Ltd reported that there were over 4,700 valid responses to its survey that posed the question: 'Do you think that Orkney Islands Council should allow Pentland Ferries to develop the pier at Burwick for a crossing to Gills Bay?'.

An astonishing 96% of the respondent said 'yes'; all persons who replied to the questionnaire had to sign that they had been previous passengers from Gills.

This would permit a half-hour crossing from Caithness and Mr Andrew Banks pledged that his family company would invest in a second vessel to operate on the route and stated that his firm would pay for the Burwick upgrades itself, if necessary.

The terminal at Burwick was partially built in the late 1980s by the former Orkney Ferries plc and, as well as money raised from a share issue, it was granted private-sector money from one of the Orkney people's North Sea oil funds, that is administered by the Council.

Burwick was planned as the Orkney 'twin' of RO:RO terminal facilities at Gills Harbour, the originals of which have been much enhanced by Pentland Ferries that leases part of the Gills site from the Canisbay community firm.

3,261 of the replies came from islanders and manager Ms Kathryn Banks said that further meeting on the issue were planned with the Orkney Council, given the now-proven high level of public support for the Burwick plans.
Related Businesses
Related Articles
OFFICIAL FIGURES SHOW MORE PEOPLE AND CARS SAILED ACROSS THE PENTLAND FIRTH FROM CAITHNESS TO ORKNEY IN 2016 FROM GILLS BAY THAN ON ANY OTHER ROUTE. Official figures recently published by Scottish Government 'spending watchdog' body Audit Scotland show that the so-called 'short sea-route' from Gills Bay to St Margaret's Hope was the busiest seaway to Orkney across the Pentland Firth in 2016.
One of the contractors that has been operating in the Inner Sound for Atlantis RL's MeyGen site has been taken over by another, a much-larger one. See note on Insight Marine Services Ltd of Cornwall.
Notice of Annual General Meeting: On Tuesday 21.03.2017 @ 19.30. Gills Harbour Ltd: A Community- owned trading Company limited by guarantee.
Jack-up barge Neptune arrives in the PF's Inner Sound early this afternoon 22.09.16. German tug Elbe, which will be working closely with the self-propelled JU, is already on site.
Update From Bill Mowatt. 'Notice to mariners': Installation of first tidal-stream turbine in the Pentland Firth's Inner Sound at Atlantis RL's MeyGen site c.
On Friday 18th September 2015 the 24 metre-long rectangular steel multi-cat C-Chariot built in 2013 was to be seen loading a Data-fish buoy at Gills Harbour, Caithness. North Sea systems Ltd who own the Datafish describe it on their web site (http://www.northseasystems.com/) as follows - "DataFish is North Sea System's metocean survey buoy for unforgiving marine environments.
Seabed cable-laying operations in the Pentland Firth's Inner Sound, off Canisbay, which may occur in the period 10.09.15 to 25.09.15. The cable ship being used in the Inner Sound is the 121 metre long Siem Daya 1 and she will reel in the four cables at Hartlepool in NE England.
We thank John Green for his picture of what £4.5 million of marine renewables vessels + kit looks like when alongside at Gills Harbour..
The most modern vessel in the Far North of Scotland's 'marine renewables' fleet is conducting debut operations in the Pentland Firth's Inner Sound this week. (commences 24.08.15).
Scotland's Shadow Minister for Transport Mr David Stewart, Labour MSP for the Highlands & Islands constituency, has made a fact-finding visit to community-owned Gills Harbour on the shores of the Pentland Firth's Inner Sound. There he was shown around by three officers of Gills Harbour Ltd (GHL), the Canisbay company that owns and operates the Scottish Mainland's most Northerly port.