North Highlands Produce Showcased at Ackergill
21st August 2007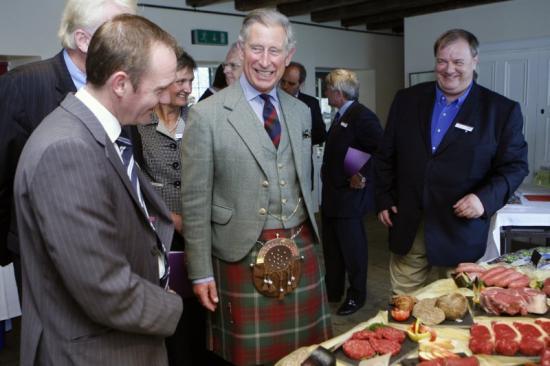 A bountiful selection of the best of the North Highlands food and drink produce, brought together by HIE Caithness and Sutherland, was visited by HRH Prince Charles recently.
Producers from throughout Caithness and Sutherland gathered together at Ackergill Tower near Wick to welcome national and local buyers.

In 2005 His Royal Highness launched the North Highland Initiative to improve the economy and sustainability of the area by developing a new brand to sell the region's produce - Mey Selections.

Opening The Taste of Caithness and Sutherland event, William Roe, chair of HIE, said that for far too long the bounty of the counties' produce had been too much of a well-kept secret.

"This is the first event that brings together all that is good about North Highlands produce. Agriculture remains one of the main economic drivers in the region and Taste of Caithness and Sutherland shows that what is being produced is of the highest quality,"

The event provided a platform for 25 local producers to exhibit a range of premium local produce ranging from meat to organic eggs, fish to oysters, honey to chocolate, cheese to Highland oatcakes. Visitors, including national supermarket and foodservice operators, and local buyers.

Danny Miller, chairman of North Highland Products, who manages the Mey Selections brand, welcomed the HIE initiative.

"Our company was a direct result of the foresight of the North Highland Initiative and it is wonderful to see 11 of Mey Selections suppliers represented, and the farmers from North Highland Products.

For more information on Regeneration in Caithness and North Sutherland see
Regeneration
Related Businesses
Related Articles
Ackergill Tower is delighted to announce a new addition to the Ackergill Tower Estate, 'Smugglers Inn', their very own onsite pub! Opening on 30th March from Fridays to Sundays, the traditional Scottish pub is full of charm and ideal for lazy lunches or afternoons by a log fire; with a mixture of seating areas available and low level lighting, it is the perfect place to sit back and relax. With a fully stocked bar, serving local favourites including Northern Light Ale and Orkney and Pulteney Whiskies, they'll be on hand to serve drinks between 12pm-3pm and 5pm-midnight.
Taste North, the north Highland's premier food, drink and craft event, in association with Venture North and the Nuclear Decommissioning Authority (NDA), are back for the third year running and this year return to Ackergill Tower with a packed line up and a leading name in the culinary world to head up the fantastic schedule and inspire the foodie passion in us all! Nick Nairn will be joining us as our very special guest this year at Ackergill Tower on 1st October 2017. Nick Nairn is synonymous with spreading the word about Scotland's wonderful natural larder and using it well and couldn't be better placed to highlight the phenomenal produce on the door step of Caithness & Sutherland.
Wedding venue specialist, AmaZing Venues is celebrating its latest win at the Scottish Wedding Awards 2015 where Ackergill Tower was awarded Wedding Venue of the Year North East. Now in its third year, The Scottish Wedding Awards is very much a celebration of local businesses.
A brand new children's food festival will take place in the North Highlands in the summer of 2015 it has been announced. Created and organised by the North Highland Initiative (NHI) in partnership with Scotland Food & Drink, the festival will take place from 5 and 6 June 2015 and aims to highlight the importance of local food production, how to make great cuisine and good food choices and the variety of career opportunities in food production and service.
Croft-reared Highland beef and lamb served at the royal wedding reception of Prince William and Kate Middleton is now available nationwide and even across Europe, thanks to a brand new partnership between Mey Selections and Campbells Prime Meat Ltd. Eight Mey Selections cuts of beef are now available for sale direct to the public on Campbells Website and can be delivered fresh across the UK and Europe.
isitors to Caithness who have recently stayed at Ackergill Tower are giving the hotel some of the best reviews any hotel could ever expect to receive. Visitors have enthusiastically endorsed the hotel as a top class and friendly place to go with many facilities and extras.
Ackergill Tower, Wick 25/01/2013 to 27/01/2013. Come and join us this Burns Night at Ackergill Tower and celebrate in true Scottish Style.
Ackergill Tower, Wick, Scotland 14/12/2012 to 22/12/2012 Join us for a traditional Festive Evening at Ackergill Tower. With Christmas in mind, the castle will be ready to welcome you, your guests, colleagues and friends for this special Festive evening.
To mark the 12th day of the 12th month Ackergill Tower has created a special gourmet festive celebration. Join us in the Castle for a glass of bubbly in the Drawing Room before dinner is announced when our local piper will lead you into the Great Hall.
After all the months of planning, wondering if the idea would work, and waiting for stallholders to come forward, it was a great boost yesterday to see so many locals and visitors coming in to see us. We already have a waiting list of potential stallholders but we are fully booked for the whole season at the present time.