TWO MINISTERS TO ATTEND CAITHNESS CONFERENCE
29th August 2007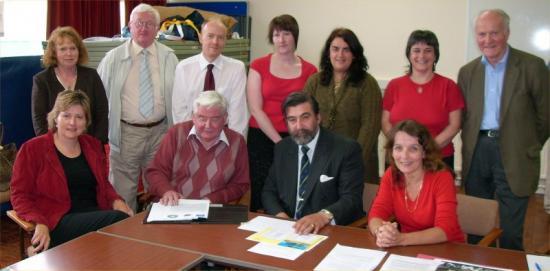 Energy Minister, Malcolm Wicks and David Cairns, MP, Minister of State at the Scotland Office will travel north to attend the Caithness Conference.

The conference to be held on 14th September 2007 will identify the actions needed to grow existing or attract new business to the area to offset the impact of the reduction of jobs at Dounreay as the decommissioning progresses.

Organised by Caithness Partnership, in association with the Dounreay Stakeholder Group, the morning session will focus on workshops specifically designed to discuss the six key themes of the Caithness and North Sutherland Socio Economic Strategy and identify the necessary actions to move forward. Malcolm Wicks, Energy Minister will make the opening address before observing the various workshops in action.

In the afternoon David Cairns, MP, will be presented with the key outputs from the morning sessions and also hear of local initiatives which are proving successful before making the final address.

Over 120 delegates are expected to attend the conference and among these will be various MSPs including Jamie Stone, Rob Gibson, Jamie McGrigor, Mary Scanlon and David Stewart.

John Thurso, MP said "I'm extremely proud of the way the community has pulled together a very ambitious conference in a short space of time. This shows true partnership in every sense of the word and it is that partnership and determination that will ensure that Caithness and North Sutherland is successful in achieving the vision for a vibrant future. The talking stops here and the real work starts and I look forward to playing my part in the regeneration of the area."

George Bruce, Chairman of Caithness Partnership said "The number of people attending the conference shows the importance of moving things forward in a clear and transparent way. In less than five years it is likely that jobs at Dounreay will see a significant reduction and that will be a continuing trend. It is imperative that we identify the necessary actions needed to regenerate the area beyond Dounreay."

Alastair MacDonald, Chairman of the Dounreay Stakeholder Group said "The community called for this conference and it is a perfect time to put focus and effort into identifying all the things that will be needed to attract new business to the area. Everyone needs to work together to ensure a successful outcome for the future of the area."

The Caithness Regeneration Partnership will play a pivotal role in the regeneration of the area and are fully supportive of the conference. Proposals and actions have been identified and these will be outlined and discussed at the conference. Recently HIE announced the recruitment of an Inward Investment Manager, Roy Kirk who took up his new post on 21st August. Other recruitment initiatives are ongoing.

See the latest on the Caithness Regeneration Partnership at
www.caithness.org/regeneration/index.htm

Photo
Front row left to right:
Anna McConnell (Caithness Parntership), George Bruce (Chamber of Commerce), John Thurso, MP, June Love (Dounreay Stakeholder Group)
Back row left to right: Rosemary Thompson (NHC), Derrick Milnes (Trades Council), Eann Sinclair (HIE), Donna Stewart (UKAEA), Lousie Smith (Ormlie Renewables), Carol Gunn (HIE), Alastair MacDonald (Dounreay Stakeholder Group).
Related Businesses
Related Articles
Roc Technologies Awarded 5-year Strategic IT Transformation and Managed Service Partnership by Dounreay. Roc Technologies recently announced it has been awarded a 5-year contract to transform and manage IT services by Dounreay Site Restoration Ltd(Dounreay).
Roc Technologies today announced it has been awarded a 5-year contract to transform and manage IT services by Dounreay Site Restoration Ltd(Dounreay). Dounreay is a wholly-owned subsidiary of the Cavendish Dounreay Partnership Ltd, a consortium of Cavendish Nuclear, Jacobs and AECOM and funded by the Nuclear Decommissioning Authority (NDA) to deliver the site closure programme at Dounreay.
More than 200 people packed into the Weigh Inn hotel in Thurso this week as Dounreay Site Restoration Limited and supply chain partners shared plans and ideas about the decommissioning of the site. Leading nuclear firms mixed with numerous small and medium sized enterprises for the event which was attended by those who either support the site through existing framework contracts or have registered for the innovative 'LINC with Dounreay' scheme.
The Nuclear Decommissioning Authority (NDA) welcomed Lord Duncan of Springbank, Parliamentary Under Secretary of State in the Scotland Office, to its Dounreay site to see decommissioning progress. Lord Duncan travelled to Caithness to learn more about work on Scotland's largest nuclear clean-up and demolition project.
Decommissioning a nuclear reactor is about more than removing the core itself and, around a decade after work started to pull apart a host of support facilities associated with Dounreay's oldest reactor, they have all gone. Radioactive facilities, including a cooling pond, storage compound and examination cells assisted Dounreay Materials Test Reactor (DMTR) during its operational life.
Work has started to make safe one of the most hazardous materials left at Dounreay. Highly radioactive liquid, known as raffinate, has been stored in tanks for around 20 years after being produced as a by-product of Prototype Fast Reactor (PFR) fuel reprocessing.
Construction of a new facility to support the decommissioning of reactors and demolition of historic active laboratories are just two of Dounreay's major projects expected to be delivered as part of a new framework agreement, potentially worth up to £400 million, which is being published in the Official Journal of the European Union (OJEU) today. - www.ojeu.eu The decommissioning services framework agreement will initially be for a period of up to 4 years with the possibility of extensions of up to 3 years meaning skyline changes could be delivered over the next decade under the arrangements.
Dounreay Site Restoration Limited has submitted a planning application to the Highland Council covering a series of decommissioning projects expected to take place between 2018 and the site's shut down, also known as the interim end state. The application, which is the last of three planning phases covering the overall decommissioning of the site, follows engagement undertaken earlier this year including public events and an opportunity to comment on draft documents online.
Drone technology is helping Dounreay reduce the risk of accidents and save money on its inspection of buildings. A camera mounted on an unmanned aerial vehicle is taking over tasks previously carried out by workers on elevated work platforms.
Work is underway to retrieve the last remaining radioactive fuel elements that have been stuck for decades inside the iconic Dounreay Fast Reactor (DFR). The experimental dome-shaped nuclear reactor once led the world in fast breeder technology and after it closed in 1977 most of the core fuel was removed.