David Stewart MSP Visits Gills Harbour
10th August 2015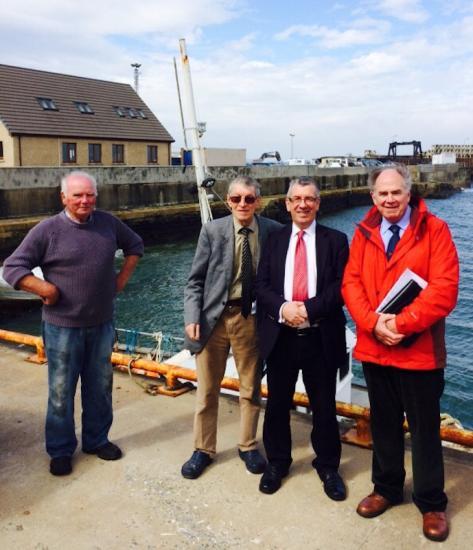 Scotland's Shadow Minister for Transport Mr David Stewart, Labour MSP for the Highlands & Islands constituency, has made a fact-finding visit to community-owned Gills Harbour on the shores of the Pentland Firth's Inner Sound.

There he was shown around by three officers of Gills Harbour Ltd (GHL), the Canisbay company that owns and operates the Scottish Mainland's most Northerly port.

The Shadow Minister promised 'to do anything that I can' to assist 'the people's port' that belongs to 600 electors in Canisbay, with its upgrading plans aimed at ensuring that it plays an integral role in key aspects of Pentland Firth tidal-stream electricity generation in the future.

Separately he met with Mr Andrew Banks, OBE, whose Pentland Ferries Ltd company leases some land from GHL, where the private firm has developed at a multi-million pound cost as an essential component of its busy 'short sea route' to Orkney.

Its RO.RO 2,800 tonne modern 70-metre long catamaran vessel Pentalina has been sailing to capacity in recent weeks, despite providing four return passages on four days of the week during the peak summer months. The service receives no taxpayers' subsidy and is Scotland's most successful 'Mainland to island group' link.

The local unpaid representatives showed Mr Stewart pictures taken during this year (2015) of numbers of smaller many-purpose 15-25 metre long craft, several known as multi-cats, actively using Gills Harbour as tidal stream 'horizontal hydro-electricity' operations in the Inner Sound scale up. And they let the Shadow Minister see several 'letters of support' for its Inner Basin upgrade plans from the owners/operators of such vessels.

Atlantis Resources plc's subsidiary MeyGen Ltd is in the process of creating a four-turbine 'demonstration array' in the Inner Sound within one mile of the entrance channel to Gills Harbour. Together with the necessary on-shore facilities, this will cost of over £50 million. It is a 'World leader' on this scale, with first electricity generated and delivered onshore by late nest year.(2016).

Cable-laying operations from the sub-sea site of the turbines 35 metres under the Inner Sound's sea-surface to the Caithness coast at Ness of Quoys, near Canisbay's ancient Kirk on the shores of Gills Bay, are scheduled to start within six weeks.(early September, 2015).

The Inner Sound is the first of four Crown Estate seabed leases for the purpose of generating 'tidal stream' electricity in the Pentland Firth. All four lie in the narrowest eastern end of the strait, with none more that eight miles out from Gills Harbour.

'The operators of multi-cats and other workboats have made Gills the port of choice for the vessels', said GHL chairman Bill Mowat, a former four-term Councillor for NE Caithness.

'They have learned that using Gills provided them with fuel efficiency, given the short distances when compared to other Mainland ports.

He added: 'We stressed to Mr Stewart that using Gills means better human productivity for the engineers and crews on board, while it also adds to safety as there are no potentially-hazardous 'breaking white-water on every tidal cycle' roosts (i.e. tide-races) to be crossed'.

The North Coast harbour team told the Shadow Minister that, if Scotland & Britain were serious about obtaining larger quantities of cost-effective electricity for the future from the Pentland Firth, then its port on Gills Bay was an indispensable part of this.

Experts predict that 'horizontal hydro' electricity from a fully-developed the Pentland Firth will generate as much power as four modern nuclear power-stations, if the delivery price of this electricity is right.

PHOTO
GHL emeritus director Billy Magee; chairman Bill Mowat; David Stewart MSP and Rev. Lyall Rennie, Hon. Sec. & director of GHL.
Related Businesses
Related Articles
OFFICIAL FIGURES SHOW MORE PEOPLE AND CARS SAILED ACROSS THE PENTLAND FIRTH FROM CAITHNESS TO ORKNEY IN 2016 FROM GILLS BAY THAN ON ANY OTHER ROUTE. Official figures recently published by Scottish Government 'spending watchdog' body Audit Scotland show that the so-called 'short sea-route' from Gills Bay to St Margaret's Hope was the busiest seaway to Orkney across the Pentland Firth in 2016.
One of the contractors that has been operating in the Inner Sound for Atlantis RL's MeyGen site has been taken over by another, a much-larger one. See note on Insight Marine Services Ltd of Cornwall.
Notice of Annual General Meeting: On Tuesday 21.03.2017 @ 19.30. Gills Harbour Ltd: A Community- owned trading Company limited by guarantee.
Jack-up barge Neptune arrives in the PF's Inner Sound early this afternoon 22.09.16. German tug Elbe, which will be working closely with the self-propelled JU, is already on site.
Update From Bill Mowatt. 'Notice to mariners': Installation of first tidal-stream turbine in the Pentland Firth's Inner Sound at Atlantis RL's MeyGen site c.
On Friday 18th September 2015 the 24 metre-long rectangular steel multi-cat C-Chariot built in 2013 was to be seen loading a Data-fish buoy at Gills Harbour, Caithness. North Sea systems Ltd who own the Datafish describe it on their web site (http://www.northseasystems.com/) as follows - "DataFish is North Sea System's metocean survey buoy for unforgiving marine environments.
Seabed cable-laying operations in the Pentland Firth's Inner Sound, off Canisbay, which may occur in the period 10.09.15 to 25.09.15. The cable ship being used in the Inner Sound is the 121 metre long Siem Daya 1 and she will reel in the four cables at Hartlepool in NE England.
We thank John Green for his picture of what £4.5 million of marine renewables vessels + kit looks like when alongside at Gills Harbour..
The most modern vessel in the Far North of Scotland's 'marine renewables' fleet is conducting debut operations in the Pentland Firth's Inner Sound this week. (commences 24.08.15).
Community-owned Gills Harbour is the most Northerly seaport on the British mainland, lying on the shores of the Pentland Firth's Inner Sound, just off the A 836 road, only four miles West of John O'Groats. The spring of 2015 has seen some significant developments locally, both in sea-transport and marine electricity, that bode well for the future of the little port on the inland 'apex' of Gills Bay; it belongs to the 600 people living along the North coast.