Strong run of growth continues at HIAL
1st November 2015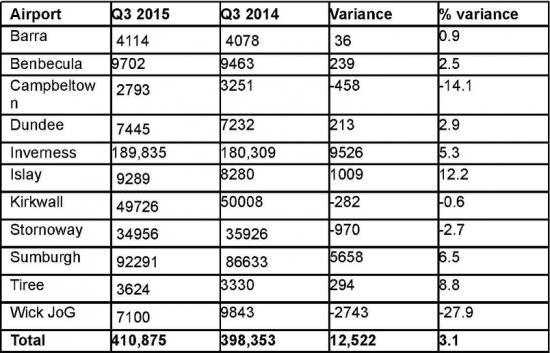 Airport operator HIAL's strong run of growth in 2015 continued in the last quarter according to latest figures.
In the third quarter (July to September), the group recorded an extra 12,522 passengers (up 3.1%) compared to the same period in 2014.

An increase in scheduled and charter traffic saw Islay claim the mantle as the fastest growing airport in the group, with an extra 1009 passengers, up 12.2% on 2014. Numerically, Inverness was the strongest performing airport, gaining an additional 9526 passengers during the quarter (up 5.3%) due to growth in the domestic market and increasing demand for the airport's Dublin route.

Demand at Sumburgh rallied after dropping in the first two quarters of the year. An increase in energy related traffic saw passenger numbers rise by 5658 (up 6.5%) during the period though it remains to be seen if this growth will be sustained given the wider structural changes in the industry.

During the quarter, two new aircraft - specially commissioned by HIAL on behalf of the Scottish Government – began operating on the Public Service Obligation routes from Glasgow to Barra, Campbeltown and Tiree. The new aircraft carried more passengers to Barra and Tiree, but demand fell during the quarter at Campbeltown.

Dundee recorded a 2.9% increase in passenger numbers during the quarter as a result of steady demand for its Stansted service and the impact of the Open Championship in St Andrews. Passenger numbers also increased at Benbecula.
Numbers dropped slightly at Kirkwall and Stornoway. At Wick John O'Groats, following growth in the first two quarters of this year, passenger numbers fell in the third quarter. This was a result of a drop in energy related activity, reflecting the fluctuating nature of the sector. However, since the start of the year, overall demand at Wick John O'Groats has increased at a rate of 6.2%.

Inglis Lyon, Managing Director of HIAL, said: "These are strong figures for the quarter and show that demand on most services and at most airports is increasing. Inverness is continuing to perform well thanks to new and expanding services and we are working hard to provide even more choice for passengers. After a difficult start to the year, Sumburgh also enjoyed a strong third quarter.

"We are particularly pleased to see Dundee gaining in strength. The airport serves a vital role as a hub for general aviation and was an important gateway for The Open and, more recently, during the Alfred Dunhill Cup.

"The success of smaller island airports such as Islay, Benbecula and Tiree illustrates the important role that aviation plays in connecting remote and island communities. The arrival this summer of two new aircraft serving Barra, Campbeltown and Tiree is further good news for those communities."

The table highlights passenger numbers during the third quarter of 2015, compared to the same point in 2014:
Related Businesses
Related Articles
Flybe's franchise partner Eastern Airways has flights to Wick from Aberdeen and would have been in danger if the company had gone bust. Flybe has agreed £110m rescue deal.
The Air Discount Scheme (ADS) which provides cheaper air travel for islands and north Highland residents has been extended. The scheme month has been renewed until 31 December 2020.
Prospect air traffic controllers in the Highlands and Islands to strike on 26th April 2019 over pay. Prospect air traffic controllers working for Highlands and Islands Airport Limited will be taking strike action on the 26th of April in relation to their 2018-19 pay offer.
Prospect has confirmed arrangements for balloting air traffic controllers at Highlands and Islands Airports Limited on industrial action. The ballot will open on 11 February and close on 1 March.
Regional airport operator HIAL has handled more passengers than ever, according to latest figures for the last financial year. The airport group, which operates 11 airports across Scotland, handled 1,437,625 passengers in 2015/16, up by more than 6000 on the previous year.
Island airports soar but overall numbers dip slightly at HIAL. Passenger numbers at HIAL's regional airport fell slightly in the third quarter of the year, though a number of island airports reported soaring growth.
Passenger numbers at regional airport operator HIAL climbed to their highest ever level in the latest financial year, as the group stepped up its investment for the future. The company's annual report and accounts for the year 2013/14 show that almost 70,000 extra passengers used the group's 11 airports during the year.
Passenger numbers at HIAL's regional airports grew by almost 8000 during the last quarter, with the group's island airports driving growth. Latest figures for the last quarter (April - June) show that passenger numbers at HIAL's 11 airports grew by 7806, an increase of 2.2% on the same quarter last year.
* Energy sector drives huge growth at Sumburgh and Wick John O'Groats * Extra 70,000 passengers across the group * Sumburgh is Scotland's fastest growing airport * Inverness enjoys best performance for five years * But smaller airports affected by reduced capacity Scottish regional airport operator HIAL has recorded its busiest ever year, attracting an extra 70,000 passengers over the past 12 months, according to latest figures. HIAL's 11 airports handled 1,367,342 passengers in the 2013/14 financial year, an increase of 5.4% on the previous year (an additional 69,666 passengers).
Increased demand for business and tourism flights saw passenger numbers grow by more than 5,100 at HIAL's regional airports last month. Latest figures show the number of passengers using the airports in February increased by 5.9% to 92,607, compared to February 2013.