Highland Council congratulates Divisional Commander on his retirement
25th March 2016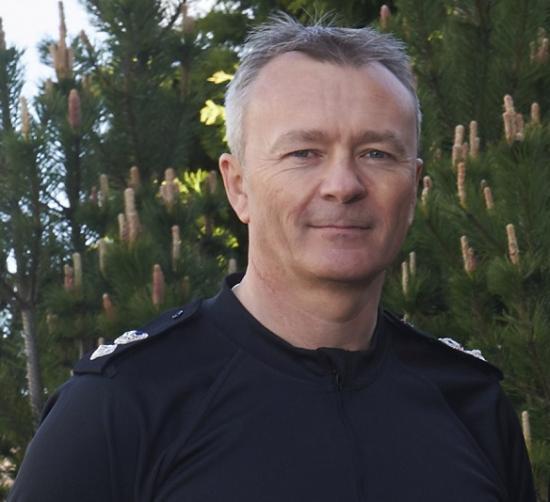 The Highland Council has congratulated Divisional Commander of the Highlands and Islands, Julian Innes on his retiral and thanked him for his service at his last Committee meeting on 23 March 2016.

Chair of the Communities and Partnerships Committee, Cllr Hamish Fraser said: Chief Superintendent Innes has made a huge contribution to the safety of our communities. He has led the police in the north over a period of significant organisational change and we thank him for all his efforts.

He has many achievements to be proud of, including our joint arrangements to protect children and vulnerable adults, in taking the initiative to deal with domestic violence, in leading the drug and alcohol partnership, setting up the joint response teams to reduce anti-social behaviour and in our emergency planning duties.

Although I know he won't take any credit for it, we know that his leadership of the police in the north has made the Highlands a safer place. We heard at our last Committee meeting that our Citizens Panel survey last year showed that 96.8% of Highland residents rate the area within 15 minutes' walk of their home as either "very" or "fairly safe". This is a great result!"

Cllr Fraser went on to say: Julian is always focused on doing the right thing for our communities and listening to feedback. He is an outstanding public servant, trusted by elected members and genuinely welcoming the scrutiny and challenge we give him in this Committee. We wish him all the best for his future and he leaves in May with our sincere gratitude.
Related Businesses
Related Articles
Leader of the Highland Council, Margaret Davidson has moved to reassure communities about forthcoming budget decisions. She said: "No decisions will be made until the Council meets on 15 February.
At Highland Council work has been ongoing for some months to prepare a Revenue and Capital Budget for 2018/19 and beyond, with the anticipation of a significant cut to available funds. The Scottish Government's proposed grant settlement was announced on 14 December 2017.
Around £3 million of funding has been agreed for a ground-breaking Highland project that could transform the lives of people with complex health needs as part of the Inverness and Highland City Region Deal. The business case for the 'FitHome' assisted living project was approved in November last year with £3m funding from the Scottish Government.
An article in the Press and Journal today 9th January 2018 highlights the cuts in staffing levels across Scottish councils with Highland being one of the highest. In 2009 Highland had 9953 Full-time Equivalent Staff and in 2017 it had dropped by 21% to 7838.
Highland Council Trading Standards team has recently seen an increase in scams targeting Highland businesses. The most common scams reported by businesses relate to marketing and publishing but other frauds such as those involving demands for payment for unsolicited goods sent to businesses (such as ink cartridges which were never ordered) are also on the rise.
Cognitive improvements to be included in Blue Badge scheme The disabled person's parking badge pilot, which was launched in April 2016, has been made permanent by the Scottish Government. The eligibility criteria were revised and extended under a pilot to allow carers and relatives of people who pose a risk to themselves or others in traffic to apply for a disabled person's parking badge, provided they meet the criteria.
People looking to pick up a New Year bargain in the sales on the internet, by mail order or on the high street are being encouraged by The Highland Council's Trading Standards team to be aware of their consumer rights and to stay safe online from scams and fake websites that try to dupe inexperienced online shoppers trying to buy a bargain. Consumers have extra protection when they shop online.
The British Hospitality Association secured a major victory today (21 December2017) as the Scottish Government confirmed that any plans for a 'tourist tax' in Edinburgh - or any other Scottish cities - are firmly off the table. The BHA has been campaigning consistently for over six years against the implementation of any such additional and uncompetitive tax and is delighted that the Scottish Government has recognised our reservations.
Chief Executive of The Highland Council, Steve Barron said: "The Council is continuing to do all it can to support employees who lost their jobs following the change in contract for the processing of recycled waste. Evanton-based William Munro Construction laid off the staff after Highland Council transferred a recycling contract.
The Highland Council has successfully prosecuted a food business after discovering unsafe hygiene practices in the transportation of food. An investigation by officers of the Council's Environmental Health Team discovered that N E Meats Ltd of Newcastle had been transporting and delivering foods from the North of England to the Highlands without any temperature control measures.