NOSS PRIMARY SCHOOL, WICK PROJECT REACHES PRACTICAL COMPLETION
1st April 2016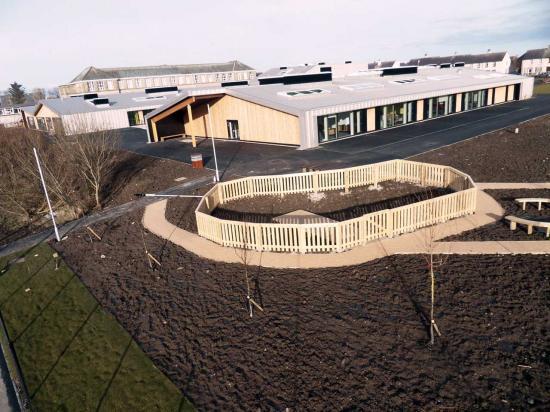 The new £15.4million Noss Primary School has reached a vital milestone with the practical completion of the facility.
Replacing the existing North and Hillhead Primary Schools in Wick, work on the 4,620 sq m facility commenced in late 2014 and has been delivered by hub North Scotland on behalf of The Highland Council. The main contractor for the project was Morrison Construction.

With construction of the new school building now complete, work is set to begin on the demolition of the existing school, completion of landscaping works alongside the formation of the adjacent Multi Use Games Area (MUGA) pitch.

The school itself, which will welcome its first pupils later in April, is a blend of educational and extra-curricular facilities and benefits from 14 classrooms in total, a library, two nursery rooms, two learning support rooms, a games hall, dining area, a medical room and a multi-use games area along with a grass pitch.

The construction project itself has also brought a number of benefits, with 90% of the total value of work for the new school awarded to SMEs alone. It also created four apprenticeships and two graduate positions.

Chair of The Highland Council's Education, Children and Adult Services Committee Councillor Drew Miller said: Completing a new school is a major achievement so I would like to thank everyone involved for the tremendous work they have done to ensure everything is in place to welcome pupils and staff to their new school on Wednesday 13 April 2016. Noss Primary is going to be very much the heart of the local community and I am delighted that as well as an excellent environment for the young people to learn in, everyone will be able to use and enjoy the first-rate facilities.

Wick Councillor currently chairman of the Resouces committee and Highland Budget Leader and former chairman of the Education and Adult Services committee Bill Fernie said - I am very pleased to see the coming to fruition of what is part of an overall plan we conceived to make Wick one of the best places for education and ensuring for many years to come a great place to live for families. In addition we had in mind the investment would help give an economic boost to Caithness by building new schools for all the primaries and high school in Wick all at the same time. The boost to Wick is likely to be unequalled in any other similar sized town in Scotland and will stand us in good stead as a place to attract more families as new developments take place in the county.

With the completion of a new school and the Wick campus project well underway now is a very exciting time for education in Caithness and shows a significant investment by the Council into the educational needs and aspirations of young people and for the skilled and dedicated staff and parents that support them.

Angus Macfarlane, chief executive of hub North Scotland, said: hub North Scotland was appointed by The Highland Council to deliver the new Noss Primary School and we are delighted to have fulfilled this goal.

The new school itself is a first class educational facility and will act as a modern learning environment that I'm sure both pupils and staff will be proud to attend and work within for many years to come. Enhancing the overall educational experience has been a key theme throughout this project and alongside the various classroom provision, the school also benefits from various extra-curricular facilities that I am sure pupils will enjoy.

hub North Scotland is proud to have played a part in this project and we look forward to welcoming pupils, staff and the wider community for a first-look of the new facility.

hub North Scotland comprises Alba Community Partnerships (a joint venture of Galliford Try Investments, Equitix and Sweett Investment Services), Scottish Futures Trust and 16 Northern Territory Partners, working with local suppliers and contractors to deliver quality buildings and services.
Related Businesses
Related Articles
A Corporate Parenting Board is to be established which will have a duty of care for currently around 500 'Looked After' children and young people in Highland. Members of the Highland Community Planning Partnership's, Community Planning Board have this week (21 March 2018) agreed to establish a Corporate Parenting Board the purpose of which will be to: • promote the corporate parenting role of statutory agencies and awareness of the duties towards care experienced young people in Highland.
The Highland Child Protection Committee has launched a Toolkit to assist individuals, volunteers and community groups working with children and young people understand their roles and responsibilities in relation to child protection. Over 60 people providing activities for children, young people and families in a paid and voluntary capacity came along to the launch event in Inverness yesterday.
Bill Alexander, Director of Care and Learning, has announced his intention to retire from The Highland Council. Bill commenced with the Council in 2000, in a joint post with NHS Highland as Head of Children's Services.
Beware of calls from scammers pretending to be the Telephone Preference Service warns Highland Council Trading Standards. Highland Council Trading Standards wish to warn consumers not to fall for a new telephone call scam in which fraudsters pretend to be calling from the Telephone Preference Service (or TPS).
Recent outcomes of Redesign work were noted by Members at yesterday's Highland Council meeting. In the first year of the programme, 8 redesign projects were undertaken using a "Lean" approach and 36 staff have been trained as facilitators.
Motorists are being advised that The Highland Council is currently preparing to carry out resurfacing works at the following locations: • B862 Fort Augustus - Whitebridge - Torness - Dores – Inverness Road; specifically at Errogie Village (North Gateway), Errogie Village (South Gateway), and Compass Farm; and • B851 Errogie – Strathnairn – Daviot Bridge – Culloden Moor Road; specifically at Aberarder House. Advanced works notification signage will be provided at various locations from Thursday 15 March 2018.
The Highland Council has agreed a capital programme of £482m over the next 5 years. The Highland Council serves the largest geographical area in Scotland (over 30%) and has just under £2bn of assets on its balance sheet comprising, amongst other things, 203 operational schools, over 6,700km of roads and over 2,000 properties.
The Highland Council's Enforcement Officers have stepped up patrols in Caithness in a move to tackle the problem of littering, fly tipping and dog fouling. A number of fixed penalty notices have been issued recently including an £80 fine for dog fouling in the Stafford Lane and Back Bridge area of Wick, a £200 fine for fly-tipping on Ackergill Street and another £80 fine for dog fouling in Lybster.
Speaking ahead of today's Council meeting to agree the Council's Capital Programme for 2018/19 to 2022/23, Cllr Margaret Davidson, Leader of the Highland Council said:- "This programme delivers significant investment in a range of key projects across the Highlands. We are investing in schools, roads, bridges, harbours and flood prevention schemes that will benefit our communities.
Highland Council is to make a special case for extra capital investment in the road infrastructure after a winter period which has seen the Highlands battered by some 57 days of severe weather. Highland Council area is particularly subject to severe winter weather, which has a significant impact on the roads and other infrastructure.