Top marks from Education Scotland Inspectors for North Highland College UHI
30th April 2016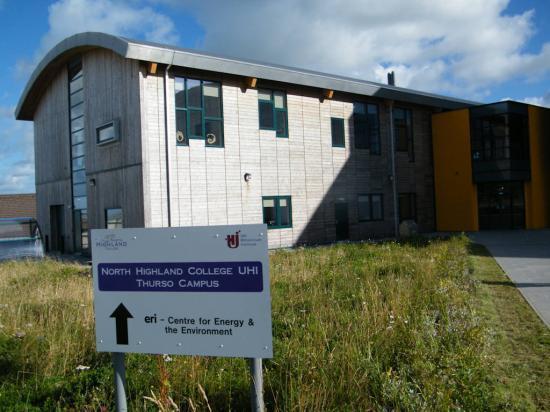 North Highland College UHI has received a very positive report following a recent Education Scotland review of its Further Education provision across its campuses in Thurso, Dornoch and Alness. The independent review, carried out by Education Scotland inspectors on behalf of the Scottish Further and Higher Education Funding Council (SFC), took place in February and resulted in an overall judgement of "effective", the highest level possible.

This judgement confirms the college's status as a high performing college and recognises that the college has in place effective arrangements to maintain and enhance the quality of its provision and outcomes for learners and other stakeholders, that the college is led well, having sufficiently robust arrangements to address any identified minor weaknesses, and is likely to continue to improve the quality of its services for learners and other stakeholders.

The college was also praised for three areas of excellent practice in relation to how it embeds entrepreneurship and enterprise within its curriculum; the operation of its chef mentoring scheme in the SVQ level 2 Professional Cookery programme and the flexible delivery of its Equestrian Studies programmes across Scotland.

Principal Donald MacBeath said, "I am absolutely delighted with our report. It acknowledges the hard work and commitment of staff in providing a high quality college experience for our learners and in meeting the needs of employers and communities across the North Highlands. The success of our full time students in achieving the highest overall attainment rate in the Highlands & Islands in 2014/15 gave me particular pride. I was pleased to see the partnerships involving college staff, students, local schools and employers and their contributions to developing the North Highland economy being recognised. The report does contain a small number of recommendations on where we should focus our quality improvement planning and I am encouraged by the confidence inspectors expressed in our commitment to addressing these. I hope that the contents of the report will give great confidence to future students and our community that the college can meet their needs and expectations."

The report commends thirteen areas of positive practice and highlights:
· Learner success on full-time FE programmes is 74%, significantly better than national sector performance.
· A strong emphasis is placed on the development of essential skills. Almost all programmes include a variety of learning activities, meaningful work placements, guest speakers from industry, volunteering opportunities or enterprise activities which helps to prepare learners well for employment.
· Almost all Further Education learners progress to further study, modern apprenticeships or employment.
· The College works effectively with key strategic partners who value the college's commitment to responding to the priorities for the area.
· Learning and teaching across the college is strong. Almost all teaching staff use a wide range of effective teaching approaches and use their subject and professional knowledge well to engage learners fully. Peer learning is particularly effective.
· Learners are motivated and enthusiastic about their studies and are supported well by teaching and support staff.
· The College has a strong commitment to learner engagement, putting the learner at the centre of its activities and involving them in the planning of their learning and the improvement of their learning experience.
· The College has a strong quality culture. It has been particularly successful developing comprehensive peer review arrangements for teaching, which evaluates effectively the quality of learning and teaching through observation and professional discussion.
· Leadership for learning and teaching is strong and effective. The principal is supported well by a small team of directors and together they provide effective leadership for learning and teaching and other college functions.

A few areas for development have been identified within the report including improving success rates on some part time programmes; access to and reliability of ICT in some parts of the college and self evaluation arrangements for support areas. Comment on some poor quality accommodation in the tower block is also made.
Related Businesses
Related Articles
A new report has highlighted the threat marine plastic pollution poses to seabirds in the northeastern Atlantic region. Researchers found that, of 34 seabird species investigated, 74% have ingested plastic.
Vice-principals take up roles at University of the Highlands and Islands. The University of the Highlands and Islands has appointed three new vice-principals to its senior management team to increase representation from the 13 colleges and research institutions which make up its partnership.
North Highland College UHI are inviting applications for the Engineering and Construction Employability Essentials summer programme. The course is now in its fourth year and run in conjunction with Skills Development Scotland.
A new three-year partnership agreement between North Highland College UHI and Nigg Skills Academy has been signed to deliver engineering skills and qualifications to the Ross-Shire area at their academy in Nigg. Nigg Skills Academy works with employers and industry bodies to deliver engineering skills to meet today's industry demands, has established a memorandum of understanding with North Highland College UHI to continue to provide opportunities for those seeking careers within the engineering and energy industry.
To date, the Inverness Campus project has attracted over £100m of investment, and independent research has shown that it already has potential to support up to 1,300 jobs on site and create 940 new jobs across the Highlands and Islands over the next five years. www.uhi.ac.uk.
North Highland College UHI's evening classes and short courses are a great way for you to learn a new skill, turn a hobby into a money earner or even take the first step on the road to achieving a new qualification. With ILA funding available, you might be able to learn a whole new skill without it costing you a penny! From Digital Photography to Working With Wood, there's something for everyone.
Engineering & Construction "Employability Essentials" course, which runs from 4th July to 5th August. Last year 100% of the attendees went onto into positive destinations (employment, modern apprenticeships or further education), and there are 4 places remaining of the course for this year.
If you will be in 4th, 5th or 6th year in 2016/17 and you are unsure what path to take when you leave school then this course may be for you. This course will provide you with the practical skills and information required to support your success in moving into employment.
--- More than 200 students enjoy Inverness College UHI CREATE event ---. --- Highland entrepreneurs offer advice on starting out in business ---.
A new report has revealed that 67.6% of full-time students successfully completed their studies at Highlands and Islands colleges in the 2014 to 2015 academic year. This is higher than the national average figure which shows that 64% of students passed further education courses at Scottish colleges in the period.