Councillor Bill Fernie welcomes Scotland Excels Living Wage boost
2nd June 2016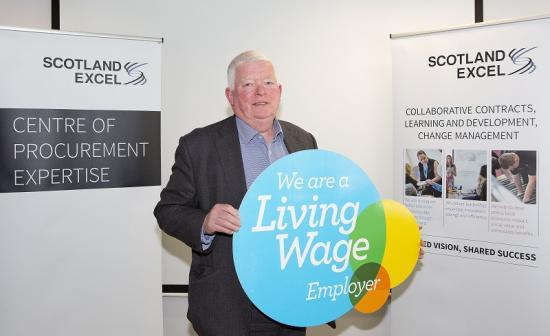 Local Wick Councillor Bill Fernie has welcomed Scotland's centre for procurement expertise for local government, gaining Living Wage accreditation.

Scotland Excel's accreditation from the Living Wage Foundation affirms the organisation's commitment to leading by example on the issue of fair pay.

Cllr Bill Fernie, Highland Council's Budget Leader, sits on Scotland Excel's Executive Sub and Joint Committees. He said: "We need to encourage all employers to set the living wage as a minimum pay level. It's great that Scotland Excel and the public sector are at the forefront. Highland Council is whole heartedly behind encouraging more employers to also use a wage level to help the standard of living of low paid workers."

The Living Wage is currently set at £8.25.

Scotland Excel is the centre of procurement expertise for the local government sector in Scotland. It is a non-profit making organisation funded by all 32 councils.
Related Businesses
Related Articles
Nominations are being invited from people seeking election onto eight community councils across the Highlands. The resignation of some members have brought the following six community council's down to below half of their memberships so interim elections have been called in order to fill the vacancies.
The Highland Council and its Commercial and Procurement Shared Services partners Aberdeen City and Aberdeenshire Councils are running a series of events to help businesses supply to the public sector. Some of the events are hosted by other organisations and we will be signposting suppliers to these as well.
Leader of the Highland Council, Margaret Davidson has moved to reassure communities about forthcoming budget decisions. She said: "No decisions will be made until the Council meets on 15 February.
At Highland Council work has been ongoing for some months to prepare a Revenue and Capital Budget for 2018/19 and beyond, with the anticipation of a significant cut to available funds. The Scottish Government's proposed grant settlement was announced on 14 December 2017.
Around £3 million of funding has been agreed for a ground-breaking Highland project that could transform the lives of people with complex health needs as part of the Inverness and Highland City Region Deal. The business case for the 'FitHome' assisted living project was approved in November last year with £3m funding from the Scottish Government.
An article in the Press and Journal today 9th January 2018 highlights the cuts in staffing levels across Scottish councils with Highland being one of the highest. In 2009 Highland had 9953 Full-time Equivalent Staff and in 2017 it had dropped by 21% to 7838.
Highland Council Trading Standards team has recently seen an increase in scams targeting Highland businesses. The most common scams reported by businesses relate to marketing and publishing but other frauds such as those involving demands for payment for unsolicited goods sent to businesses (such as ink cartridges which were never ordered) are also on the rise.
Cognitive improvements to be included in Blue Badge scheme The disabled person's parking badge pilot, which was launched in April 2016, has been made permanent by the Scottish Government. The eligibility criteria were revised and extended under a pilot to allow carers and relatives of people who pose a risk to themselves or others in traffic to apply for a disabled person's parking badge, provided they meet the criteria.
People looking to pick up a New Year bargain in the sales on the internet, by mail order or on the high street are being encouraged by The Highland Council's Trading Standards team to be aware of their consumer rights and to stay safe online from scams and fake websites that try to dupe inexperienced online shoppers trying to buy a bargain. Consumers have extra protection when they shop online.
The British Hospitality Association secured a major victory today (21 December2017) as the Scottish Government confirmed that any plans for a 'tourist tax' in Edinburgh - or any other Scottish cities - are firmly off the table. The BHA has been campaigning consistently for over six years against the implementation of any such additional and uncompetitive tax and is delighted that the Scottish Government has recognised our reservations.