Unemployment Rates In Highland and Islands To September 2007
27th October 2007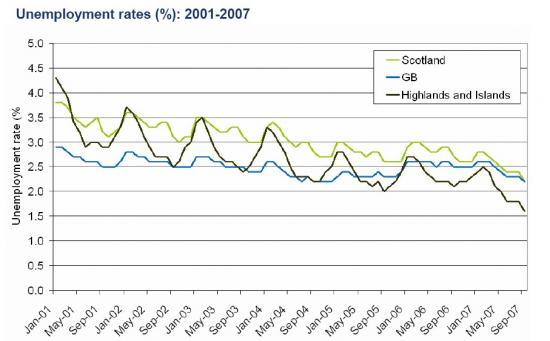 The September 2007 unemployment figures were released on 17th October 2007. During the month, August 2007 to September 2007, the number of people claiming unemployment benefit in Great Britain fell 3.4%, from 832,294 to 804,078 (28,216).This figure is lower than September last year, where the number of claimants stood at 924,489, a decrease of 13% (120,411claimants).

The number of people claiming unemployment benefit in Scotland decreased during the month, falling 7.5% from 77,269 to 71,504 (5,765 claimants). This figure is lower than the same period last year, where the number of claimants stood at 85,861, a decrease of 16.7 % (14,357claimants).

The HIE area witnessed a decrease in its unemployment rate during the month, falling 9.7% from 4,585 to 4,138 claimants (447 claimants). This figure is lower than September last year, where the total claimants stood at 5,480, a decrease of 24.5% ,(1342claimants).
Related Businesses
Related Articles
Week Commencing 8th April 2019 Energy & Business Services: It was good to see this week in the Press & Journal's Energy Voice a piece confirming the transformational impact that the Beatrice Offshore project is having on Wick. It is a timely reminder that although the £2.6Bn project is nearing the end of its construction phase, the economic impacts in the north will continue over the lifetime of the project through the operations base in the restored harbourfront buildings in Wick, which will be home to around 90 workers.
Twelve Highland business leaders have been selected to take part in the next IMPACT30 programme. The programme aims to support the next generation of business leaders, by providing personalised support, coaching and mentoring responsive to their unique growth needs.
An extended online portal that helps small to medium enterprises in the Highlands and Islands find new business opportunities from large contracts, will be launched on Thursday (4 April 2019). The Open4Business (O4B) portal was originally set up in 2012 by SSE to link supply chain firms with large SSE construction projects.
Week Commencing 25th March 2019 SpaceHub Sutherland: The team's weekly presence in Tongue continued this week, and June Love from the team also delivered a presentation on the project to members of the Thurso & Wick Trades Union Council at its meeting this week. I attend all of the Trades Council's meetings, so it was good to hear the unanimously positive reaction to June's update from members (see Communications below for feedback on my discussion with members).
Architects have been appointed to design the spaceport that is being developed to launch small satellites from the Highlands. Development agency Highlands and Islands Enterprise (HIE) is leading the £17.5m Space Hub Sutherland project, including a £2.5m grant from the UK Space Agency (UKSA).
Three inspirational coaches will lead the latest edition of the Pathfinder programme which aims to put businesses in the Highlands and Islands on the fast track to success. A 12-week accelerator course hosted by entrepreneurial experts Steve Thomas, Danny Meaney, and Dr Andy Kelly offers a unique opportunity for businesses to pressure test their ideas and hone the perfect pitch.
Week commencing 18 March 2019. Energy & Business Services: I'm delighted to see yesterday's news that Restore Digital have announced the creation of 39 new job opportunities in Wick.
Weeks commencing 4th & 11th March 2019. SpaceHub Sutherland: Further community engagement events have taken place this week - a drop-in event was held in Tongue on Wednesday, followed by a further drop-in event in Wick on Thursday.
Did you know that France is looking for dairy products, the demand for craft beer is high in Thailand, and Switzerland is in need of engineering services? You can find out where in the world the demand for your product or service is on the Department of International Trade website. With over 17,000 export sales lead, you can also pitch your company to overseas buyers who are looking for products and services like yours.
Over the years, we have helped many companies throughout the Highlands and Islands to explore their exporting potential and be business brave. In our latest film, which has been viewed over 1,600 times already on Facebook, we featured just a small selection of these businesses.