A9 NORTH OF KESSOCK SOUTHBOUND - OVERNIGHT RESURFACING - between Sunday 18th and Thursday 22nd September
2nd September 2016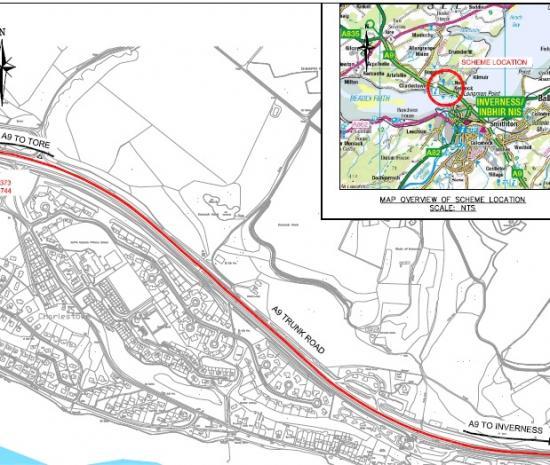 4TH GENERATION TERM CONTRACT FOR MANAGEMENT AND MAINTENANCE OF THE
SCOTTISH TRUNK ROAD NETWORK - NORTH WEST UNIT
A9 NORTH OF KESSOCK SOUTHBOUND - OVERNIGHT RESURFACING

BEAR Scotland, on behalf of Transport Scotland, will be carrying out essential resurfacing works on a section of the southbound A9 Trunk Road between Tore and Inverness. The resurfacing works are programmed for construction between Sunday 18th and Thursday 22nd September 2016. With no works planned for the Friday and Saturday. Due to the high traffic flows over this section the resurfacing works will be undertaken between 19:00 and 07:00 each night to reduce the impact to motorists.

To ensure the safety of the workforce and members of the travelling public the southbound carriageway will be subject to a lane closure with a 10mph convoy traffic management system during the above working hours.

In addition to the 10mph convoy, when the works are being undertaken in the vicinity of the North Kessock Junction the southbound slip roads will be closed. Traffic travelling to and from the northbound A9 will be unaffected.

Traffic travelling from North Kessock wishing to join the southbound A9 will be diverted north to the Tore roundabout and then south through the works. Southbound traffic wishing to exit at the North Kessock Junction will be diverted south to Longman Roundabout where they will directed to return north on the A9, exiting at the North Kessock Junction.

Some delays are unfortunately inevitable but efforts will be made to keep these to a minimum.

BEAR Scotland and Transport Scotland wish to thank the local community for their patience during these essential works.