Council awards new ICT Contract To Gain £11 Million of Savings
22nd September 2016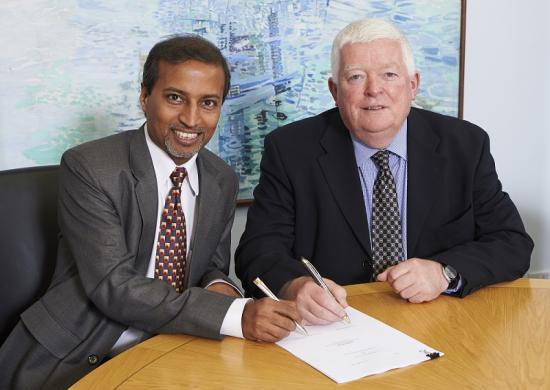 The Highland Council has awarded a 7 year ICT Services contract to WIPRO Holdings UK Ltd.

The Council has procured a cost effective, value for money, corporate Information and Communications Technology (ICT) solution that will deliver excellent operational performance and contribute to the continuous improvement of services.

The contract will deliver a reduction in costs in the region of £11 million over the lifetime of the contract.

Chair of Resources Committee, Cllr Bill Fernie (Independent councillor for Wick) said: "I am delighted to announce that the Council has awarded this important ICT contract to WIPRO Holdings UK Ltd.

"Information and Communications Technology (ICT) is a fundamental enabler in us delivering modern 21st century services and this new contract will support and enable considerable business change and transition within the Council, as well as exciting developments such as computer tablets for pupils."

Cllr Fernie added,"In this new contract we will see Replacement and rationalisation of 17,000 managed desktop devices covering Corporate and Curriculum using a mixture of thin clients/laptops/desktops. We will in addition be arranging 20,000 Chromebooks for every pupil from P6 age upwards. Other parts of our contract will see new investment in upgrading our networks to improve access. I have been involved with the council group looking at Our ICT for 13 years and this is one of the best deals we have struck since I started."

A requirement within the contract is to make a significant reduction in the cost of ICT Services, over the lifetime of the contract, as well as delivering a programme of community benefits. Wipro are proposing to have a significant workforce based in the Highlands and it is expected current Fujitsu ICT staff will transfer over to WIPRO as part of the TUPE regulations.

Cllr Fernie continued: "The Council also has a duty to provide the best possible value for public money in the provision and delivery of all its services.

"We need to deliver significant cost savings through delivering services in innovative ways, making the best use of new technologies and I am confident we have chosen an ICT supplier which is best placed to help us achieve this. The total reduction in cost from the entire re-provision programme will be in the region of £11 million over the lifetime of this contract."

Chair of Education, Child and Adult Service, Cllr Drew Millar added: "This contract will give us the opportunity to modernise and transform learning and teaching in the classroom with flexible and modern solutions delivered to schools on multiple platforms which will include the introduction of around 20,000 one to one devices to every child from P6 upwards

"Children and young people deserve the latest top quality technology available to assist them in achieving their best in a modern technological world and the resources which we will provide through this ICT contract will maximise the potential to give our young people access to the latest technology and a better, brighter future."

Srini Pallia, President, Consumer Business, Wipro Limited said: "Wipro's vision is to empower progress in the public services using technology as a catalyst. We are delighted to partner with the progressive Highlands Council, to drive positive outcomes for the citizens. This is a defining engagement for Wipro in Scotland and we shall leverage our expertise in citizen-centric services backed by our deep technology capabilities.

"In order to keep pace with changing socio-economic scenarios and citizen expectations, governments must reinvent their technology landscape including legacy IT infrastructure and data centre services. Wipro's ServiceNXT platform will enable this transformation for The Highlands Council".

Ashok Tripathy, Vice President & Global Head, Public Sector vertical, Wipro Limited said: "Wipro's belief in empowering public services and education has paved the way for this strategic engagement with The Highlands Council. The Council and Wipro share a common vision of technology transformation to deliver robust IT services to the citizens of the Highlands. We remain committed to investing in the region and emerging opportunities in this market."

PHOTO
Nitesh Jian (VP Consumer Business, Wipro) and Cllr Bill Fernie sign the new contract.
Related Businesses
Related Articles
Close to 100 professionals met yesterday for what is one of the largest Career Long Professional Learning (CLPL) events of its kind in the country that specifically targets Gaelic Education staff. The event took place in Merkinch Community Centre, Inverness for Highland Council's annual Gaelic Education In-Service.
The safety of children walking and cycling to and from school and traffic calming measures in Wick were under the spotlight at yesterdays meeting of the Caithness Committee (Wednesday 21 February 2018). Local Councillors have given the go-ahead for proposals to introduce a 20mph speed limit and traffic calming measures across Wick designed to get motorists to slow down when driving around the town.
The Highland Council has agreed to use City-Region Deal funding to part fund new mid-market housing projects throughout the Highlands. The affordable housing projects will be developed by Albyn Housing Society and Highland Housing Alliance in Ullapool, Fort William, Alness, Inverness, Aviemore, Grantown, Drumnadrochit and Newtonmore and will deliver 61 new homes targeted at young people working in the area.
The Highland Council is set to make it easier for the public to report incidents of fly tipping and be advised when action is taken. As part of an evaluation of its street cleaning service an in-depth LEAN review of how the council deals with fly tipping has been carried out to look at ways of improving responsiveness and customer satisfaction.
Highland Councillors agreed a council tax increase of 3% which will mean an increase of £35.93 per annum on a Band D property. Overall, the budget gap of £15,146 million has been met by a package of savings which includes increasing Council Tax income by £3.448 million, increasing income by £3,059 million, setting a target of £2,250 million to be saved through Redesign and reducing expenditure by £5.1 million.
Redesign is about the Council being more open-minded to new ways of delivering services, more commercially-minded to raise income to support services and jobs across the region and being more community-minded, listening locally and supporting more community-run services. The Highland Council is seeking to release over £2.2 million in savings this year through redesign projects.
An election will take place for Dunnet and Canisbay Community Council on Wednesday 21 February 2018. The maximum permitted membership for the Community Council is 7 and as 8 nominations have been received, the 1349 electors in the community council area are being invited to cast their vote via a postal ballot.
Over three thousand people visited Inverness Town House last weekend to see for themselves the completion of interior works on the public historic Grade A listed building following recent renovations. Around 2,000 visitors passed through the Town House doors on Saturday 10th and another 1,200 people on Sunday 11th February.
Nomination packs for prospective candidates for the Caol and Mallaig Ward by-election are now available from The Highland Council's website. The by-election is being held following the sad death of Councillor Billy MacLachlan who was one of three Councillors representing Ward 11.
Maps of the Council's gritting routes by priority and policy are available online at www.highland.gov.uk/gritting The information provided is a summary of reports from operational staff and is intended to give a general indication of typical conditions in each area at a point in time. It is not intended to imply that any individual route is entirely snow and ice free and drivers must be aware that conditions can change rapidly and make their own assessment of conditions for travelling.