Council awards new ICT Contract To Gain £11 Million of Savings
22nd September 2016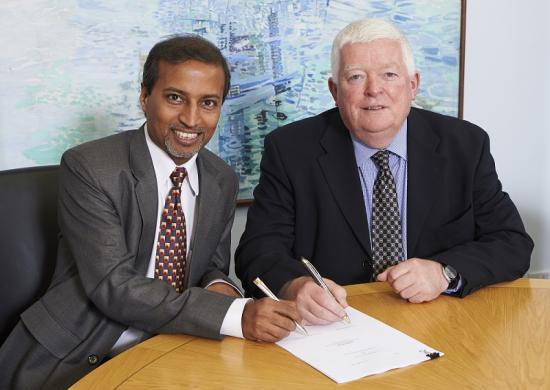 The Highland Council has awarded a 7 year ICT Services contract to WIPRO Holdings UK Ltd.

The Council has procured a cost effective, value for money, corporate Information and Communications Technology (ICT) solution that will deliver excellent operational performance and contribute to the continuous improvement of services.

The contract will deliver a reduction in costs in the region of £11 million over the lifetime of the contract.

Chair of Resources Committee, Cllr Bill Fernie (Independent councillor for Wick) said: "I am delighted to announce that the Council has awarded this important ICT contract to WIPRO Holdings UK Ltd.

"Information and Communications Technology (ICT) is a fundamental enabler in us delivering modern 21st century services and this new contract will support and enable considerable business change and transition within the Council, as well as exciting developments such as computer tablets for pupils."

Cllr Fernie added,"In this new contract we will see Replacement and rationalisation of 17,000 managed desktop devices covering Corporate and Curriculum using a mixture of thin clients/laptops/desktops. We will in addition be arranging 20,000 Chromebooks for every pupil from P6 age upwards. Other parts of our contract will see new investment in upgrading our networks to improve access. I have been involved with the council group looking at Our ICT for 13 years and this is one of the best deals we have struck since I started."

A requirement within the contract is to make a significant reduction in the cost of ICT Services, over the lifetime of the contract, as well as delivering a programme of community benefits. Wipro are proposing to have a significant workforce based in the Highlands and it is expected current Fujitsu ICT staff will transfer over to WIPRO as part of the TUPE regulations.

Cllr Fernie continued: "The Council also has a duty to provide the best possible value for public money in the provision and delivery of all its services.

"We need to deliver significant cost savings through delivering services in innovative ways, making the best use of new technologies and I am confident we have chosen an ICT supplier which is best placed to help us achieve this. The total reduction in cost from the entire re-provision programme will be in the region of £11 million over the lifetime of this contract."

Chair of Education, Child and Adult Service, Cllr Drew Millar added: "This contract will give us the opportunity to modernise and transform learning and teaching in the classroom with flexible and modern solutions delivered to schools on multiple platforms which will include the introduction of around 20,000 one to one devices to every child from P6 upwards

"Children and young people deserve the latest top quality technology available to assist them in achieving their best in a modern technological world and the resources which we will provide through this ICT contract will maximise the potential to give our young people access to the latest technology and a better, brighter future."

Srini Pallia, President, Consumer Business, Wipro Limited said: "Wipro's vision is to empower progress in the public services using technology as a catalyst. We are delighted to partner with the progressive Highlands Council, to drive positive outcomes for the citizens. This is a defining engagement for Wipro in Scotland and we shall leverage our expertise in citizen-centric services backed by our deep technology capabilities.

"In order to keep pace with changing socio-economic scenarios and citizen expectations, governments must reinvent their technology landscape including legacy IT infrastructure and data centre services. Wipro's ServiceNXT platform will enable this transformation for The Highlands Council".

Ashok Tripathy, Vice President & Global Head, Public Sector vertical, Wipro Limited said: "Wipro's belief in empowering public services and education has paved the way for this strategic engagement with The Highlands Council. The Council and Wipro share a common vision of technology transformation to deliver robust IT services to the citizens of the Highlands. We remain committed to investing in the region and emerging opportunities in this market."

PHOTO
Nitesh Jian (VP Consumer Business, Wipro) and Cllr Bill Fernie sign the new contract.
Related Businesses
Related Articles
Recent outcomes of Redesign work were noted by Members at yesterday's Highland Council meeting. In the first year of the programme, 8 redesign projects were undertaken using a "Lean" approach and 36 staff have been trained as facilitators.
Motorists are being advised that The Highland Council is currently preparing to carry out resurfacing works at the following locations: • B862 Fort Augustus - Whitebridge - Torness - Dores – Inverness Road; specifically at Errogie Village (North Gateway), Errogie Village (South Gateway), and Compass Farm; and • B851 Errogie – Strathnairn – Daviot Bridge – Culloden Moor Road; specifically at Aberarder House. Advanced works notification signage will be provided at various locations from Thursday 15 March 2018.
The Highland Council has agreed a capital programme of £482m over the next 5 years. The Highland Council serves the largest geographical area in Scotland (over 30%) and has just under £2bn of assets on its balance sheet comprising, amongst other things, 203 operational schools, over 6,700km of roads and over 2,000 properties.
The Highland Council's Enforcement Officers have stepped up patrols in Caithness in a move to tackle the problem of littering, fly tipping and dog fouling. A number of fixed penalty notices have been issued recently including an £80 fine for dog fouling in the Stafford Lane and Back Bridge area of Wick, a £200 fine for fly-tipping on Ackergill Street and another £80 fine for dog fouling in Lybster.
Speaking ahead of today's Council meeting to agree the Council's Capital Programme for 2018/19 to 2022/23, Cllr Margaret Davidson, Leader of the Highland Council said:- "This programme delivers significant investment in a range of key projects across the Highlands. We are investing in schools, roads, bridges, harbours and flood prevention schemes that will benefit our communities.
Highland Council is to make a special case for extra capital investment in the road infrastructure after a winter period which has seen the Highlands battered by some 57 days of severe weather. Highland Council area is particularly subject to severe winter weather, which has a significant impact on the roads and other infrastructure.
Maps of the Council's gritting routes by priority and policy are available online at www.highland.gov.uk/gritting. The information provided is a summary of reports from operational staff and is intended to give a general indication of typical conditions in each area at a point in time.
The £48.5m Wick Community Campus built by Morrison Construction has been announced as a finalist at the Royal Town Planning Institute (RTPI) Awards for Planning Excellence 2018. The project is entered in the category for "Excellence in Planning for a Successful Economy" against eight other finalists from across the UK with the winner to be announced during a ceremony at Milton Court Concert Hall on 24 May 2018.
A Partnership for Procurement event was held in Inverness today (Thursday 6 March) to raise awareness and the capability of the third sector to successfully bid, supply and deliver services for the public sector. Partnership for Procurement (P4P) is a new initiative funded through the Scottish Government's 10 Year Social Enterprise Strategy; supporting social enterprises and third sector organisations to better access public contracts and build partnerships.
Across the Northern Alliance local authorities an exciting project has been rolled out to raise attainment in literacy, language and communication. The programme is being delivered in around 50% of primary schools across the Northern Alliance and is aimed at supporting practitioners to take a developmental approach to supporting early literacy development.