Do you want to grow your online sales? Think International! - Thurso Workshop
23rd September 2016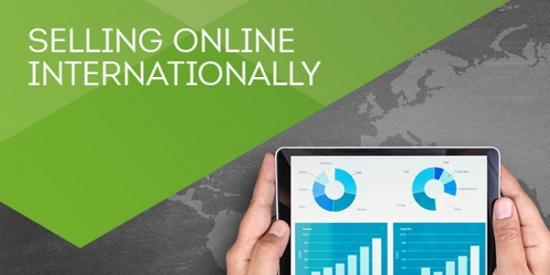 Grow your international online sales.

If your business is already selling online, or you're thinking about starting an online sales operation, why not consider the international marketplace? With the right information, set-up and skills, your business could capitalise on the wealth of opportunities available beyond the UK.

Highlands and Islands Enterprise (HIE) invites you to attend a FREE one-day introductory level workshop, 'Selling Online Internationally', where you can learn how to increase international sales through your website.

-----------------------------------------------------------------------------------------------------------------------------------------------------------
Thurso
Wed 9 November 2016 - 09:30 - 16:30
Pentland Hotel, Princes Street, Thurso
Book HERE
-----------------------------------------------------------------------------------------------------------------------------------------------------------

Who's it for?
The workshop is open to any business with an existing website that is looking to broaden its online selling horizons and develop its capability in pro-active selling to international customers.

This course is not intended for tourism businesses who should instead refer to their local Destination Management Organisation who will be organising tourism specific digital workshops on behalf of HIE across a number of subjects, including international digital tourism.

How does it work?
Do you know how to develop an effective international website? This dynamic, interactive workshop focuses on giving you the tools you need to create and manage a strong online presence. With your new-found expertise, you can identify the right direction to boost international sales and grow your business on a global platform.

The workshop helps you identify goals and objectives and enables you to write a short action plan for business growth via international online sales.

How your company benefits
Develop your website so it is more focused on international customers
Increase the profile of your business internationally
Identify and target suitable international markets
Address language considerations and learn how to localise your website
Put together a personalised action plan to kick start your site development
Develop an international pricing strategy, taking into account currencies and delivery charges
Understand the basics of VAT and tariffs in international online sales
Consider legal requirements and develop international terms and conditions

Feedback from a previous participant:
"The whole event was very helpful. We are in the process of launching an ecommerce site and it was great to get a full overview of items to consider."

For other courses and advice on international trade visit www.hie.co.uk/InternationalTrade

Please note that the courses are free of charge, but as it is a form of State Aid, it could count towards your overall De Minimis allowance.
Related Businesses
Related Articles
A Caithness engineering and design company has become the first to achieve national accreditation through the region's 'Cyber Strong' initiative. Thurso based Envision Engineering & Design has been awarded government backed Cyber Essentials certification.
Google's Digital Garage team, which offers free digital training to people of all ages to help them find a job, grow in their career and or business, is coming to four Highlands and Islands campuses this month to give students advice on how best to sell their skills to a new employer. As part of employability month, mentors from Google Digital Garage will travel to Alness, Inverness, Thurso and Kirkwall in Orkney to advise on how you can create a CV that shines.
Applications are now open for up to 50 ambitious entrepreneurs eager to grow their business and learn from one of the world's foremost entrepreneurs. Professor Bill Aulet, managing director of the Martin Trust Center for Entrepreneurship at Massachusetts Institute of Technology (MIT), will be in Edinburgh this summer for the residential Can Do SCALE summer school which runs from 18 - 20 June.
Norscot, the Highlands and Islands manufacturer of timber frame kits, windows and doors, received the Innovation of the Year Award at the prestigious Scottish Knowledge Exchange Awards 2018. The awards, run by Interface, aim to celebrate the achievements of academic and business collaborations and partnerships.
Young people in Caithness will be the first in Scotland to benefit from new Norwegian style learning centres. A network of 'Newton rooms' in Norway and one in Denmark are used to inspire more young people into careers in science, technology, engineering and maths (STEM).
A kit home and window manufacturer with operations in Caithness and Inverness has been shortlisted for a national award for innovation. Norscot is one of three finalists in the Scottish Knowledge Exchange Awards 2018 Innovation of the Year category, after developing a system for clients to view their new homes on site virtually before building work starts.
A Shetland boat building and engineering company has increased its workforce and is set to expand internationally as orders for workboats grow. Six new jobs have already been created at Malakoff Ltd after opening a new site earlier this year at Greenhead Base in Lerwick.
A £60m fund to keep Scotland at the forefront of low carbon innovation is now open for applications. The Low Carbon Infrastructure Transition Programme (LCITP) will fund large scale projects which support the ambitions of the Scottish Government's new Scotland's Energy Strategy, which was published in December 2017.
A global software development business with its technology hub based in Orkney is moving to larger premises. Kyloe is set to double its staff in the next few years and has secured £191,250 investment from Highlands and Islands Enterprise (HIE) to help it move to a more suitable premises.
Recent VisitScotland figures have highlighted that 62%* of holidaymakers to Scotland said trying locally sourced food and drink is an important part of their visit. Share In a bid to capitalise on the benefits of a close relationship between food and drink producers and the tourism sector, a range of industry representatives and public agencies are working together to develop a new strategy - the 'National Framework to Grow Food Tourism'.