Doors Open At Unique Nuclear Archive
19th February 2017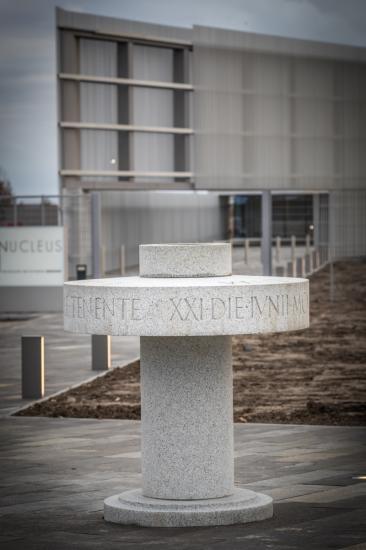 A unique new archive, funded by the Nuclear Decommissioning Authority, has opened its doors to the public for the first time, bringing together historical nuclear records from all over the UK.

Speaking today at the Nucleus (Nuclear and Caithness Archive) in Wick, NDA chairman Stephen Henwood, said:Today we see a new chapter in the important role Caithness has played in the UK's nuclear history. For many decades Dounreay was at the forefront of the development of the British, and world, nuclear industry and now Nucleus will see this knowledge protected for future generations.

NDA Chief Executive John Clarke added:Across the UK, at over 17 sites, we have accumulated large volumes of important and valuable records, some dating back to the 1940s. Now we have Nucleus, we have ensured that this information is accessible, secure, and managed efficiently for the taxpayer.

At its peak, Dounreay employed more than 3,000 staff and brought a wide range of contracts for local businesses. By placing Nucleus in Wick, the NDA is honouring our responsibility to help offset the economic impact of closing down sites that were once major regional employers.

Located near one the UK's earliest nuclear research sites, Dounreay in Scotland, the Nucleus archive will have a dual role: as well as housing nuclear records, the facility will contain a collection of local Scottish records that has outgrown its existing home.

An exercise lasting at least five years is now under way to collect many thousands of important plans, photographs, drawings and other records from locations across the UK for transfer to Nucleus.

The site's records - including plans, drawings, photographs and other information - will be the first nuclear collection transferred to Nucleus from the 17 NDA sites. The Caithness collection, with records dating back to the 16th century, are already in place.

Up to 26 km of shelving has been installed in a series of secure pods to take the material and ensure it is preserved. Nucleus will employ a staff of approximately 20 including archivists, preservation experts and support staff.

An operation has already been under way for a number of years to retrieve, collate and organise the huge quantities of records that are currently stored at or near individual sites.

It is hoped that, during 2017, Nucleus will be granted Place of Deposit status by The National Archive at Kew.

Once achieved, it will become one of the largest accredited repositories outside London.

An official opening ceremony will take place later in the year.

Archive material will be catalogued, indexed and stored in a carefully controlled environment, with humidity and temperature kept stable to minimise the potential for deterioration.

Old decaying documents will be transferred to archive-quality paper by on-site preservation specialists, and digitised for improved accessibility.

It is anticipated that interest in the nuclear material will be overwhelmingly from academics, regulators, journalists, industry representatives and all other researchers. The information will be provided digitally, wherever possible, avoiding risks of damage to the original material.

The triangular single-storey building has a large public area, including a reading room and community space for exhibitions, study or training.

The archive will also fulfil an important role for the future geological disposal facility (GDF) that is being developed for the UK, acting as a central repository for detailed waste records that must be safeguarded for many generations.

Discussions are also under way with the wider nuclear industry, including the Ministry of Defence, new build developers and operators of the UK's current nuclear power stations, to potentially consolidate their records at Nucleus.

Training and employment

The NDA's aim is to develop Nucleus (The Nuclear and Caithness Archives) as a base for training archivists and offering apprenticeships, linking up with the University of the Highlands and Islands, and North Highland College. Much of the information will eventually be digitised and made available for online access.

The facility also provides a permanent home for the existing North Highland archive which had outgrown its previous location above the Wick library. This archive is a popular attraction for visitors seeking information about their and others' Scottish heritage. The NDA hopes that Nucleus (The Nuclear and Caithness Archives) will help sustain and add to the level of interest in local history as well as history of the UK nuclear industry.

Restore Scan Ltd, will manage Nucleus (The Nuclear and Caithness Archives). 25 permanent positions have been filled at Nucleus, with the majority of the recruits coming from the local community, while the construction phase generated dozens of additional temporary posts and led to opportunities for local contractors.
Related Businesses
Related Articles
Construction of a new facility to support the decommissioning of reactors and demolition of historic active laboratories are just two of Dounreay's major projects expected to be delivered as part of a new framework agreement, potentially worth up to £400 million, which is being published in the Official Journal of the European Union (OJEU) today. - www.ojeu.eu The decommissioning services framework agreement will initially be for a period of up to 4 years with the possibility of extensions of up to 3 years meaning skyline changes could be delivered over the next decade under the arrangements.
Dounreay Site Restoration Limited has submitted a planning application to the Highland Council covering a series of decommissioning projects expected to take place between 2018 and the site's shut down, also known as the interim end state. The application, which is the last of three planning phases covering the overall decommissioning of the site, follows engagement undertaken earlier this year including public events and an opportunity to comment on draft documents online.
Drone technology is helping Dounreay reduce the risk of accidents and save money on its inspection of buildings. A camera mounted on an unmanned aerial vehicle is taking over tasks previously carried out by workers on elevated work platforms.
Work is underway to retrieve the last remaining radioactive fuel elements that have been stuck for decades inside the iconic Dounreay Fast Reactor (DFR). The experimental dome-shaped nuclear reactor once led the world in fast breeder technology and after it closed in 1977 most of the core fuel was removed.
Eleven young people who have completed their Dounreay apprentice training are "very much a part of the future of the far north." Guest speaker Jamie Stone MP told the audience at the apprentice indenture ceremony that took place last Friday that, as Dounreay continues to decommission, the newly indentured apprentices would be an important part of the area's ability to offer a skilled and innovative workforce. Dounreay Managing Director and former nuclear industry apprentice Phil Craig added: "I am very proud that we are celebrating yet another group of talented apprentices.
Companies are being invited to LINC together and support Scotland's largest decommissioning project thanks to an innovative new scheme designed to increase the number of small and medium enterprises (SMEs) delivering clean-up work at Dounreay. Up to five companies will be invited to help understand and develop the best proposal for size-reducing all of the machinery and components that will need to be removed from Dounreay's Prototype Fast Reactor (PFR) - the largest to be built at the Caithness site.
Graduates from as far afield as Portugal and London arrived in Caithness last week to kick start their career at Dounreay. Ten new recruits have started on the two-year graduate scheme with educational backgrounds as diverse as engineering, law and digital forensics and ethical hacking.
It is 60 years this weekend since the first criticality was achieved in Scotland using a test rig at Dounreay. Now the decommissioning team responsible for the site is marking that milestone by taking a major step towards demolishing the oldest reactor that remains at the former fast reactor research centre.
This film, produced by AEA Technology in 1994, looks back on the history of the fast reactor development programme at Dounreay..
Progress across Dounreay's decommissioning programme is being showcased in a new film and brochure highlighting the team's successes during 2016-17. Some of the highest hazards that remained in the Nuclear Decommissioning Authority estate, including liquid metal coolant from the Dounreay Fast Reactor, were reduced and destroyed during the year bringing to a successful conclusion projects that spanned many years.