Could Bog Myrtle Be A New Cash Crop In The North?
23rd December 2007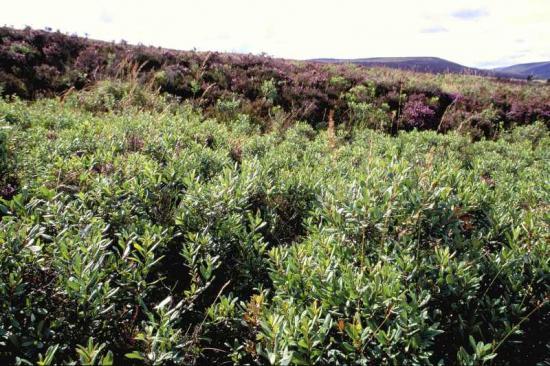 Plans for one of the UK's biggest cosmetic makers to turn bog myrtle into an income-earning crop have moved a step closer with approved funding of £201,000 from Highlands and Islands Enterprise (HIE).

Boots Company PLC has developed products using the essential oil extracted from bog myrtle, a native plant of the Highlands and Islands. Researchers at the chemists have discovered that bog myrtle oil has properties that slow down the skin ageing process and is effective in combating acne.

Trial products have been well received by consumers and Boots is keen to build on this to increase production. However, the essential oil used to date has been extracted from bog myrtle harvested from wild plants, and to achieve the increased production it is necessary to cultivate a significant quantity of the plant.

Boots intends to launch a range of products on the bog myrtle oil branded as 'Sweet Gale' which emphasises the natural origin of the product and is perceived more attractive to customers than the name 'bog myrtle'. There are plans to plant thousands of acres of the wild growing Highland shrub to provide as much oil as possible for the new products.

Although it grows all over the world, it is the Scottish variety of bog myrtle that seems to possess the particular anti-aging properties - down to the unique blend of conditions in which it grows.

In addition to the HIE grant, the UHI Agronomy Institute on Orkney is providing £94,000 and will be tasked with the research and development work to cultivate significant quantities of the plants.

Jeff Foot, head of commercialisation and investment at HIE, said: "We are delighted to be supporting this project which is needed to establish the development. A research study will ensure the industry develops quickly so that crofters, farmers and landowners can benefit as well as creating more jobs.

"Boots has a significant worldwide presence and aspirations to launch products incorporating bog myrtle oil through outlets in Europe, Asia and America and it's clear that the potential market for these products is enormous."

Jane Wood, head of public affairs, Scotland, said: "Because the plant occurs naturally in the Highlands, we can produce a much better product. We have found particularly effective strands of it in the Highlands and to grow it elsewhere wouldn't be the same. It has the potential to rival Australia's tea tree oil, which has become one of its most successful export products."

"This research into the agronomy of cultivating the plant is important, and is required to achieve the best results so that clear instructions can be given to growers on how best to grow the plant to achieve the best results."

Boots has been working with Beauly company Highland Natural Products (HNP) which was set up in Beauly five years ago to exploit the medicinal properties of native plants.

From The Scotsman 11 September 2004
New oil boom could net Highlands a fortune

Myrica gale or Bog Myrtle At Wikipedia

Bog Mytle also grows In Northern Ireland

More at Botanical.com
Related Businesses
Related Articles
A Caithness engineering and design company has become the first to achieve national accreditation through the region's 'Cyber Strong' initiative. Thurso based Envision Engineering & Design has been awarded government backed Cyber Essentials certification.
Google's Digital Garage team, which offers free digital training to people of all ages to help them find a job, grow in their career and or business, is coming to four Highlands and Islands campuses this month to give students advice on how best to sell their skills to a new employer. As part of employability month, mentors from Google Digital Garage will travel to Alness, Inverness, Thurso and Kirkwall in Orkney to advise on how you can create a CV that shines.
Applications are now open for up to 50 ambitious entrepreneurs eager to grow their business and learn from one of the world's foremost entrepreneurs. Professor Bill Aulet, managing director of the Martin Trust Center for Entrepreneurship at Massachusetts Institute of Technology (MIT), will be in Edinburgh this summer for the residential Can Do SCALE summer school which runs from 18 - 20 June.
Norscot, the Highlands and Islands manufacturer of timber frame kits, windows and doors, received the Innovation of the Year Award at the prestigious Scottish Knowledge Exchange Awards 2018. The awards, run by Interface, aim to celebrate the achievements of academic and business collaborations and partnerships.
Young people in Caithness will be the first in Scotland to benefit from new Norwegian style learning centres. A network of 'Newton rooms' in Norway and one in Denmark are used to inspire more young people into careers in science, technology, engineering and maths (STEM).
A kit home and window manufacturer with operations in Caithness and Inverness has been shortlisted for a national award for innovation. Norscot is one of three finalists in the Scottish Knowledge Exchange Awards 2018 Innovation of the Year category, after developing a system for clients to view their new homes on site virtually before building work starts.
A Shetland boat building and engineering company has increased its workforce and is set to expand internationally as orders for workboats grow. Six new jobs have already been created at Malakoff Ltd after opening a new site earlier this year at Greenhead Base in Lerwick.
A £60m fund to keep Scotland at the forefront of low carbon innovation is now open for applications. The Low Carbon Infrastructure Transition Programme (LCITP) will fund large scale projects which support the ambitions of the Scottish Government's new Scotland's Energy Strategy, which was published in December 2017.
A global software development business with its technology hub based in Orkney is moving to larger premises. Kyloe is set to double its staff in the next few years and has secured £191,250 investment from Highlands and Islands Enterprise (HIE) to help it move to a more suitable premises.
Recent VisitScotland figures have highlighted that 62%* of holidaymakers to Scotland said trying locally sourced food and drink is an important part of their visit. Share In a bid to capitalise on the benefits of a close relationship between food and drink producers and the tourism sector, a range of industry representatives and public agencies are working together to develop a new strategy - the 'National Framework to Grow Food Tourism'.