Could Bog Myrtle Be A New Cash Crop In The North?
23rd December 2007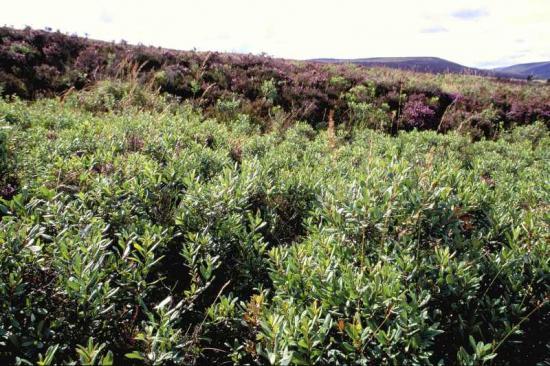 Plans for one of the UK's biggest cosmetic makers to turn bog myrtle into an income-earning crop have moved a step closer with approved funding of £201,000 from Highlands and Islands Enterprise (HIE).

Boots Company PLC has developed products using the essential oil extracted from bog myrtle, a native plant of the Highlands and Islands. Researchers at the chemists have discovered that bog myrtle oil has properties that slow down the skin ageing process and is effective in combating acne.

Trial products have been well received by consumers and Boots is keen to build on this to increase production. However, the essential oil used to date has been extracted from bog myrtle harvested from wild plants, and to achieve the increased production it is necessary to cultivate a significant quantity of the plant.

Boots intends to launch a range of products on the bog myrtle oil branded as 'Sweet Gale' which emphasises the natural origin of the product and is perceived more attractive to customers than the name 'bog myrtle'. There are plans to plant thousands of acres of the wild growing Highland shrub to provide as much oil as possible for the new products.

Although it grows all over the world, it is the Scottish variety of bog myrtle that seems to possess the particular anti-aging properties - down to the unique blend of conditions in which it grows.

In addition to the HIE grant, the UHI Agronomy Institute on Orkney is providing £94,000 and will be tasked with the research and development work to cultivate significant quantities of the plants.

Jeff Foot, head of commercialisation and investment at HIE, said: "We are delighted to be supporting this project which is needed to establish the development. A research study will ensure the industry develops quickly so that crofters, farmers and landowners can benefit as well as creating more jobs.

"Boots has a significant worldwide presence and aspirations to launch products incorporating bog myrtle oil through outlets in Europe, Asia and America and it's clear that the potential market for these products is enormous."

Jane Wood, head of public affairs, Scotland, said: "Because the plant occurs naturally in the Highlands, we can produce a much better product. We have found particularly effective strands of it in the Highlands and to grow it elsewhere wouldn't be the same. It has the potential to rival Australia's tea tree oil, which has become one of its most successful export products."

"This research into the agronomy of cultivating the plant is important, and is required to achieve the best results so that clear instructions can be given to growers on how best to grow the plant to achieve the best results."

Boots has been working with Beauly company Highland Natural Products (HNP) which was set up in Beauly five years ago to exploit the medicinal properties of native plants.

From The Scotsman 11 September 2004
New oil boom could net Highlands a fortune

Myrica gale or Bog Myrtle At Wikipedia

Bog Mytle also grows In Northern Ireland

More at Botanical.com
Related Businesses
Related Articles
The latest generation of small communications satellites could be launched into Earth orbit from the northern Highlands of Scotland within the next two years. Development agency Highlands and Islands Enterprise (HIE) has submitted a planning application for a vertical launch site, Space Hub Sutherland, that it plans to construct on the A' Mhoine peninsula, Melness, near Tongue.
Highlands and Islands Enterprise (HIE) has contracted marketing and business development company, Business and Tourism Solutions (BTS), who will work with Lochaber Chamber of Commerce to deliver the programme. It will provide intensive engagement, support and interventions for around 50 businesses and providers in the sector across the Highland Council area.
The latest generation of small communications satellites could be launched into Earth orbit from the northern Highlands of Scotland within the next two years. The latest generation of small communications satellites could be launched into Earth orbit from the northern Highlands of Scotland within the next two years.
According to the draft Scottish Govenment budget, Highlands and Islands Enterprise will get £58.2 million in the upcoming financial year - down from £61.1 million last year. 2018/19 the budget was £71.7 million.
A Caithness company is planning to invest more than £2m in its Wick plant, in a move that could see up to 40 new jobs created in the town over the next five years. Family-run Ashley Ann Ltd (AAL) designs and manufactures kitchens, bedrooms and bathrooms.
The transnational project, called 'DisruptAqua', is worth €155,000 and is being supported by the European Union's Northern Periphery and Arctic Programme (NPA) 2014-2020. As the demand for fish is increasing, the innovative use of existing and new technologies is required.
Social enterprises are a critical part of the rural economy contributing £250m in the Highlands and Islands and South of Scotland areas. This is according to new figures released by HIE and South of Scotland Economic Partnership (SoSEP).
Wellness Tourism is worth over £500bn worldwide, and has grown more than twice as fast as tourism overall. Join us for the latest series of 'TUNE INTO TOURISM', and explore how you can capitalise on this growing trend.
Businesses in the Highlands and Islands looking to develop their use of digital technology and innovation are set to benefit from a new £465,000 support programme. Highlands and Islands Enterprise (HIE) announced the investment on Monday 30 September 2019 at a digital collaboration event to launch the refreshed #hellodigital facility in An Lochran, Inverness.
Fourteen delegates from organisations across Europe that are tackling socio-economic challenges will visit the Highlands this week. The visit is part of the next project meeting of the Support Network for Social Entrepreneurs (SuNSE) and will take place during 1-3 October in Inverness and Sutherland.