Gills Harbour AGM - Tuesday 21st March 2017
17th March 2017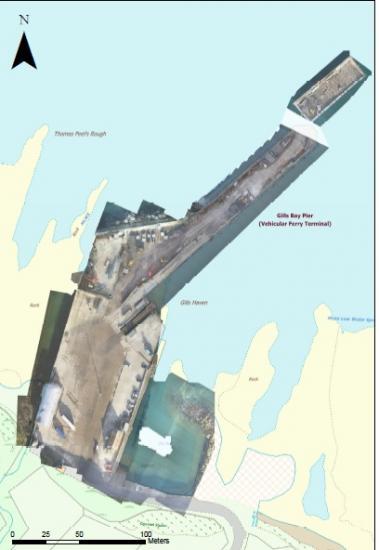 Notice of Annual General Meeting:

On Tuesday 21.03.2017 @ 19.30.

Gills Harbour Ltd: A Community- owned trading Company limited by guarantee. Registered number 364117: 'Canisbay People's Port'.

Gills Harbour Ltd Is holding its Annual General Meeting in the PFL Terminal Building at Gills Harbour on Tuesday March 21st 2017, at 7:30pm

You are cordially invited to the event, as above.

By attending and participating you may be helping the future of the little Harbour, one that the planning authority has designating as its sole 'Economic Development Area' in N.E. Caithness.

Every adult in Gills Harbour Ltd's (GHL's) 'ownership area' (i.e. from West Mey to John O'Groats inclusive) is warmly encouraged to help guide forward the future of this community-owned little port by attending its Annual General Meeting. It takes place in the Pentland Ferries Ltd terminal building at Gills Harbour on Tuesday, March 21 2017 at 19:30.

This is at a time when electricity generated from the kinetic energy of the local tide-streams, (usually known as 'tidal power') is becoming a reality in its local sea area. The Pentland Firth's Inner Sound seabed lease lies between 1 and 1.5 miles from the port's entrance channel, with the Ness o'Quoys landfall site 1 mile east along Gills Bay's shoreline.

Phase 1A (c. £50 million) of this near-by Atlantis Resources Ltd/MeyGen Ltd's Inner Sound project is almost complete, with works on Phase 1B (also 4-turbines) continuing.This will involve 'directional drilling' of of nre conduit channels from Ness of Quoys, a possible expansion of shore station there as well as the installation of the four new turbines, this time using 'mono-piles', rather than weighted gravity bases, as was used in Phase 1A. This could lead to larger blades with the aim of increasing the output per turbine beyond 1.5 MW each.

As an organisation relying on volunteers, Gills Harbour Ltd requires all skills, trades & professions, both with folk from its 'home patch' and from elsewhere in North of Scotland. It is an 'equal opportunities' body, open to both sexes.

Legally, a majority of GHL's directors must be electors registered at addresses on the Pentland Firth's Canisbay (parish) shores.

It is usual for newcomers to serve as 'members' for a full year (annual fee set in 2016 at £10:00), prior to being considered for election as directors of GHL (Companies House Reg. No. Scotland 364117).

Gills Harbour Ltd's aims are:-- 'To manage, operate, maintain, improve and develop' the port 'for the encouragement of employment through trade, commerce, industry, transport, energy and marine activities at, or in the vicinity of, the harbour', for the benefit of the local area and other communities in Northern Scotland.

The present harbour company is a direct descendent of two other 'unincorporated' bodies, that have a local history in excess of a Century. The 150 yard-long (c. 137 metre) Pier was constructed in 1905, specifically to diversify the Canisbay economy.

GHL leases part of its historic landholding (including its broad inter-tidal foreshore) to Pentland Ferries Ltd (PFL), on which that company has invested heavily in creating modern ferry terminal facilities and on adjacent seabed it leases from the Crown Estate.

PFL operates Scotland's most successful & busiest 'Mainland to Island Group' sea-link across the Pentland Firth's historic 'short sea route' from Gills, providing thrice-daily, year-round crossings to Orkney, with four return trips in the peak Summer season.

It does this with its modern RO:RO (Roll-on: Roll-off) catamaran Pentalina at no cost to the public purse; its rival service 'needs' a £10 million annual subsidy of taxpayers' money to stay afloat financially (c. £70:00+ per single passenger trip). Gills Harbour is the most important freight terminus for the Caithness to Orkney trade, being fed on a daily basis by scheduled articulated trucks driven to and from depots in Scotland's Central Belt and Inverness.

Orkney's 'exports' of food/food-products (e.g. lambs, salmon and live shell-fish) travels in the opposite direction on road trucks, often refrigerated or carrying 'vivier' tanks of aerated salt-water. 'Live' shellfish is also loaded at Gills for overland journey to Spain.

EU regulations prevent freight subsidies on the route.

On March 3rd, 2017, Pentland Ferries announced an order for a new larger (85 metres) replacement £14 million catamaran placed with Strategic Marine pty, of Perth, Western Australia, to be built at its Vietnam shipyard.

PFL provides year-round employment for c. 10 persons at Gills Harbour, including members of its directly-employed construction/engineering team, based at its depot in the port.

Vessel-owning marine contractors involved in the Atlantis Resources MeyGen Ltd project, or participating in generic or specific research & development projects or in surveys in connection with tidal-stream electricity in the Inner Sound/Pentland Firth area, have been regular visitors to Gills Harbour in recent times.

But GHL acknowledges that the facilities in its directly-owned Inner Basin fall well short of what those companies have stated that they require, for reasons of human-safety and fuel-efficiency.

Directors of those (mainly Orkney-based firms) want Gills Harbour's Inner Basin deepened by two metres (by 'on-off' bedrock-excavation by back-hoe 'digger') with an additional short length of vertical quay wall and 'internal' breakwater constructed, so as to provide safe overnight berthing for standard 24 metre class work-boats (often termed multi-cats).

Gills Harbour lies in between the two main tide-races emanating from the Caithness side of the Pentland Firth; The Merry Men of Mey , c. 1.5 miles to the West and the Bore of Duncansby 3/4 miles Eastward. White-water waves break every day of the year on those tide-races; work-boat operators want to avoid them, for reasons of comfort for their seafarers and for human safety.

Servicing the sea-bed Crown Estate tidal concessions, all 4 of which are sited in the East Pentland Firth, from any other Mainland port but Gills involves a minimum fuel-consuming steam of two hours daily, thus adversely affecting costs and human productivity of tidal-stream multi-cat operations.

Those rectangular-shaped, powerful, versatile small steel-hulled ships (new-build cost of £3+ million) are known to be in demand for tidal stream turbine deployment, towage, general survey duties, including the use of ROVs etc., assistance in cable-laying operations here and throughout the world: executives of companies such as Atlantis Resources (MeyGen's parent firm), that has tidal stream concessions in several countries, expect this trend to continue.

GHL's office-bearers have had recent talks with Scotland's most senior marine civil servants plus a site visit from the (then) Scottish Government energy minister Rt. Hon. Fergus Ewing, MSP. Those discussions are continuing.

Gills Harbour is listed as a 'Port for Action' by The Highland Council in its 'new' Local Plan, that acknowledges the harbour's 'marine renewables' potential, classing it as an 'Economic Development Area' in Caithness.

GHL directors are presently having (late 2016/early 2017) a comprehensive updated survey, including 'computer modelling', done by scientists from the Environmental Research Institute (Univ. of the H&I) in Thurso, to provide best design information. Dr Jason McIlvenny, who has headed the team as above, will give a 20 minute presentation on his work at 7:30 pm, just before the commencement of AGM business.

In 2016, Gills Harbour Ltd's vice-chairman Mr Clifford Shepherd compiled and edited an A4 size, 50-page technical booklet 'Gills Harbour Ltd; Development Proposals'. In early 2017 chairman Mr Bill Mowat has written and illustrated updated Gills Harbour promotional brochure.

Talks with two executives of AIM-listed Atlantis Resources to discuss matters of mutual interest continue.

The company has 'letters of support' from the owners/managers of all the workboat operators that have had multi-cats or other mini-ships working in local waters from Gills.

GHL believes that Gills Harbour offers a unique 'once in a generation' opportunity to provide long-term employment for suitably-skilled residents locally, or those willing to be trained.

It is home to number of small local vessels and their harbour activities will not be prejudiced by the proposed enhancements.

GHL warmly solicits your attendance at its AGM. You will not be incurring any significant financial liability by participating in Gills Harbour Ltd's future activities.



AGM business includes election of (unremunerated) directors and office-bearers, chairman's & treasurer's report, and fixing payments for un-exempted boats/ships using the port, annual membership fee & renewal etc. A modest 'honorarium' may be paid to a new treasurer.

The AGM will be followed on immediately by a regular GHL board meeting.
Related Businesses
Related Articles
OFFICIAL FIGURES SHOW MORE PEOPLE AND CARS SAILED ACROSS THE PENTLAND FIRTH FROM CAITHNESS TO ORKNEY IN 2016 FROM GILLS BAY THAN ON ANY OTHER ROUTE. Official figures recently published by Scottish Government 'spending watchdog' body Audit Scotland show that the so-called 'short sea-route' from Gills Bay to St Margaret's Hope was the busiest seaway to Orkney across the Pentland Firth in 2016.
One of the contractors that has been operating in the Inner Sound for Atlantis RL's MeyGen site has been taken over by another, a much-larger one. See note on Insight Marine Services Ltd of Cornwall.
Jack-up barge Neptune arrives in the PF's Inner Sound early this afternoon 22.09.16. German tug Elbe, which will be working closely with the self-propelled JU, is already on site.
Update From Bill Mowatt. 'Notice to mariners': Installation of first tidal-stream turbine in the Pentland Firth's Inner Sound at Atlantis RL's MeyGen site c.
On Friday 18th September 2015 the 24 metre-long rectangular steel multi-cat C-Chariot built in 2013 was to be seen loading a Data-fish buoy at Gills Harbour, Caithness. North Sea systems Ltd who own the Datafish describe it on their web site (http://www.northseasystems.com/) as follows - "DataFish is North Sea System's metocean survey buoy for unforgiving marine environments.
Seabed cable-laying operations in the Pentland Firth's Inner Sound, off Canisbay, which may occur in the period 10.09.15 to 25.09.15. The cable ship being used in the Inner Sound is the 121 metre long Siem Daya 1 and she will reel in the four cables at Hartlepool in NE England.
We thank John Green for his picture of what £4.5 million of marine renewables vessels + kit looks like when alongside at Gills Harbour..
The most modern vessel in the Far North of Scotland's 'marine renewables' fleet is conducting debut operations in the Pentland Firth's Inner Sound this week. (commences 24.08.15).
Scotland's Shadow Minister for Transport Mr David Stewart, Labour MSP for the Highlands & Islands constituency, has made a fact-finding visit to community-owned Gills Harbour on the shores of the Pentland Firth's Inner Sound. There he was shown around by three officers of Gills Harbour Ltd (GHL), the Canisbay company that owns and operates the Scottish Mainland's most Northerly port.
Community-owned Gills Harbour is the most Northerly seaport on the British mainland, lying on the shores of the Pentland Firth's Inner Sound, just off the A 836 road, only four miles West of John O'Groats. The spring of 2015 has seen some significant developments locally, both in sea-transport and marine electricity, that bode well for the future of the little port on the inland 'apex' of Gills Bay; it belongs to the 600 people living along the North coast.