HIE reports on year-end results
30th May 2017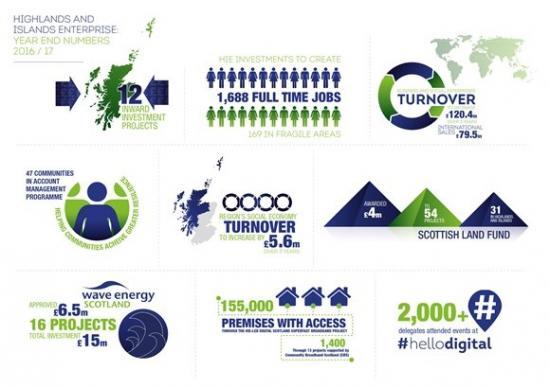 Figures compiled by Highlands and Islands Enterprise (HIE) show that businesses and communities supported by the development agency achieved a strong performance in 2016/17 despite uncertain economic conditions.

Investments by HIE during the year supported businesses and social enterprises across the region to create or retain 1,688 full time equivalent jobs in the region, 169 of these in fragile areas.

Turnover among these firms is forecast to increase by £120.4 million over three years, and international sales by £79.5 million. The figures reflect steady growth among SMEs (small to medium enterprises) across the region.

Inward investment activity increased significantly during the year with HIE helping to support 12 projects.

Community development activity continued apace through HIE's work with social enterprises and communities. An innovative Community Account Management programme is helping 47 communities achieve greater resilience through capacity building, asset based development and local service delivery.

The region's social economy turnover is forecast to increase by almost £5.6 million, £1.8 million of this generated by community-owned assets.

The Scottish Land Fund, administered by HIE and Big Lottery on behalf of the Scottish Government, was extended to all communities across Scotland, including urban areas. In 2016-17 the fund awarded more than £4 million to 54 projects (31 of which were in the Highlands and Islands), including acquisition and post-acquisition developments.

There were milestones with a number of major HIE-led infrastructure projects. Inverness Campus saw the opening of three new buildings, An Lòchran, Aurora House and the first student accommodation block.

In Argyll, the new Fairmile Building in Sandbank Business Park near Dunoon was formally opened, and the European Marine Science Park near Oban secured a number of new tenants.

The year also saw the completion of Dales Voe South in Shetland, a 185m quay to support the growth in decommissioning work, and the installation of all four turbines in the MeyGen tidal energy project off the Caithness coast. Both projects were supported by HIE.

HIE meanwhile approved further investments in the European Marine Energy Centre in Orkney and the new Orkney Research and Innovation Campus, a joint venture with the islands' local authority.

Wave Energy Scotland, a subsidiary of HIE, approved £12.4 million to 17 technology development projects.

Digital connectivity continued to improve for businesses and households across the region, with the number of premises with access through the HIE-led Digital Scotland Superfast Broadband project reaching 155,000.

A further 1,400 premises are now connected through 13 projects supported by Community Broadband Scotland (CBS), which is also run by HIE on behalf of Scottish Government. CBS has delivered or has firm plans to deliver broadband to a total of 11,200 premises across Scotland within its current budget.

May 2016 saw the opening of #hellodigital, the Digital Scotland Excellence Centre, established by HIE on Inverness Campus. More than 2,000 delegates have since attended events and business briefings on topics such as drone technologies, digital making, virtual and augmented reality. Companies involved include Google, IBM, CENSIS, the Datalab and Microsoft.

Thirty one graduates and 15 students were placed with businesses across the Highlands and Islands during the year, following the extension of ScotGrad, the popular graduate placement programme run in the region by HIE.

Reflecting on the progress, chair of HIE Professor Lorne Crerar, said: "It has been another year of encouraging progress for the Highlands and Islands.

"The continued oil and gas downturn, pressures on public sector budgets and uncertainties around EU membership have presented many challenges for the region. More and more we are seeing these challenges being met with innovation, ambition, entrepreneurship and resilience by the region's businesses, social enterprises and communities.

"A key part of HIE's role is to foster those qualities and target investment in initiatives that stimulate and enable growth. I am delighted at the contribution the organisation has made over the past year and look forward to continuing to work with our partners, businesses and communities across the region and beyond to build on this in the years ahead."

Details of HIE's achievements over the year 2016-17 will be published in the agency's annual report and accounts, which will be laid before the Scottish Parliament in the autumn.
Related Businesses
Related Articles
HIE is calling on businesses across the region to be 'Business Brave' and take the leap into trading overseas by signing up to its Selling Online International trade workshops. Share The organisation has kicked off a series of free international trade workshops in a bid to support businesses that aspire to sell to overseas markets via the web but lack the knowledge and expertise to do so.
HIE is now recruiting for the 2018 intake to its Pathfinder Accelerator, a tried and tested business programme nurturing growth in life sciences and technology. Share The Pathfinder Accelerator is specifically designed to help companies and start-ups develop novel business ideas relating to life sciences or technology and reduce time to market by testing it in the most time-efficient, cost-effective way to determine its commercial viability.
Use of social media and mobile technology is on the increase by Highlands and Islands businesses, according to the region's second Digital Economy Business Survey (DEBS) released today. Share The findings of the survey carried out by Ipsos MORI, were launched by Highlands and Islands Enterprise (HIE) during the week-long DataFest18 Fringe event being held in Inverness for businesses and the wider community for the first time.
People in 14 communities across the Highlands and Islands are being asked to take part in an online survey on rural banking services. The survey will be used to gather feedback from a broad range of individual households, businesses and community groups in areas expected to be affected by local bank branch closures.
A £5.39m construction contract has been awarded for the development of a new Research and Innovation Campus in Orkney. The campus is a joint venture by Highlands and Islands Enterprise (HIE) and Orkney Islands Council (OIC) who have appointed Kirkwall based R Clouston Limited as the main contractor.
A Caithness engineering and design company has become the first to achieve national accreditation through the region's 'Cyber Strong' initiative. Thurso based Envision Engineering & Design has been awarded government backed Cyber Essentials certification.
Google's Digital Garage team, which offers free digital training to people of all ages to help them find a job, grow in their career and or business, is coming to four Highlands and Islands campuses this month to give students advice on how best to sell their skills to a new employer. As part of employability month, mentors from Google Digital Garage will travel to Alness, Inverness, Thurso and Kirkwall in Orkney to advise on how you can create a CV that shines.
Applications are now open for up to 50 ambitious entrepreneurs eager to grow their business and learn from one of the world's foremost entrepreneurs. Professor Bill Aulet, managing director of the Martin Trust Center for Entrepreneurship at Massachusetts Institute of Technology (MIT), will be in Edinburgh this summer for the residential Can Do SCALE summer school which runs from 18 - 20 June.
Norscot, the Highlands and Islands manufacturer of timber frame kits, windows and doors, received the Innovation of the Year Award at the prestigious Scottish Knowledge Exchange Awards 2018. The awards, run by Interface, aim to celebrate the achievements of academic and business collaborations and partnerships.
Young people in Caithness will be the first in Scotland to benefit from new Norwegian style learning centres. A network of 'Newton rooms' in Norway and one in Denmark are used to inspire more young people into careers in science, technology, engineering and maths (STEM).