Jamie Stone Pledges To Fight Tooth And Nail On Maternity Issue
7th June 2017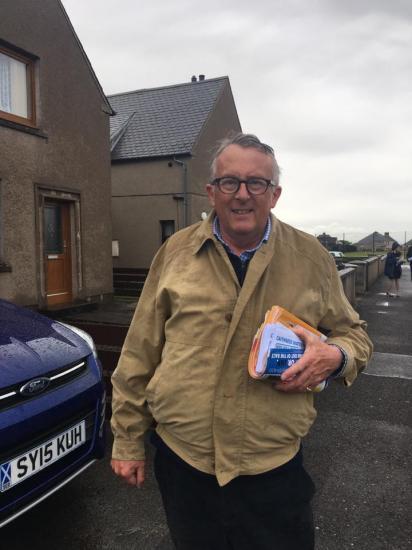 During the time I've spent going door-to-door and chatting to the people of Caithness, it has become clear to me that health services in the North is the biggest concern.

Unsurprisingly, the greatest focus has been on the recent downgrade in maternity care at Caithness General Hospital (CGH). As a father and grandfather I know how important it is that mothers-to-be, and newborns receive the best possible care as they look forward to expanding their family. The prospect of giving birth should be one of excitement, not fear. The National Health Service should be just that - a service available for everyone, nationally. And my concerns are not limited to maternity care: the services at CGH are being eroded bit by bit at enormous risk to patients. It it truly horrifying that CGH seems to have been chosen by NHS Highland to 'lead' centralisation of care - no rural hospital should be used to demonstrate such concepts. 

Many vulnerable patients, and the vast majority of pregnant women, are now expected to travel over 100 miles in order to receive care. For a new mother, experiencing labour for the first time, this journey must be awful. And will be nothing short of terrifying in the winter months. A full risk assessment of the impact of these journeys, and a rigorous investigation and review of alternative maternity care models is necessary as a matter of urgency.

An NHS Highland report into the tragic death of several babies concluded that there were systemic issues at CGH which had led to the provision of inadequate care. However, it is devastating that the formal response to this has been to provide even less adequate care. Rural hospitals should be able to provide all but specialist care to their patients, and receive the investment, contracts and equipment they need to do so.

If I have the privilege of being elected as MP for Caithness, Sutherland and Easter Ross, I can promise that I will fight for you tooth and nail on this issue. Just as I did those many years ago when Maternity services at CGH was last under threat.  I'm confident we can fight for care at CGH to be at the standard needed, but it will take an elected representative with local knowledge, passion and a good loud voice to do it.

I pledge to work proactively alongside local pressure groups like CHAT. I've already drawn this issue to the attention of Scottish Lib Dem leader, Willie Rennie. He made it clear that he understands the real impact of decisions that decrease the availability and quality of health care, and provided reassurance that these issues should be highlighted nationally by raising them during a First Minister's Questions. Health may be a devolved issue, but MPs and MSPs should be campaigners and champions for their constituents, regardless of the issue. If you choose me on the 8th June, that is exactly what I promise I shall be.