Dr Paul Monaghan - SNP Candidate for Caithness, Sutherland and Easter Ross
7th June 2017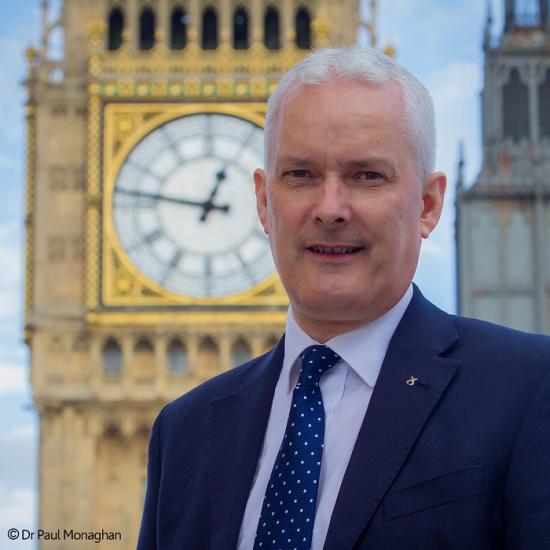 Dr Paul Monaghan was elected as the Member of Parliament for Caithness, Sutherland and Easter Ross in May 2015 and was quickly recognised as one of the hardest working MPs. Paul was the first Member of Parliament for the far north ever to open an office in the constituency, and over the last two years has assisted over 3,400 constituents, and held over 160 surgeries, public meetings and home visits in every corner of the constituency.

Paul has also secured international attention for our businesses by hosting two foreign Ambassadors in Caithness to develop trading links.

In his first year as MP, Paul received thousands of constituent letters and emails and followed these by raising hundreds of parliamentary motions and questions on local issues raised such as post office closures, lack of broadband, pension and benefit cuts, lack of investment in our rail network, excessive postal delivery surcharges, bank closures, support for our farming and fishing industries and also brought the risks associated with air transportation of nuclear fuels to national attention on behalf of local constituents.

Paul's second year as MP was even more busy, leading to further parliamentary motions and questions, and working tirelessly to support local groups and charities while also securing inward investment for businesses to create and sustain local jobs.

At Westminster Paul speaks for the Scottish National Party on Environment, Rural Affairs and Animal Welfare matters. In this role he has argued consistently for a fair deal for the agriculture and fishing industries, has lobbied for improved broadband and mobile connectivity and has lead many debates on issues as diverse as animal cruelty, Bovine TB and the maintenance of food production standards, to the need for significantly enhanced investment in rural areas.

In the last two years Paul has also been at the forefront of a number of campaigns to ensure pensions are not cut, including supporting staff at Dounreay, the Civil Nuclear Constabulary and of course the Caithness and Sutherland WASPI campaign. Indeed our WASPI campaign produced one of the largest petitions in the UK and Paul highlighted that in the House of Commons. Paul has met with the Chair of the NDA several times to support staff worried about pensions.

Following his election Paul, as 'President of the Friends of the Far North Line', has lead calls for an increase in investment in the far north rail line, and has also lobbied the UK Government to increase the number of Emergency Towing Vessels protecting our coastline. These are vital matters given their vital role in protecting nuclear movements from Dounreay.

Over the past two years a further priority for Paul has been to protect EU Nationals. Over 800 EU Nationals live in the constituency. They are our friends, colleagues and partners and Paul has supported many of them to secure their right to live and work here.

Paul's view is that Caithness, Sutherland and Easter Ross has been badly neglected by successive UK Governments over many, many years.

This election is vitally important. It is about choosing to protect jobs, our businesses and health and public services, choosing to protect our older people's pensions and disability benefits for the vulnerable, and choosing to help hardworking families stay healthy, grow and prosper.

People in our communities want to live in a fairer Scotland and Paul is committed to using his experience, knowledge and skills to ensure that the Westminster parliament listens to the issues affecting ordinary people and families.

It is increasingly clear across Scotland that this election is a crucial time for voters and that the only organised, credible option for galvanising social and economic policy relevant to the far north of Scotland is a vote for the SNP.