Study Shows North Coast 500 Route Added £9million Extra Spending
19th June 2017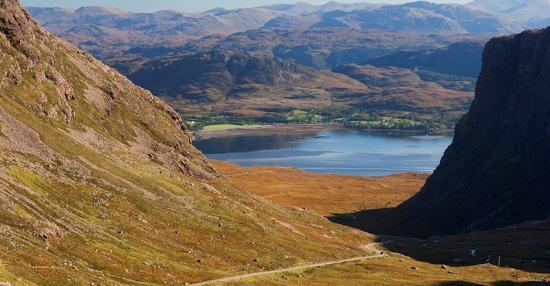 The North Coast 500 (NC500) tourist route, launched in 2015, has had a positive impact on both visitor numbers and business trade.

This is according to a new report commissioned by Highlands and Islands Enterprise (HIE).

Referred to as Scotland's answer to Route 66, the 516-mile NC500 was created by the North Highland Initiative (NHI). Its aim was to boost tourism in the north Highlands and generate economic opportunities for the area.

The study, carried out by the University of Glasgow Training and Employment Research Unit, estimates the route has attracted 29,000 additional visitors and £9 million additional spend in its first year.

The research drew upon various data, including figures from tourism information centres along the NC500 which showed an average 26% increase in visitor numbers since the route opened.

This compares with a 6% average increase across Highland.

Traffic data also reveals that volumes along the route were up by some 10%.

The study included interviews with accommodation providers and visitor attractions along the route, which identified an average 15% - 20% increase in trade.

Other factors would have contributed to this growth, including the fact that it was a generally strong year for tourism in Scotland and the Highlands.

However, the findings from the study, coupled with the results from a previous survey of businesses on the route by NHI, indicate that the NC500 has been a major driver of recent increases.

The report also highlighted challenges to ensure long term success of the NC500. These include maintaining the condition of the route, ensuring sufficient parking, waste facilities and public toilets, and continued efforts to encourage better driving.

It also highlighted challenges in meeting the increased demand for labour, with earlier reports suggesting the route could create upwards of 200 jobs.

Tourism Secretary Fiona Hyslop said:"The Scottish Government is strongly supportive of innovative projects, particularly those driven by industry, to encourage economic growth, and I welcome the very positive impact the North Coast 500 has had on the tourism economy in the Highlands.

"Today's report shows the route is already delivering for the north of Scotland and has tremendous potential to further benefit the communities it serves, encourage more investment in tourism facilities, stimulate jobs and expand the tourism season. I look forward to continuing to work with HIE and other partners to strengthen the growth we're seeing as a result of the NC500's introduction."

David Oxley, HIE's director of business and sector development, said:"This study suggests the NC500 has very quickly had a positive impact in the north Highlands.

"Through working collectively with businesses and communities along the route, North Highland Initiative have created a distinct and exciting tourism product. It's a product that has helped promote some of Scotland's most stunning scenery to a global audience, whilst also providing a further boost for the Highlands and Islands' growing tourism sector.

"With the NC500's popularity set to be sustained over the coming years, it is crucial that we understand the impact it has on communities and businesses. This report provides a baseline to monitor this impact over time.

"The long term sustainability and success of the NC500, and responding effectively to the challenges identified in the report, will require collaboration between public agencies, businesses and communities. We very much look forward to being part of that process."

HIE has established a partnership including Police Scotland, transport Scotland, Scottish Natural Heritage, The Highland Council, Visit Scotland and other interests to ensure the route is developed in a sustainable way.
Related Businesses
Related Articles
Young people in Caithness will be the first in Scotland to benefit from new Norwegian style learning centres. A network of 'Newton rooms' in Norway and one in Denmark are used to inspire more young people into careers in science, technology, engineering and maths (STEM).
A kit home and window manufacturer with operations in Caithness and Inverness has been shortlisted for a national award for innovation. Norscot is one of three finalists in the Scottish Knowledge Exchange Awards 2018 Innovation of the Year category, after developing a system for clients to view their new homes on site virtually before building work starts.
A Shetland boat building and engineering company has increased its workforce and is set to expand internationally as orders for workboats grow. Six new jobs have already been created at Malakoff Ltd after opening a new site earlier this year at Greenhead Base in Lerwick.
A £60m fund to keep Scotland at the forefront of low carbon innovation is now open for applications. The Low Carbon Infrastructure Transition Programme (LCITP) will fund large scale projects which support the ambitions of the Scottish Government's new Scotland's Energy Strategy, which was published in December 2017.
A global software development business with its technology hub based in Orkney is moving to larger premises. Kyloe is set to double its staff in the next few years and has secured £191,250 investment from Highlands and Islands Enterprise (HIE) to help it move to a more suitable premises.
Recent VisitScotland figures have highlighted that 62%* of holidaymakers to Scotland said trying locally sourced food and drink is an important part of their visit. Share In a bid to capitalise on the benefits of a close relationship between food and drink producers and the tourism sector, a range of industry representatives and public agencies are working together to develop a new strategy - the 'National Framework to Grow Food Tourism'.
A special week long programme is being held in the Highlands and Islands de-mystifying the ways data can be used to change lives, deliver better services and grow business. Share Highlands and Islands Enterprise (HIE) is co-ordinating a local Fringe programme as part of the Scottish DataFest18 festival, organised by The Data Lab.
Luxury resort Auchrannie has completed its transition to become Scotland's latest employee-owned business, with 160 members of staff becoming owners. Share Located in Brodick on the Isle of Arran, Auchrannie is an award-winning resort comprising two 4-star hotels, thirty 5-star self-catering lodges, two leisure clubs, three individually branded restaurants, a children's Playbarn, an ASPA spa and Arran Adventure outdoor company.
The increasing use of digital services in a connected world brings an increasing threat of cyberattack. The Internet that connects systems doesn't discriminate between the type of traffic it allows on the network, it is our responsibility to manage this when we connect to and use the Internet by recognising and reducing the risk as appropriate.
A new £16 million initiative is to be launched in the Highlands to boost innovation. The Northern Innovation Hub (NIH) will focus on four key industry sectors.