Top excellence award for Marine Spatial Plan
20th June 2017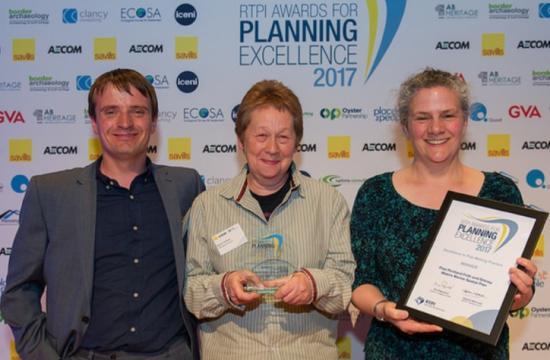 The Pentland Firth and Orkney Waters Marine Spatial Plan (PFOW MSP) has won the Excellence in Plan Making Practice category at the Royal Town Planning Institute (RTPI) Awards for Planning Excellence 2017.

The awards were held in London on 15 June. The RTPI Awards for Planning Excellence are the most established and respected awards in the planning industry. They highlight exceptional examples of planning and celebrate the contribution that planners and planning make to society.

The PFOW MSP was one of 90 finalists competing across 14 categories and the only entry relating to the marine environment.

The Judging panel commented: "This plan, a first of its kind for the UK, should be held up as best practice for other councils struggling to integrate land and marine planning into a single plan. It is an interesting and imaginative approach to marine planning and given Britain's maritime heritage, it's surprising there aren't more plans like this one."

Chair of The Highland Council's Places Committee, Cllr Allan Henderson paid tribute to all the work done to produce the Plan. He said: "The working group behind this project have put in an enormous amount of top quality work. Their made an outstanding contribution so on behalf of The Highland Council I would like to congratulate them of winning this prestigious award. I would also like to take this opportunity to thank all the members of the public for their commitment and input during the consultation stages of the Plan. Their knowledge and contribution played a vital role in delivering such a well received and comprehensive Plan."

In November last year the PFOW MSP received an award in the "Partnership" category of the Scottish Awards for Quality Planning. The Plan provides non-statutory Planning Guidance for making marine planning decisions to support environmentally, economically and socially sustainable development along the north Highland coast and in Orkney. It streamlines the process of preparing and determining marine licences, planning applications, consents and activities as well as providing Marine Scotland's licensing team and other marine planners with information on the variety of marine activities and their potential interactions in one place.

See more about the plan at

http://www.gov.scot/Topics/marine/seamanagement/regional/activity/pentlandorkney

PHOTO

Pictured after being presented with their award are - James Green, Orkney Islands Council, Dr Shona Turnbull, Highland Council and Tracy McCollin, Marine Scotland.
Related Businesses
Related Articles
The Highland Council has agreed to use City-Region Deal funding to part fund new mid-market housing projects throughout the Highlands. The affordable housing projects will be developed by Albyn Housing Society and Highland Housing Alliance in Ullapool, Fort William, Alness, Inverness, Aviemore, Grantown, Drumnadrochit and Newtonmore and will deliver 61 new homes targeted at young people working in the area.
The Highland Council is set to make it easier for the public to report incidents of fly tipping and be advised when action is taken. As part of an evaluation of its street cleaning service an in-depth LEAN review of how the council deals with fly tipping has been carried out to look at ways of improving responsiveness and customer satisfaction.
Highland Councillors agreed a council tax increase of 3% which will mean an increase of £35.93 per annum on a Band D property. Overall, the budget gap of £15,146 million has been met by a package of savings which includes increasing Council Tax income by £3.448 million, increasing income by £3,059 million, setting a target of £2,250 million to be saved through Redesign and reducing expenditure by £5.1 million.
Redesign is about the Council being more open-minded to new ways of delivering services, more commercially-minded to raise income to support services and jobs across the region and being more community-minded, listening locally and supporting more community-run services. The Highland Council is seeking to release over £2.2 million in savings this year through redesign projects.
An election will take place for Dunnet and Canisbay Community Council on Wednesday 21 February 2018. The maximum permitted membership for the Community Council is 7 and as 8 nominations have been received, the 1349 electors in the community council area are being invited to cast their vote via a postal ballot.
Over three thousand people visited Inverness Town House last weekend to see for themselves the completion of interior works on the public historic Grade A listed building following recent renovations. Around 2,000 visitors passed through the Town House doors on Saturday 10th and another 1,200 people on Sunday 11th February.
Nomination packs for prospective candidates for the Caol and Mallaig Ward by-election are now available from The Highland Council's website. The by-election is being held following the sad death of Councillor Billy MacLachlan who was one of three Councillors representing Ward 11.
Maps of the Council's gritting routes by priority and policy are available online at www.highland.gov.uk/gritting The information provided is a summary of reports from operational staff and is intended to give a general indication of typical conditions in each area at a point in time. It is not intended to imply that any individual route is entirely snow and ice free and drivers must be aware that conditions can change rapidly and make their own assessment of conditions for travelling.
In recognition that roads are a high priority for communities in Highland the Administration at The Highland Council will be putting forward a budget on Thursday (15 February) that protects the budget for local roads. Chair of the Environment, Development and Infrastructure Committee, Councillor Allan Henderson said: "We have nearly 7,000 kilometres of roads in the Highlands and this network is vital to our rural communities and lifeline services.
The Highland Council is asking stakeholders and members of the public for feedback on new draft guidance aimed at ensuring high quality designs for traditional, replacement and new shopfronts. Not only does the draft Shopfront Design Guide: Planning Guidance provide advice to help promote good quality applications but it encourages developers and applicants to consider design at the earliest stage in their proposals.