Highland Council Step Challenge Winners
13th July 2017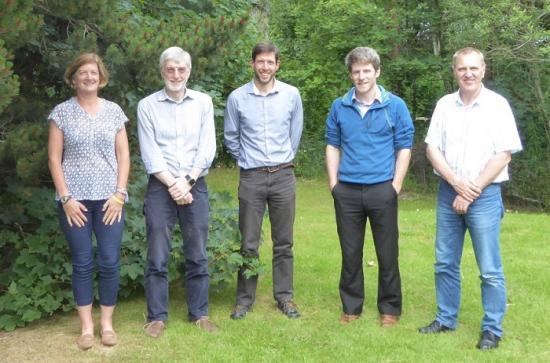 Teams from The Highland Council have been walking back to happiness and feeling the benefits of more active lifestyles following completion of the summer Step Count Challenge, run by Paths for All. The 8 week challenge, which attracted 968 teams of 5 from across Scotland started in May and finished on 25 June 2017.

24 teams from various Council services across the region took part and were regularly updated as to how well they were doing compared to rivals, whilst also participating in internal challenges. The challenge was supported by Directors and Senior Management throughout the organisation.

Derek Yule, The Council's Director of Finance took part as a member of the Blazing Sandals team and achieved 821,047 steps over the 8 weeks He said: "Being part of a team in the step count challenge incentivised me to get out for a walk whenever I could and it was amazing to see how my step count increased over the course of the challenge. It certainly made a major difference to my overall fitness and the added bonus was I lost weight. It was fantastic to see the level of uptake of this challenge by Highland Council staff and the positive outcomes it is having on health and wellbeing throughout the organisation."

In total, Council teams walked the equivalent of 35,577 miles over the 8 week challenge, which is the same as walking completely around the Earth once and then onto Melbourne in Australia!

When compared to the summer challenge in 2016, Council teams walked an average of 662,500 steps per person over the course of 8 weeks, which is approximate double the average of last year. Many individuals walked over 1 million steps, which is the equivalent of almost 18,000 steps per day.

Gena Falconer, Occupational Health, Safety and Wellbeing Manager at The Highland Council said: "I have been very impressed with the number of teams who participated in the step count challenge, and that the friendly competition between teams has led to an overall increase in steps. This is really encouraging in helping the Council move towards a more healthy, active workforce whilst promoting teamwork and camaraderie amongst staff."

The Council's top team - Fallen Arches based at Osprey House in Alness made the top 40 teams in the UK, with a team effort of 5,421,536 steps. Team Captain Marsela McLeod said: "For each challenge we have a virtual goal and this summer it was to visit all the whisky distilleries in Scotland, marking our daily progress on a large map. We reached this with time to spare so added the North Coast 500; a grand total of 2,500 miles. We are all quietly competitive and tried to stay in the top 30 each week; the regular Highland Council updates really spurred us on."

She added: "Although the team was already active we upped our step count by cycling to and from work, walking as an office group at lunchtime, climbing Munros and taking long walks at weekends."

Another successful team in the challenge was DCARB, based in the Development and Infrastructure service at Glenurquhart Road. Team captain Caris Pittendreigh summed up her team's challenge:

"The Challenge started off on a high with lots of sunny weather and longer nights - Drew was clocking up the steps on the golf course and Brian out for long walks at lunch and in the evenings, so we were flying ahead with our step count. Robin and Alithea did really well getting extra steps when they could and boosted us ahead of other teams. It was really encouraging seeing the Leaderboard and knowing we were in the top 100 for most of the Challenge. I think with it being the run up to summer, everyone was in the spirit to get outside more and get a bit healthier!

She added: "A bit of gloom slowed us down over a few weeks where it was rainy, we all have families and social lives, and work was busy - you can't always get out and about in the mornings/at lunch and after a busy day the last thing you want to do is hit the gym! In our case it was definitely a case of 'every step counts', and each individual team members' steps made a difference. Overall the challenge was a great push to get outside and be a little less lazy, and a bit of office rivalry is always an incentive! " (DCARB team rules have been included at the end of the article.)

The Autumn step challenge starts on 30 October for 4 weeks, and is open to teams from across the country.



1

Fallen Arches

Alness (Osprey House)

5,421,536

2

Manic Street Steppers

HQ (Finance)

4,583,664

3

DCARB

HQ (D&I)

4,509,209

4

Skipping In

Central Primary School

4,243,813

5

Ten To Steppers

Inverness Town House

4,089,246

6

Warburton's Wanderers

HQ (European Team, D&I)

3,981,507

7

The Easy Striders

HQ (CEX)

3,685,030

8

Walk the Walk

Caithness House, Wick

3,622,270

9

Klaasy Lassies

Dingwall (Ross House)

3,451,372

10

Road Ramblers

The highland council

3,304,290

11

Living the dream

Nairn Community Base

3,185,788

12

No Hopers

HQ (Finance)

3,090,192

13

The Green Team

HQ (Environment Team, D&I)

3,036,012

14

Trailblazers

Dingwall

2,973,381

15

Mairi's Mile Munchers

HQ (Finance)

2,928,692

16

skipping out

Central primary school

2,914,367

17

Sole Sisterz

Dochfour (H,S&W)

2,883,959

18

Blazing Sandals

HQ (CEX)

2,851,353

19

Taxi!

HQ (CEX)

2,829,248

20

Team Dave Moreton

HQ (CIP)

2,760,877

21

Kinmylies Knock-outs

Kinmylies

2,735,296

22

Murisons Minions

HQ

2,720,076

23

Muffin Tops no more!

Wick (Finance)

2,241,268

24

Ross Ramblers

Highland Council

1,465,380

PHOTO

Pictured are the top Council team - Fallen Arches - Donnie Louttit, Rory Waugh, Ken Wiseman, Alasdair Donnelly and Marsela McLeod who all work in the Structures Section in the Project Design Unit based at Alness Point.
Related Businesses
Related Articles
The Highland Council and its Commercial and Procurement Shared Services partners Aberdeen City and Aberdeenshire Councils are running a series of events to help businesses supply to the public sector. Some of the events are hosted by other organisations and we will be signposting suppliers to these as well.
Leader of the Highland Council, Margaret Davidson has moved to reassure communities about forthcoming budget decisions. She said: "No decisions will be made until the Council meets on 15 February.
At Highland Council work has been ongoing for some months to prepare a Revenue and Capital Budget for 2018/19 and beyond, with the anticipation of a significant cut to available funds. The Scottish Government's proposed grant settlement was announced on 14 December 2017.
Around £3 million of funding has been agreed for a ground-breaking Highland project that could transform the lives of people with complex health needs as part of the Inverness and Highland City Region Deal. The business case for the 'FitHome' assisted living project was approved in November last year with £3m funding from the Scottish Government.
An article in the Press and Journal today 9th January 2018 highlights the cuts in staffing levels across Scottish councils with Highland being one of the highest. In 2009 Highland had 9953 Full-time Equivalent Staff and in 2017 it had dropped by 21% to 7838.
Highland Council Trading Standards team has recently seen an increase in scams targeting Highland businesses. The most common scams reported by businesses relate to marketing and publishing but other frauds such as those involving demands for payment for unsolicited goods sent to businesses (such as ink cartridges which were never ordered) are also on the rise.
Cognitive improvements to be included in Blue Badge scheme The disabled person's parking badge pilot, which was launched in April 2016, has been made permanent by the Scottish Government. The eligibility criteria were revised and extended under a pilot to allow carers and relatives of people who pose a risk to themselves or others in traffic to apply for a disabled person's parking badge, provided they meet the criteria.
People looking to pick up a New Year bargain in the sales on the internet, by mail order or on the high street are being encouraged by The Highland Council's Trading Standards team to be aware of their consumer rights and to stay safe online from scams and fake websites that try to dupe inexperienced online shoppers trying to buy a bargain. Consumers have extra protection when they shop online.
The British Hospitality Association secured a major victory today (21 December2017) as the Scottish Government confirmed that any plans for a 'tourist tax' in Edinburgh - or any other Scottish cities - are firmly off the table. The BHA has been campaigning consistently for over six years against the implementation of any such additional and uncompetitive tax and is delighted that the Scottish Government has recognised our reservations.
Chief Executive of The Highland Council, Steve Barron said: "The Council is continuing to do all it can to support employees who lost their jobs following the change in contract for the processing of recycled waste. Evanton-based William Munro Construction laid off the staff after Highland Council transferred a recycling contract.