Commission On Highland Democracy Report Launched
15th December 2017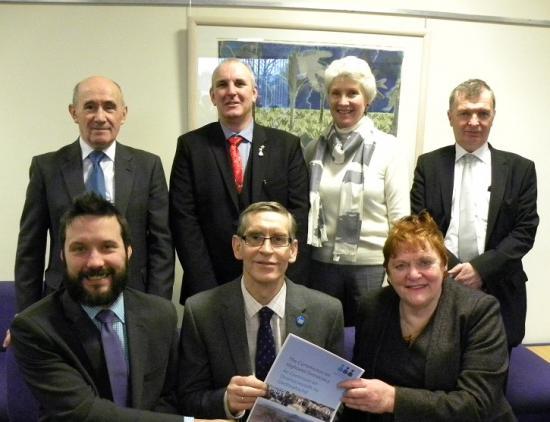 The Commission on Highland Democracy has this week launched its report at the meeting of The Highland Council.

The Commission, which was supported in its work by The Highland Council, but is independent, has produced a comprehensive analysis of the state of democratic participation in Highland.

Commissioners, drawn from across public life in Highland, considered the many submissions received from people and groups across the area before setting out key findings. The report also plots out suggested next steps for The Council and its partners to consider.

Rory Mair the Commission's Chair said: "The Commission has worked hard to, first and foremost, get out and about and listen to people in communities across Highland. They discovered that there is really an appetite among those that live in Highland to get involved in the democratic process which shapes their communities.

"We found that people consider decision making to be centralised, not because it takes place a long distance from them. Rather, they feel that centralisation occurs when a small group of highly empowered individuals take decisions in a way that has little reference to anybody outside the decision making group and in an exclusive way. It matters little where decision makers are situated and much more how they go about their business. People want a relationship with decision makers in which they are involved and engaged on an ongoing basis.

"The Commission has identified these and other issues, but has also suggested a way forward for the Council and other organisations who support our communities in the Highland to consider."

Councillor Margaret Davidson, Leader of The Highland Council, welcomed the report saying: "Highland Council agreed to establish an independent commission in March 2016 to explore the current state of democracy in the Highlands, and to have conversations locally about the kind of democracy people want to have.

"We know from our annual survey work that very few people in the region feel that they are involved in how the Council spends its money, or feel that they have any influence over decision making in their local area and Rory and his fellow Commissioners have worked hard to produce a report that is based on hearing what our communities have to say about this. They have brought their vast experience of serving Highland communities to bear in proposing actions that we and our partners should now consider. I am delighted to receive this report today and I am confident that this will help shape our thinking to improve and enhance democracy in the Highlands."

The final report is available on the Commissions website at: https://highlanddemocracy.wordpress.com/

PHOTO

At the launch (back ltr) Cllr Jimmy Gray, Cllr Callum Smith, Isobel McCallum, Cllr Alasdair Christie, (front ltor) Cllr Richard Laird, Rory Mair, Cllr Margaret Davidson.
Related Businesses
Related Articles
At Highland Council work has been ongoing for some months to prepare a Revenue and Capital Budget for 2018/19 and beyond, with the anticipation of a significant cut to available funds. The Scottish Government's proposed grant settlement was announced on 14 December 2017.
Around £3 million of funding has been agreed for a ground-breaking Highland project that could transform the lives of people with complex health needs as part of the Inverness and Highland City Region Deal. The business case for the 'FitHome' assisted living project was approved in November last year with £3m funding from the Scottish Government.
An article in the Press and Journal today 9th January 2018 highlights the cuts in staffing levels across Scottish councils with Highland being one of the highest. In 2009 Highland had 9953 Full-time Equivalent Staff and in 2017 it had dropped by 21% to 7838.
Highland Council Trading Standards team has recently seen an increase in scams targeting Highland businesses. The most common scams reported by businesses relate to marketing and publishing but other frauds such as those involving demands for payment for unsolicited goods sent to businesses (such as ink cartridges which were never ordered) are also on the rise.
Cognitive improvements to be included in Blue Badge scheme The disabled person's parking badge pilot, which was launched in April 2016, has been made permanent by the Scottish Government. The eligibility criteria were revised and extended under a pilot to allow carers and relatives of people who pose a risk to themselves or others in traffic to apply for a disabled person's parking badge, provided they meet the criteria.
People looking to pick up a New Year bargain in the sales on the internet, by mail order or on the high street are being encouraged by The Highland Council's Trading Standards team to be aware of their consumer rights and to stay safe online from scams and fake websites that try to dupe inexperienced online shoppers trying to buy a bargain. Consumers have extra protection when they shop online.
The British Hospitality Association secured a major victory today (21 December2017) as the Scottish Government confirmed that any plans for a 'tourist tax' in Edinburgh - or any other Scottish cities - are firmly off the table. The BHA has been campaigning consistently for over six years against the implementation of any such additional and uncompetitive tax and is delighted that the Scottish Government has recognised our reservations.
Chief Executive of The Highland Council, Steve Barron said: "The Council is continuing to do all it can to support employees who lost their jobs following the change in contract for the processing of recycled waste. Evanton-based William Munro Construction laid off the staff after Highland Council transferred a recycling contract.
The Highland Council has successfully prosecuted a food business after discovering unsafe hygiene practices in the transportation of food. An investigation by officers of the Council's Environmental Health Team discovered that N E Meats Ltd of Newcastle had been transporting and delivering foods from the North of England to the Highlands without any temperature control measures.
Maps of the Council's gritting routes by priority and policy are available online at www.highland.gov.uk/gritting The information provided is a summary of reports from operational staff and is intended to give a general indication of typical conditions in each area at a point in time. It is not intended to imply that any individual route is entirely snow and ice free and drivers must be aware that conditions can change rapidly and make their own assessment of conditions for travelling.