Is Cyber Security Part Of Your Business Plan?
10th January 2018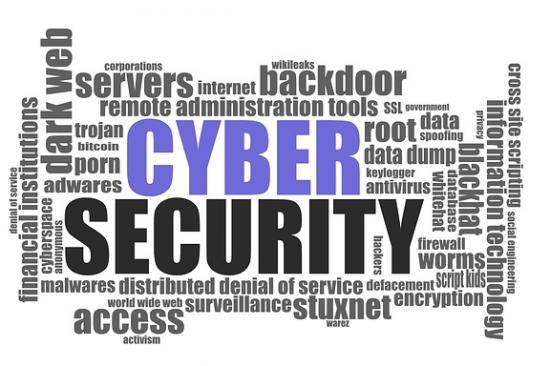 The increasing use of digital services in a connected world brings an increasing threat of cyberattack. The Internet that connects systems doesn't discriminate between the type of traffic it allows on the network, it is our responsibility to manage this when we connect to and use the Internet by recognising and reducing the risk as appropriate. Attackers are constantly improving their ability to penetrate systems through social engineering and the opportunity of our increased online presence. The first step for an organisation to counter the threat from cyberattack is to understand their risks and to deal with the question of not "if" it will happen, but "when".

The consequence of a successful attack depends heavily on the nature and scale of the attack and the ability of the organisation to respond to it. Some attacks may result in complete failure of an organisation's systems; some may take money from bank accounts or credit cards; some may compromise data; and some may impact on an organisation's reputation. It is important to remember that not all attacks come through the computer systems, successful telephone based vishing attacks are being seen in ever increasing quantities to demonstrate that our ability to detect them does not depend on computer based security systems.

The majority of cyberattacks are not targeted at specific individuals or organisations but are opportunistic and look to exploit known vulnerabilities in computer systems that can be exploited. Cyber attackers, hackers and writers of malware use programs that are able to automatically exploit known weaknesses, poorly configured systems and weak passwords without consideration of the impact that it will have on the target.

Organisations should not look on the cyber security threat as being a technology problem, it is an organisational risk as it is the organisation that will be disrupted and it should be addressed at this level. Whilst technology is a natural part of the process to secure the organisation, most of the changes that are required in the attitude of employees to the risk and the management of the risk. Security needs to be an integral part of the business process, technology can assist in the implementation and management of the process but it can't fully protect it.

There are some practical and basic steps that individuals and organisations should take in order to better protect themselves:

Do not share passwords between employees or on different services/applications, preventing multiple systems being compromised if one username and password is obtained.

Robust passwords provide one of the first lines of defence against attack and we should think about pass-phrases rather than passwords when choosing our passwords. Policies on password management vary from one organisation to another with some demanding passwords have a minimum length, a mixture of numbers, letters and special characters and that needing to be changed frequently. Consider using passwords that are 12 or more characters long that are based on three or four unrelated words that are punctuated by numbers and characters, e.g. Blue1Fish.Moon.

An organisational password policy indicates that the issue is taken seriously and provide guidelines to employees and users on password selection and management. Consider using one of the many available password managers to make the management of passwords within the organisation easier and secure for everyone as user should be using more than the typical five to six unique passwords.

Regularly educate users on the various attacks vectors that are used, this should include email, social media and the use of social profiling. Deliver regular training sessions to ensure that users are aware of the current techniques being used and consider carryout tests on the systems and users through carryout ethical penetration tests to see how effective this training is.

Restrict access to data to only those that require it

The security threat is not static and neither should the system resilience, to assist in maintaining resilience within the business systems:

Ensure that all systems are properly configured so that only authorised and restricted users have management/administrative rights and that they are only used when needed.

Ensure that system updates and patches are applied promptly after being released.

Install commercial grade anti-virus software and keep it up to date.

Review systems to ensure that they are compliant and manage change to ensure that the system resilience is maintained.

Take regular system and data backups and ensure that the organisation can recover with acceptable data loss.

Implement a recovery plan to ensure that the organisation can get back to the required operational level within an acceptable timeframe.

To assist with this, the National Cyber Security Centre has produced a 10 Steps to Cyber Security resource at https://www.ncsc.gov.uk/guidance/10-steps-cyber-security.

The Cyber Essentials scheme has been developed by Government and industry to fulfil two functions. It provides a clear statement of the basic controls all organisations should implement to mitigate the risk from common internet based threats, within the context of the Government's 10 Steps to Cyber Security. And through the Assurance Framework it offers a mechanism for organisations to demonstrate to customers, investors, insurers and others that they have taken these essential precautions.

Cyber Essentials offers a sound foundation of basic hygiene measures that all types of organisations can implement and potentially build upon. Government believes that implementing these measures can significantly reduce an organisation's vulnerability. However, it does not offer a silver bullet to remove all cyber security risk; for example, it is not designed to address more advanced, targeted attacks and hence organisations facing these threats will need to implement additional measures as part of their security strategy. What Cyber Essentials does do is define a focused set of controls which will provide cost effective, basic cyber security for organisations of all sizes.

The Assurance Framework, leading to the awarding of Cyber Essentials and Cyber Essentials Plus certificates for organisations, has been designed in consultation with SMEs to be light-touch and achievable at low cost. The two options give organisations a choice over the level of assurance they wish to gain and the cost of doing so. It is important to recognise that certification only provides a snapshot of the cyber security practices of the organisation at the time of assessment, while maintaining a robust cyber security stance requires additional measures such as a sound risk management approach, as well as on-going updates to the Cyber Essentials control themes, such as patching. But we believe this scheme offers the right balance between providing additional assurance of an organisation's commitment to implementing cyber security to third parties, while retaining a simple and low cost mechanism for doing so. The Scottish Business Resilience Centre maintains a list of organisation that can assist organisations to achieve Cyber Essentials at: https://www.sbrcentre.co.uk/services/cyber-services/cisp-and-cyber-essentials/approved-practitioners/

https://www.sbrcentre.co.uk/services/cyber-services/cisp-and-cyber-essentials/trusted-partners/

HIE is currently working with a range of its clients across the region who are working towards their Cyber Essentials accreditation. This has been running since September and included a one day intensive workshop and 1-2-1 support from a digital adviser to develop a Cyber Resilience plan. Any account managed organisations or businesses interested in this programme should contact their account manager or can email hidigital@hient.co.uk

Computer Security is a vast topic and more information can be read at https://en.wikipedia.org/wiki/Computer_security
Related Businesses
Related Articles
Recent VisitScotland figures have highlighted that 62%* of holidaymakers to Scotland said trying locally sourced food and drink is an important part of their visit. Share In a bid to capitalise on the benefits of a close relationship between food and drink producers and the tourism sector, a range of industry representatives and public agencies are working together to develop a new strategy - the 'National Framework to Grow Food Tourism'.
A special week long programme is being held in the Highlands and Islands de-mystifying the ways data can be used to change lives, deliver better services and grow business. Share Highlands and Islands Enterprise (HIE) is co-ordinating a local Fringe programme as part of the Scottish DataFest18 festival, organised by The Data Lab.
Luxury resort Auchrannie has completed its transition to become Scotland's latest employee-owned business, with 160 members of staff becoming owners. Share Located in Brodick on the Isle of Arran, Auchrannie is an award-winning resort comprising two 4-star hotels, thirty 5-star self-catering lodges, two leisure clubs, three individually branded restaurants, a children's Playbarn, an ASPA spa and Arran Adventure outdoor company.
A new £16 million initiative is to be launched in the Highlands to boost innovation. The Northern Innovation Hub (NIH) will focus on four key industry sectors.
A new residential music studio in the Outer Hebrides is set to capitalise on its scenic location and high-end technology to attract both UK and international recording artists. Black Bay Studio has opened for business on the island of Great Bernera just off the west coast of the Isle of Lewis.
It has never been more important for businesses in the Highlands and Islands to target global markets, writes Martin Johnson, HIE's head of international trade and investment. At the same time global markets have never been more accessible to the region, so we are in a good place.
Highlands and Islands Enterprise (HIE) has appointed a new director of business and sector development. Originally from County Durham, David Oxley joined the organisation in 2004 as head of operations in Lochaber before moving to Forres with his wife and son in 2011 to take up the role of area manager in Moray.
The development of Inverness Campus moves another step forward with tenders being invited to build a second life science building. Highlands and Islands Enterprise (HIE) is leading on the development of the campus.
Aerospace and defence sector opportunities in the region highlighted at event Businesses in the Highlands and Islands are being invited to a free workshop to find out how the region can benefit from opportunities in the aerospace, defence, security and space industries. It will be held in at An Lòchran, Inverness Campus on Tuesday 26 September 2017 The event is organised by Highlands and Islands Enterprise (HIE) and ADS Scotland which is the Scottish branch of the aerospace, defence, security and space industry trade organisation, ADS.
Over 250 community leaders from across Scotland will meet in Aviemore today and tomorrow (21-22 September) at a national conference to look at the impact and future role of community-led development on Scotland's social and economic fortunes. The event, hosted by Highlands and Islands Enterprise (HIE) and supported by the Scottish Government, brings together community groups, academia and experts to discuss the vital contribution communities make to Scotland and consider how to support their continuing and increasing ambitions.