Highland Youth Voice - The Apprentice!
30th March 2008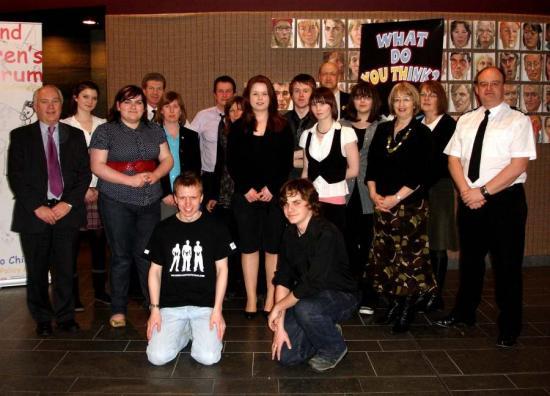 Young people from across the Highlands recently got the chance for the third year running to play the "Apprentice" by shadowing senior officials within The Highland Council's Glenurquhart offices in Inverness and partner agencies.

The executive of Highland Youth Voice, the youth parliament for the Highlands, have found this event to be the best way of developing their links with policy makers and decision-takers. Working with the Council's Youth Development team they organise this day for members of the Youth Voice Executive and area forums to shadow key officials in Housing; Social Work; Education, Culture and Sport; Finance; Planning; Community Care; Environmental Health and Police.

The young people's aims were to raise awareness of Highland Youth Voice and local youth forums, to explore the relevance of services to young people and to inform senior managers on young people's perceptions of the services they provide.

With some young people travelling from as far away as Wick, the day started at 9.00am and involved them taking part in a range of meetings and informal discussions in and around Inverness. The day then culminated in an early meal at the Eden Court Restaurant where informal discussions continued.

Garry Sutherland, Deputy Chief Constable for Northern Constabulary said: "It was a very rewarding day and is something I would like to see developed as our links with young people are very important.

"Unfortunately young people are not always portrayed in a way that is fair or representative but in my experience the vast majority make a very positive contribution to our communities and need to be heard."

Anna Dougan, Chairperson of the Highland Youth Voice Executive, said: "The day was a great success and enjoyed by all involved and certainly gave me an appreciation of the breadth of work and challenges The Highland Council and Police face. I was pleased to hear from the officials we met, an appreciation that young people are doing a lot of good work and contributing to society in a worth while way and we were all given plenty of encouragement to get involved."

Larger Photo
Highland Youth Voice
Related Businesses
Related Articles
Wick Town Hall packed as businesses and councillors gather to discuss ambitious town centre regeneration vision. More than 50 retailers and business owners attend presentation and discussion session in Wick Town Hall, hosted by all four ward councillors.
The final stage of the West Link is to commence following the award of the £10.1M construction contract to a local company to build the additional swing bridge and roundabout, with the associated realignment of General Booth Road. Following a tender exercise, The Highland Council has awarded the contract to RJ McLeod (Contractors) Ltd from Dingwall.
Don't let the grass grow under your feet - order your 2019/20 brown bin garden waste permit now. Highland Council Garden Waste Permits are now available to order for the 2019/20 Permit Season.
With predictions of social and economic upheaval brought about by technological and environmental changes, could a citizen's income reduce poverty and increase people's control over their lives?. How attractive - and affordable - is it as a policy?.
UNISON, the largest trade union in Scotland, and the Jimmy Reid Foundation are calling for a fundamental review of funding local government. The call will be made at the launch of joint UNISON and Jimmy Reid Foundation report: Additional Revenue streams sources of funding for the delivery of local government services The report will be launched today (Monday 15 April) at the STUC 122nd Annual Congress in Dundee.
The Highland Council has been alerted to a Council Tax scam whereby scammers are cold calling and claiming that the resident can have their Council Tax band reassessed upon payment of £150. Council Tax bands are determined by the Assessor and Electoral Registration Officer who is independent from the Highland Council.
Highland Council Leaders have welcomed the introduction of a new Inverness - London Heathrow service this week by British Airways which will allow people to travel between the two cities and return the same day. Leader of The Highland Council, Cllr Margaret Davidson welcomes the new flight schedule that will see a 30 per cent increase in capacity on the route and bring the number of flights up to three return services on Saturdays and Sundays, with a double daily service Monday to Friday.
The Highland Council is supporting the 2019 Keep Scotland Beautiful Clean Up campaign and is encouraging as many communities, businesses, schools and individuals as possible to get involved in a local community clean up. £53 million of public money is spent addressing litter and flytipping in Scotland each year.
First Minister Nicola Sturgeon and Health Secretary Jeane Freeman visited the Capability Scotland Edinburgh Hub ahead of the extension of free personal care to people of all ages who are assessed as requiring it. The expansion of free personal care - which was previously only available to those aged over 65 - comes into force on April 1 2019 and is often referred to as 'Frank's Law' after the former Dundee United footballer Frank Kopel.
The 14th Highland Youth Parliament Apprentice Day was held on Tuesday, 26th March 2019. Highland Youth Parliament, the elected Youth Parliament for the Highlands, holds an annual 'Apprentice Day' on which members of HYP shadow Senior Managers across public sector services.